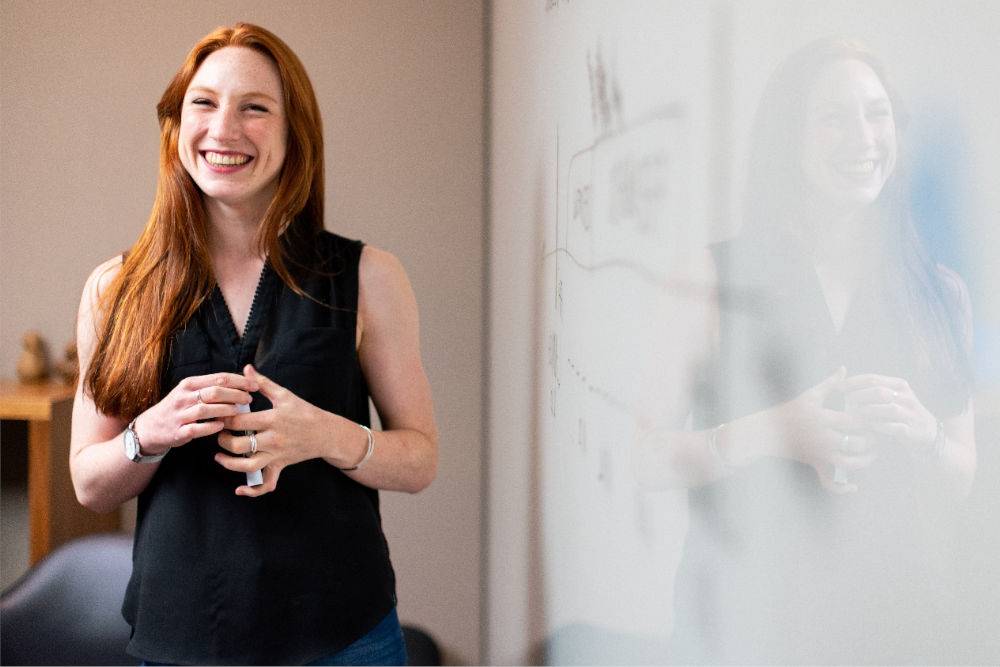 How To Be The Best-Dressed Math Teacher Every Day
Going to school outfits is a theme that does not only concern the students but also applies to the teachers. Being in contact with so many people, teachers are prone to criticism and admiration about their appearance.
 
Whether you have to follow a strict dress code, or you have some more freedom to choose your outfits, there are ways in which you can improve your dressing style by wearing the right pieces for your figure in the context of school.
 
Being the best-dressed Math teacher is easier than the simplest problems you are teaching, and you don't need to empty your pockets to get the best look.

In this article we will go through some outfit ideas and tips on how to choose quality, easy-to-match items, that will pass the test of time.


Panaprium is proud to be 100% independent, free of any influence, and not sponsored. We carefully handpick products from brands we trust. Thank you so much for buying something through our link, as we may earn a commission that supports us.

Your workplace's dress code


Keep the school's rules in mind when selecting your outfit for work. Following these rules is part of your job, therefore you should always avoid clothing items or colors that are not allowed by the institution.

However, many schools nowadays have a modern approach and allow the employees a lot of freedom when it comes to fashion choices.

Even if you are offered a lot of flexibility, you should keep in mind that, as a teacher, you are an example for your students and should dress professionally but in a modern way.



White shirts


No matter if your work environment requires you to follow a rather formal dress code, or you are free to dress as bright as you want, a white shirt, made from quality fabric is a lifesaver in so many situations.

It looks on all body shapes, it makes you look put together and professional. As a Math teacher, there will be days with more relevant tasks that will not allow you to spend a lot of time picking what to wear, and then the white shirt will come in handy.

You can check out our selection of sustainable brands that produce stylish and comfortable shirts.


Jeans


One of the most popular clothing items in the whole world, jeans are a must for Math teachers as well. Make sure to choose a darker color and try to avoid too casual styles such as acid-washed or cut jeans.

This way, you will be able to start your outfit from them and build on, going either more casual, by adding a T-shirt, or more formal, with a shirt and a blazer.

Luckily, many European brands make eco-friendly jeans nowadays, and here are some of them.



Basic T-shirts


As a Math teacher, you need versatility, and neutral-colored T-shirts are the best for it. You can wear them on their own, or under a blazer or cardigan during the colder months.

Once you have a few basic T-shirts in your wardrobe, you can start looking at more fun-to-wear patterns.

High-quality T-shirts are now also affordable, and here are some examples of brands that create very stylish ones.


Blazers


Unless the institution where you work requires otherwise, go for a dark, smart-casual blazer that you can match with multiple bottom items, such as jeans, and trousers, as well as a skirt if you are a lady.

Work clothes are now also sustainable and we have a full article dedicated to the best producers.



Comfortable shoes


Your main concerns regarding shoes should be comfort and practicality, and only then looks. They should be nice, but it is more important to be high quality because, as a Math teacher you need to wear them for many hours in a row.

Nowadays that is no longer a big problem because many brands have already understood customers' needs and they have started to produce both beautiful and cozy footwear.

They are pricey, but they are a long-term investment in your health. There are many options from which you can choose, and you can even make them the pop of color your outfit needs to escape boredom if you decide to purchase a colorful pair.

Ballet flats are a cute and fashionable choice for women, while oxford shoes are great for all genders.

Since consumerism is one of the biggest problems the world faces, more and more fashion brands are making efforts to become sustainable.

One of them is the Swedish brand Vagabond Shoemakers, which has started recycling used shoes. We recommend paying attention to the brands' policies before spending on a pair of shoes.



Cardigans


A timeless piece, more casual than a blazer, that still maintains a professional appearance? Yes, please! Either get a bright one to match it with one of your basic T-shirts or a neutral color under which you can wear a bold top.

Here are some knitwear brands known for their sustainable apparel.



Stylish prints


Whether you choose polka dots, stripes, or paisley, they will add a cute and interesting touch to your outfit. Just make sure that you keep a balance in your outfit and match them with items in neutral tones.

The best advice is to limit your printed items number to one. This way, your look will be neither boring nor too much.

Get your printed clothes from a sustainable brand that uses good and long-lasting fabrics.



Cute, smart-casual dresses


Every woman should have one (or some!) and Math teachers are no exception. Such a dress is less sophisticated than formal attire but still elegant and feminine.

They come in different lengths, colors, and fabrics, so finding the right one for your body is no longer a difficult task.

Check out our great selections of brands that make plus-size fashion, as well as the best sustainable petite brands.



Themed T-shirts


If you want something that will mirror your passion for teaching or will bring a smile to your students' faces with some science humor, go for a T-shirt with a related print. This will go great with trousers and a cardigan.

However, be aware that it will make your outfit overall less elegant, so if the casual style is not what you are looking for, then keep this idea for Halloween.

If you do not find a T-shirt with the print you have in mind, buy a simple one from a nature-friendly brand and have it printed on demand.



Accessories
As a lady, you probably already know what a big difference jewelry can make. If you are looking for brands that have built a reputation for sustainability but do not sacrifice good taste, we have a list of jewelry recommendations for you.

As a man, you will need a belt to give a more put-together vibe to your outfit. Check out our selection of sustainable belt producers.
Hair accessories are one kind of accessory that tends to be overlooked.

Especially for women with medium to long hair, elastics, headbands, and clips are a must. They keep your hair from getting in the way while working and they also add a very trendy touch to your entire appearance.

Here is an article about some of the best sustainable hair accessories.



Additional tips


Always choose high-quality fabrics. You need to spend a lot of consecutive hours in those clothes and some fabrics are scientifically proven dangerous and can cause many skin conditions.

Taking care of the environment is the new black and more and more brands focus on making sustainable and vegan clothes affordable. Choose one of these brands!

Always have basic items in your wardrobe- they are easy grabs, easy to match, and perfect for a wide range of occasions.

Avoid clothes that are not your size: too-tight items will limit your movement, while oversized ones can make an outfit look untidy.

Whenever in doubt remember that less is more and that a simple outfit is preferable to an eccentric one in the context of school.

Keep in mind that your purpose is to provide education, and the rest will become easier. With a few good quality basics and some nice accessories, you have all you need to be the best-dressed teacher every single day!
 
And perhaps share these tips with your colleagues to help them dress confidently as well!
Was this article helpful to you? Please tell us what you liked or didn't like in the comments below.
About the Author: Miruna Dulcea