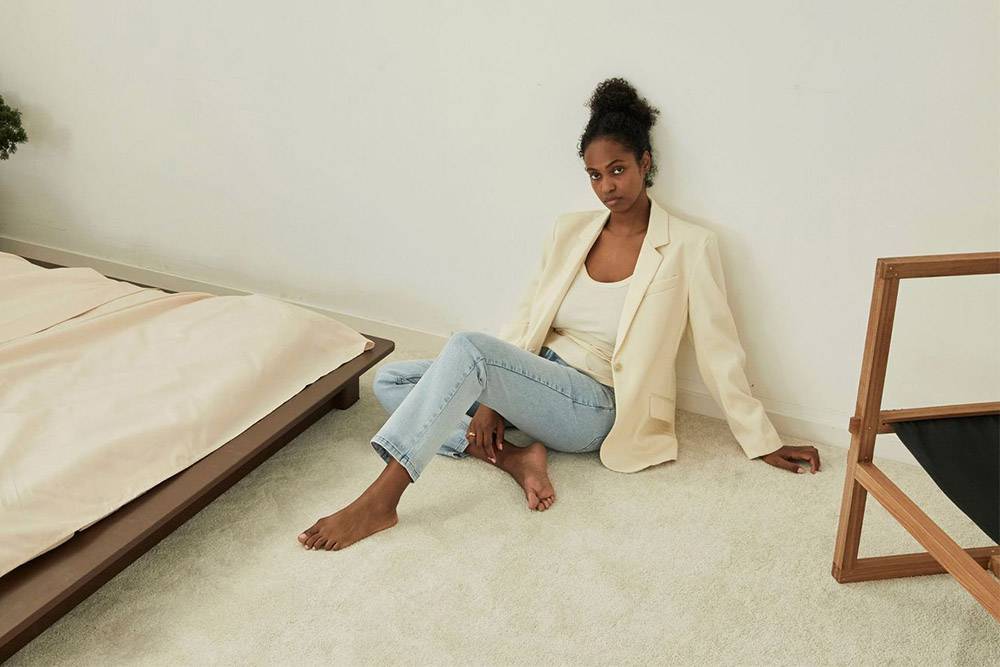 Maggie Marilyn Hewitt is a New Zealand-based sustainable fashion designer that offers sustainable and luxury clothing designed to last and made from organic fabrics and other eco-friendly materials.

Maggie Marilyn Hewitt makes clothes that equally enrich people's lives in the fashion supply chains and the Earth.

The need-to-know designer creates clothes defined by her strong sense of luxury and fresh point of view. She founded her eponymous brand to make a difference in the apparel industry that needs change.

Maggie Marilyn Hewitt is passionate about using fashion to create a better world. She is on a mission to transform the fashion industry to become more transparent, circular, regenerative, and inclusive.
Panaprium is proud to be 100% independent, free of any influence, and not sponsored. We carefully handpick products from brands we trust. Thank you so much for buying something through our link, as we may earn a commission that supports us.

Sustainability Rating: 6/10
Rating FAQ

Category: Clothing, accessories

For: Women

Type: Basics, dresses, loungewear, knitwear, outerwear

Style: Chic, classic

Quality: High

Price: $$$

Sizes: XS-3XL, 4-18 (US), 6-20 (UK), 36-50 (EU), 6-20 (AU)

Fabrics: Cotton, linen, lyocell, viscose, polyester, nylon, spandex, wool, silk

100% Organic: No

100% Vegan: No

Ethical & Fair: Yes

Recycling: Yes

Producing country: New Zealand, Italy, China, India, Turkey

Certifications: GOTS, GRS, FSC, Oeko-Tex, Bluesign, RWS, ZQ Merino

Sustainability Practices
"Our purpose is to use fashion to create a better world. We believe that to make a difference, we should start with what we know. For us, that's fashion."


Maggie Marilyn Hewitt aims to design and manufacture garments sustainably, forging a new path of how business should be done. She is fiercely determined to create change and believes that everyone has the power to change the world.

Maggie Marilyn Hewitt continues to educate herself and her community to ensure that the health of our home, Mother Earth, is at the forefront of every decision.


"We are at a truly pivotal moment in history. This isn't just about fashion. Here and now is where we decide what the world will look like for future generations. We must adapt to a changing world. We must choose to be better than those before us. We must know our purpose and we must do everything in our power to be the change we wish to see in the world."

- Maggie Marilyn Hewitt


Maggie Marilyn uses a large proportion of sustainable materials such as organic cotton and linen, as well as recycled synthetic fabrics such as recycled polyester and regenerated nylon.

Her organic fabrics are GOTS certified, a leading, widely recognized certification standard that guarantees sustainable processes, environmentally friendly, and socially responsible conditions.

The brand also uses a high amount of semi-synthetic regenerated fibers such as viscose and lyocell made from renewable materials, wood pulp from FSC certified sustainable forests.

Maggie Marilyn makes its clothes ethically in New Zealand, Italy, China, India, and Turkey. The clothing brand lists its main manufacturing and processing facilities on its corporate website.

Maggie Marilyn has a Code of Conduct written in line with internationally accepted standards, including the International Labor Organization's (ILO) core conventions and the Universal Declaration of Human Rights.

The designer brand maintains close relationships with its factories and started third party factory audits in September 2020 with its five primary factories.

Maggie Marilyn Hewitt doesn't use any exotic animal skin, or hair, fur, angora. But she uses wool and silk to manufacture many of her clothing pieces.

These animal-derived materials are cruel and unethical. They also harm the environment by producing greenhouse gases and wastes. More sustainable alternatives exist.

Sustainability Goals
Maggie Marilyn continues to develop concepts for how to repurpose existing past season garments. It incorporates more and more high quality recycled natural fibers into its designs.

The designer plans to initiate discussions around responsible water management practices with its suppliers and implement measures to minimize transportation emissions.

By 2020, Maggie Marilyn aims to use 100% synthetic fibers sourced from post-consumer waste, 30% recycled natural fibers in each collection, 100% cotton certified by GOTS, and 10% repurposed material in ready-to-wear collections.

Maggie Marilyn will also have 100% virgin fabrics certified with a reputable chemical management certification body.

Buy Here
Discover Maggie Marilyn's sustainable collections at maggiemarilyn.com.
Reviews And Experiences With Maggie Marilyn
Have you had (good) experiences with shopping at or the products of Maggie Marilyn? Then leave us your rating below.