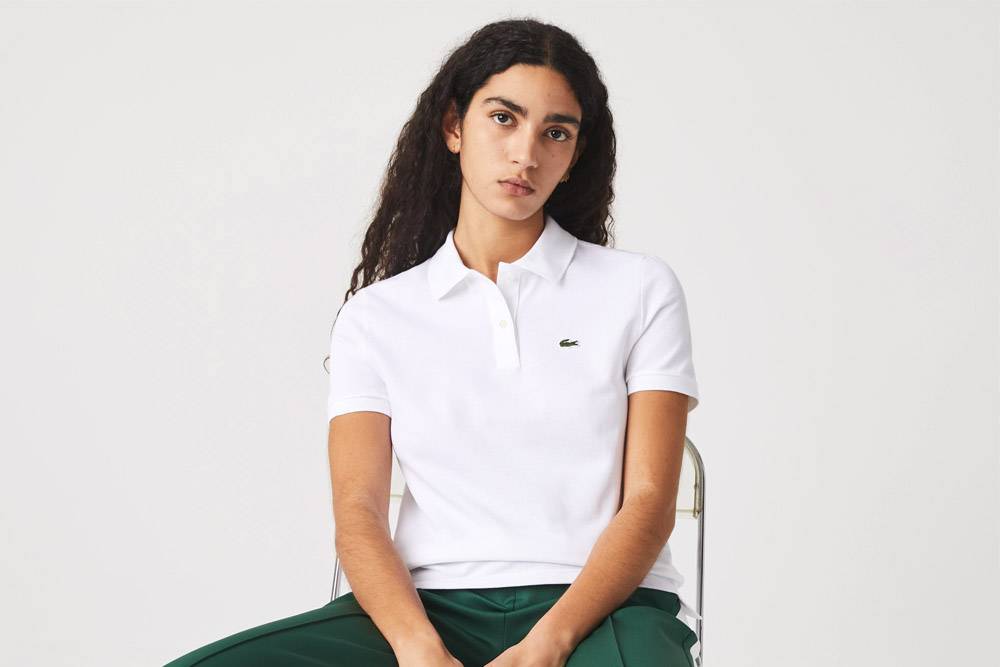 Lacoste is a French fashion retailer founded in 1933 by tennis player René Lacoste and entrepreneur André Gillier. The multinational clothing-retail company creates elegant fashion for men, women, and children.

Lacoste makes clothing, accessories, shoes, swimwear, eyewear, watches, and fragrances. The Swiss holding company Maus Frères owns Lacoste and many other brands, department stores, sporting goods stores, hypermarkets, furniture stores, and other stores.

Lacoste is a fashion company widely identified by its green alligator logo. It operates more than 1,100 stores and has 8,500 employees in stores, factories, and logistics across 98 countries where it does business.

Lacoste is at the crossroads of sport and fashion and encourages self-expression. Its collections feature timeless, durable elegance and capture creativity and tradition.

Lacoste is a fashion brand and clothing retailer based in Paris, France. It makes apparel, footwear, and accessories and offers a collection of basics, activewear, underwear, loungewear, swimwear, outerwear, bags, and accessories.


Panaprium is proud to be 100% independent, free of any influence, and not sponsored. We carefully handpick products from brands we trust. Thank you so much for buying something through our link, as we may earn a commission that supports us.

Sustainability Rating: 4/10
Rating FAQ

Category: Clothing, accessories, shoes, bags

For: Women, men, children

Type: Basics, knitwear, activewear, underwear, loungewear, swimwear, outerwear, sneakers

Style: Chic, classic

Quality: Low

Price: $$

Sizes: 2XS-2XL, 0-14 (US), 2-16 (UK), 32-44 (EU), 4-18 (AU)

Fabrics: Cotton, linen, lyocell, modal, viscose, acetate, polyester, nylon, spandex, polypropylene, acrylic, neoprene, polyurethane, rubber, leather, wool, silk, down

100% Organic: No

100% Vegan: No

Ethical & Fair: No

Recycling: Yes

Producing countries: Argentina, Belarus, Brazil, Bulgaria, Cambodia, China, Colombia, Czechia, Egypt, El Salvador, France, Germany, Guatemala, Honduras, Hong Kong, Hungary, India, Indonesia, Italy, Japan, Lithuania, Madagascar, Mauritius, Morocco, Myanmar, Pakistan, Paraguay, Peru, Philippines, Poland, Portugal, Romania, Serbia, Slovakia, South Korea, Spain, Sri Lanka, Switzerland, Taiwan, Thailand, Tunisia, Turkey, Ukraine, Uruguay, United States, Vietnam

Certifications: GOTS, GRS, RDS, RWS, FSC


Sustainability Practices
Lacoste takes wide-ranging measures toward durable elegance to improve its products' social and environmental impact. It believes the fashion industry can help make equal opportunities a reality.

Lacoste designs and manufactures in ways that respect the fragile balance of our planet. It integrates eco-design principles into its development process, promotes animal well-being, and protects biodiversity.

Lacoste only uses a tiny proportion of organic materials such as organic cotton or recycled materials such as recycled cotton, recycled polyester, and regenerated nylon.

Most of the fabrics it uses are either natural without relevant certifications, such as regular cotton or linen, or synthetic petroleum-based fibers such as polyester, nylon, acrylic, and more.

Lacoste also uses a small amount of semi-synthetic fibers or regenerated cellulosic fabrics such as lyocell, modal, acetate, and viscose.

Lacoste publishes a list of its manufacturers and processing facilities on its corporate website. It works with production partners committed to the best environmental practices.

The 2021 Fashion Transparency Index gave Lacoste a score of only 35% based on how much the group discloses about its social and environmental policies, practices, and impacts.

Lacoste manufactures its clothes in Turkey and many other East Asian countries where human rights and labor law violations still happen every day.

The French clothing retailer doesn't show any labor certification standard that ensures good working conditions, decent living wages, health, safety, and other human rights for workers in its supply chain.

Lacoste has a code of conduct that applies to all its suppliers and subcontractors based on the regulations set by the International Labor Organization (ILO).

Lacoste assesses compliance with its Code of Conduct by conducting social and environmental compliance audits. It works in partnership with public authorities, is involved with associations, and participates in public awareness campaigns.

Lacoste doesn't use exotic animal skin, hair, fur, or angora. But it uses leather, wool, silk, and down feathers to manufacture many of its clothing pieces.

These animal-derived materials are cruel and unethical. They also harm the environment by producing greenhouse gases and waste. More sustainable alternatives exist.



Sustainability Goals
Lacoste has committed to reducing its environmental impact by product by 15% by 2025. It already achieved zero discharge of hazardous chemicals in 2020 in the manufacture of its products.

Lacoste plans to source 100% of its cotton fiber from suppliers rated silver or above by 2025, from a grading scheme reflecting its business and societal requirements. 100% of its manufacturing partners will also be rated silver or above by 2025.

Lacoste has committed to giving a second life to 100% of its textile waste and unsold goods by 2025. It will also double the lifespan of its polo line by 2025.



Buy Here
Discover Lacoste's sustainable collections at Lacoste.com.
Reviews And Experiences With Lacoste
Have you had (good) experiences with shopping at or the products of Lacoste? Then leave us your rating below.