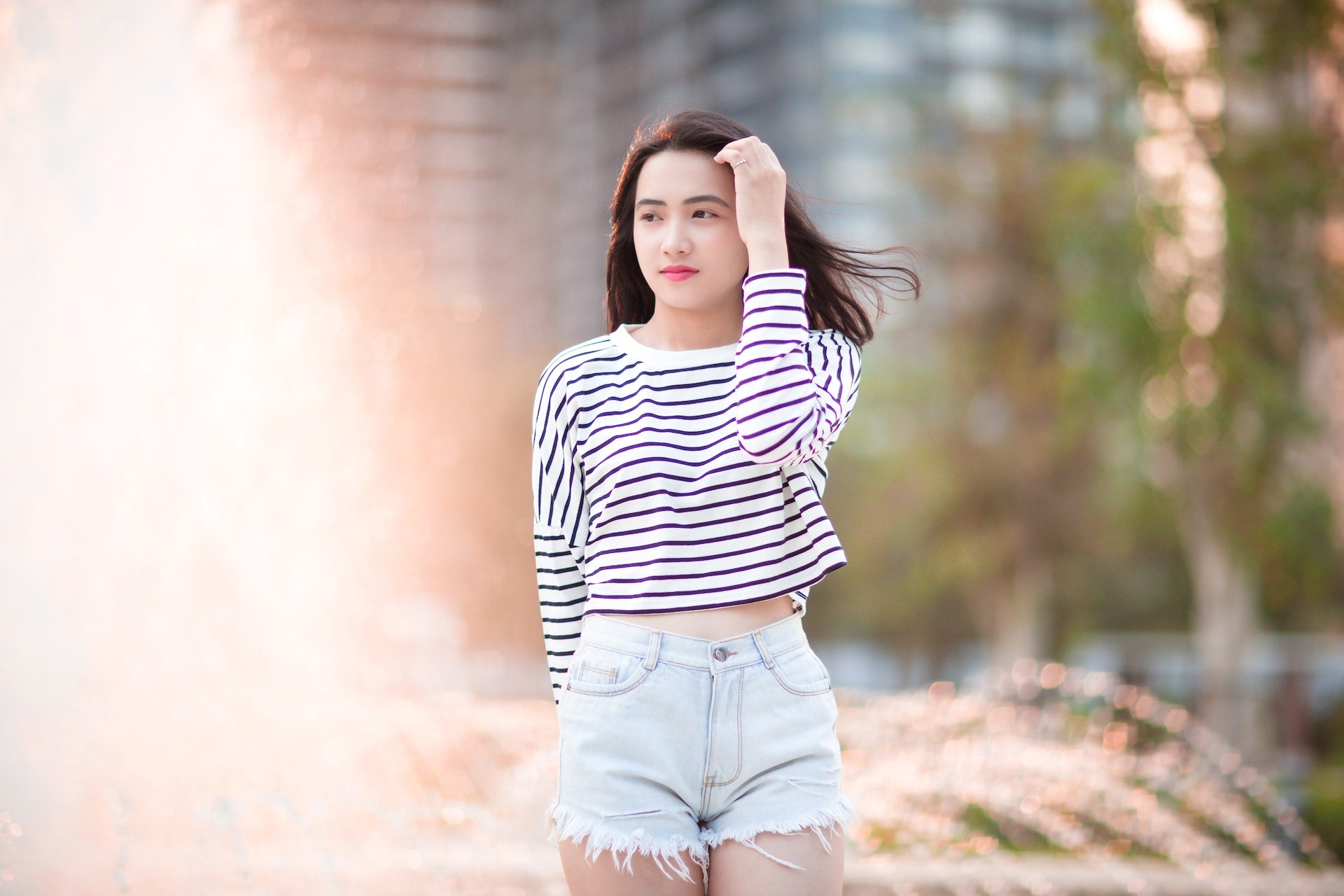 17 Cute Korean Girl Outfits For Amazing Dates
The best outfits Korean girls can wear on a date are cute, stylish, and comfortable. There are many alternatives you can include in your attire, such as soft materials, beautiful prints, and amazing accessories.

Keep reading to discover our carefully curated, amazing suggestions for the cutest date outfits for Korean girls!
Panaprium is proud to be 100% independent, free of any influence, and not sponsored. We carefully handpick products from brands we trust. Thank you so much for buying something through our link, as we may earn a commission that supports us.

Maxi dresses
Maxi dresses are cute and versatile and they look flattering on all body types.

You can choose a monochrome or a printed dress, and you can accessorize it with a cute hat if your date is taking place during the day, or a cool jacket if you're going out at night and want to be protected after sunset when the temperature drops a bit.

Take a look at our sustainable recommendations.



Cute mini dresses
If your legs are your best feature, do not hesitate to wear a flattering mini-dress that will showcase them! Guys love mini dresses and you will not go unnoticed.

Buy an awesome mini dress from a sustainable brand that uses eco-friendly production techniques.


Denim shorts
If your date is taking place during a hot summer day or evening, and you want to dress casually, but cute, a pair of denim shorts might be the right answer.

You can wear them with your favorite top, T-shirt or tank top and a pair of comfy shoes.

Discover our selection of beautiful and sustainable denim shorts.



Mini skirts
Extremely attractive and cute, mini skirts never go out of fashion. You can dress yours up or down, depending on your preference and the place you are going to.
For an elegant look, wear a cute blouse and a pair of ballet flats.

If, on the other hand, you want more comfort, opt for a casual look and add a beautiful T-shirt and a pair of sports shoes.

Check out these amazing and ethically made mini skirts.

Crop tops
A few years ago crop tops made a huge comeback. They're here to stay and if you choose to wear one, your whole outfit will have a young and modern vibe that guys love!

Don't forget that you can now buy amazing sustainable fashion, and check out our recommendations.



Jumpers
Even if it is cold outside, you can still have the cutest outfit. Wear a beautiful jumper featuring your favorite print!
Endless combinations come to mind - skirts, jeans, trousers, or even a slip dress worn under your jumper. Choose what feels better to you!

You can always add a jacket if it is the case.

Take a look at our article about sustainable jumpers.

Jeans
Jeans are some of the most popular clothing items in the world because they are comfortable, appropriate for a large number of occasions, and easy to match with other clothing items in our wardrobe.

They also come in a large variety of lengths, colors, and shapes, so that everyone can find a pair of jeans that is truly flattering and that represents their style.

Read our article about affordable and sustainable jeans.


Tops
Choose a cute top featuring feminine details such as frills or lace insertions. They will instantly make any outfit girly and romantic.

Wear it with a skirt or a pair of jeans. This simple, yet effective outfit is super comfy and ready in no time!

Buy a high-quality top from a sustainable brand.


Cute prints
The print that your clothes feature can make a huge difference. If you want a romantic, cute, and girly outfit, a floral print can be an amazing choice! Small details are always perceived as cuter than oversized prints, so keep that in mind when choosing your clothes.

Many ethical brands produce fantastic printed clothing items. You can take a look at our recommendations here.



Jackets
It is very important to protect your body from cold temperatures, so make sure you have a beautiful and versatile jacket, that you can grab whenever needed, in your wardrobe.

Vegan leather jackets are great jackets that can be worn with almost anything, that is why they are our recommendation for your cute Korean girl outfit.



T-shirts
A T-shirt can save the day so many times. If you want a casual outfit, perfect for a walk in the park or for hanging out at his house, wear a basic T-shirt.
It is a simple clothing item that speaks about your refined taste and leaves room for your favorite accessories.

Here is our article about sustainable T-shirts.



Lingerie
We cannot talk about dates without talking about lingerie! You should always wear beautiful and comfortable lingerie that both you and your boyfriend like.

A matching set is gorgeous for a date.

You can now purchase beautiful, sustainable lingerie.



Tank tops


Tank tops are very cute. Wear one with a pair of shorts or with a beautiful skirt.

Here you can find our affordable and sustainable recommendations.


Midi skirts
Midi skirts are also very cute and can be worn all year round. This length is the most versatile because it can be worn at work, as well as at a party.

One of the best combos you can make is by adding a cute blouse with a floral print - this way you will have an outfit that is both elegant and playful.

Discover the best 15 affordable and sustainable midi skirts you can wear on your date.



White shirts
White shirts are classy and beautiful. They don't have to be part of a formal outfit - you can easily wear a white shirt casually with denim shorts, jeans, or a denim skirt.

This way, you will obtain a very balanced outfit that includes both elegant and relaxed elements. Add some pearls or a chocker, depending on which one of the two sides (elegant or casual) you want to highlight.

Buy fantastic, high-quality white shirts from sustainable brands.



Leggings
Leggings are cute and comfortable.
They were initially designed as sportswear, which means a lot of people still associate them with fitness and yoga, so wearing leggings will also show your interest in taking care of your body.

And their versatility is already well known!

Discover amazing sustainable leggings you could wear on your date.



Summing up
A cute Korean girl outfit for a date may sound complicated but is very easy to choose if you keep in mind the following things: where you are going, your comfort, the clothes that look flattering on your body type, and the weather outside.

Many of the outfits presented to you above can be easily adapted to different weather conditions by adding or removing one piece of clothing - such as a jacket or a pair of tights.

Always choose flattering clothes in the right size for your body.

If you like our advice, share this article with your friends!


Was this article helpful to you? Please tell us what you liked or didn't like in the comments below.
About the Author: Miruna Dulcea