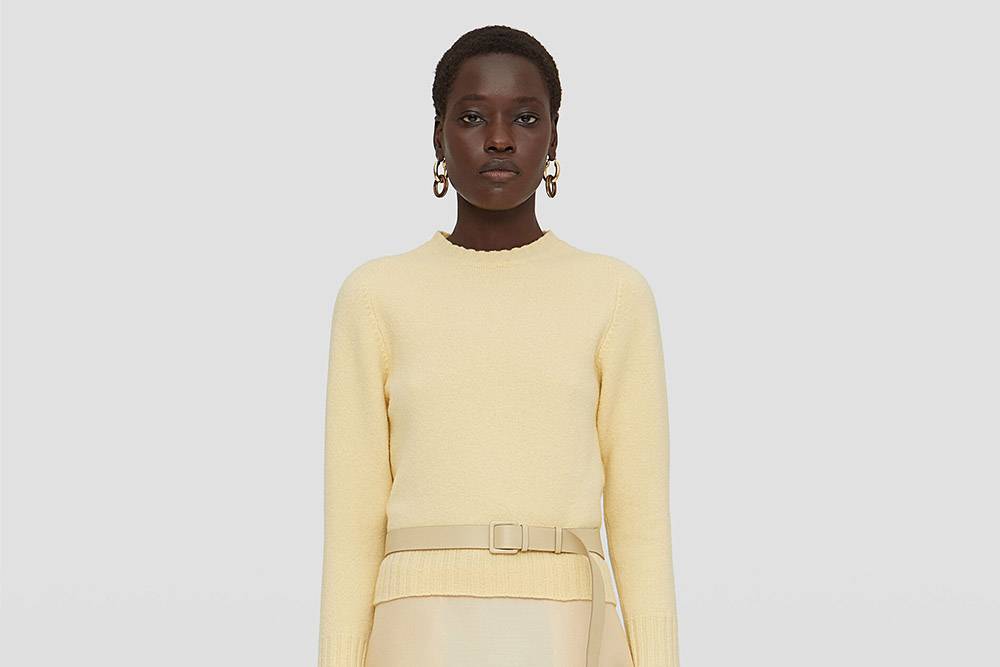 Jiline "Jil" Sander is a German fashion designer that creates minimalist premium womenswear, menswear, bags, shoes, and accessories for her Jil Sander fashion house.

Jil Sander+ is a design collection from the collaborative label in partnership with Uniqlo. Jil Sander has been working with Uniqlo on and off since 2009 to create new collections.

Jil Sander's fashion pieces are highly recognizable and feature minimalist aesthetics and demure colors. The brand's Autumn and Winter, Spring and Summer wear are available online and in-store in worldwide locations.
Panaprium is proud to be 100% independent, free of any influence, and not sponsored. We carefully handpick products from brands we trust. Thank you so much for buying something through our link, as we may earn a commission that supports us.

Sustainability Rating: 3/10
Rating FAQ

Category: Clothing, bags, shoes, accessories, jewelry

For: Women, men

Type: Basics, denim, dresses, knitwear, loungewear, outerwear, sleepwear, flats, sandals, boots, sneakers

Style: Chic, haute couture

Quality: High

Price: $$$

Sizes: XS-2XL, 0-10 (US), 4-14 (UK), 34-44 (EU), 4-14 (AU)

Fabrics: Cotton, linen, ramie, jute, lyocell, viscose, cupro, acetate, polyester, nylon, spandex, polyurethane, rubber, leather, wool, silk

100% Organic: No

100% Vegan: No

Ethical & Fair: No

Recycling: Yes

Producing country: not transparent enough

Certifications: no certification

Sustainability Practices
Jil Sander uses a small proportion of sustainable and natural materials such as linen, ramie, and jute.

The designer brand also uses some semi-synthetic regenerated fibers such as lyocell, viscose, cupro, and acetate made from renewable materials.

However, Jil Sander uses polluting conventional cotton to produce many of her clothes. And most of the brand's fabrics are highly polluting synthetic petroleum-based fibers such as spandex, polyester, and nylon.

Jil Sander doesn't provide any information regarding how she chooses her suppliers. She doesn't state how often audits are conducted to ensure ethical and sustainable production, ethical working conditions, social and labor standards, safety, and other important rights for workers in its supply chain.

Jil Sander doesn't use any exotic animal skin, or hair, fur, angora. But she uses leather, wool, and silk to manufacture many of her clothing pieces.

These animal-derived materials are cruel and unethical and harm the environment by producing greenhouse gases and wastes. More sustainable alternatives exist.

Sustainability Goals
However, Jil Sander doesn't measure her water usage, pollution, greenhouse gas emissions, and waste across the supply chain. She doesn't have any sustainability goals, science-based targets, or timelines to improve in the future.

Buy Here
Discover Jil Sander's collections at jilsander.com.
Reviews And Experiences With Jil Sander
Have you had (good) experiences with shopping at or the products of Jil Sander? Then leave us your rating below.