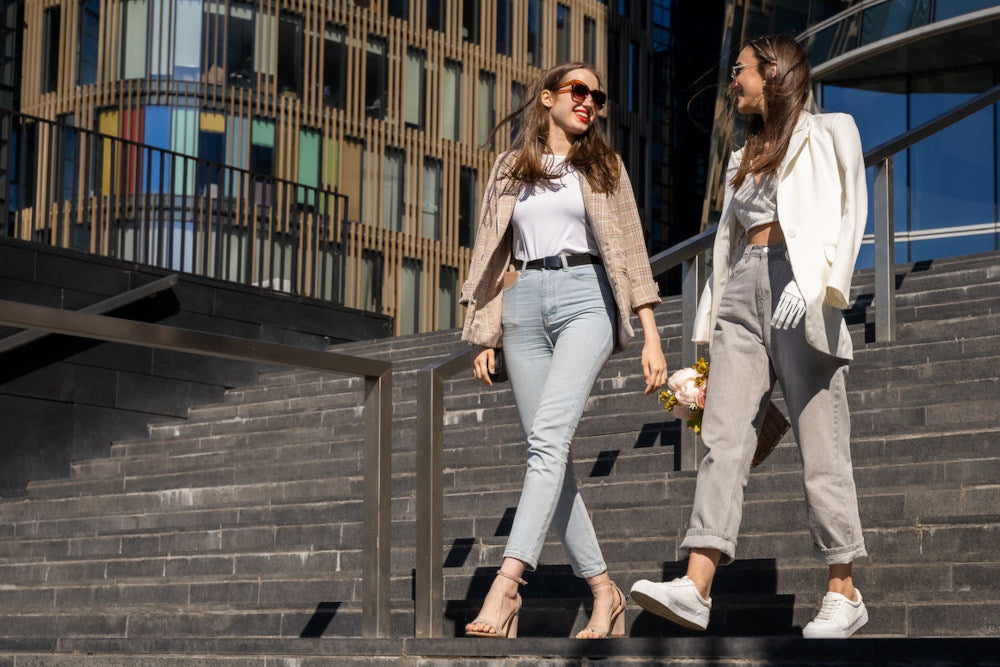 Best Tips On How To Dress When Visiting The Vatican
The Vatican City is an autonomous city-state and the seat of the Roman Catholic Church. 
The Vatican enforces a dress code throughout the city because it is a religious country. It requires dressing modestly and covering certain parts of the body to respect the sanctity of one's institution. The guards have the right to deny you access to the city and its attractions if you do not follow the dress code and wear inappropriate clothing.
So let's look for the best outfits to dress for a visit to the Vatican. We have chosen comfortable and humble clothing combinations. They follow the dress code guidelines yet make you feel beautiful every moment.
Panaprium is proud to be 100% independent, free of any influence, and not sponsored. We carefully handpick products from brands we trust. Thank you so much for buying something through our link, as we may earn a commission that supports us.
1. Midi dresses have just the right length
Midi dresses make a great outfit for a visit to the Vatican. They are feminine and discreet. Opt for a polished look, and keep midi dresses with excessive ruffles and volume for nights out.
To create a slimming effect, pay attention to the body of the dress, A line-cut dresses, and wrap dresses adapt effortlessly to every body shape and create the illusion of a narrower waist and lengthy body.
Midi skirts are also a perfect variation of this outfit. They are versatile and fashionable. Get inspired by our selection of eco-friendly maxi skirts.
2. Leggings for a maximum comfort
Leggings are very comfortable and easy to wear and are the best choice for visiting the Vatican. The leggings feel like a second skin while looking great, thanks to their stretchy, comfortable, and breathable materials.
Match your favorite leggings with a pair of white sneakers and a denim jacket.
Remember, leggings should not be see-through or psychedelic mesh. Otherwise, they will be considered inappropriate.
Check out our selection of the best affordable and organic bamboo leggings sustainably and ethically made under high standards.
3. Yes, to jumpsuits but with covered shoulders
Jumpsuits are a must-have in every wardrobe. They are one of the most comfortable clothing you would come across. Jumpsuits allow you to move freely because of their design. Furthermore, thanks to their lightweight fabric, you will feel fresh even in the hot summers.
Wear them as simple as they are, and you still have a complete outfit. However, if you choose jumpsuits with thin straps or a sleeveless jumpsuit, remember to bring a foulard or a light jacket to cover your shoulders. 
Find your favorite jumpsuit to feel comfortable and look charming while visiting the Vatican from the best affordable and sustainable jumpsuits made under high social and environmental standards.
4. Pleated skirt and a t-shirt
Pleated skirts add attractiveness and femininity to your silhouette. You can create an informal daytime look by styling a pleated skirt with different blouses and accessories.

For an easy casual outfit, match a pleated midi skirt with a simple t-shirt, sneakers, and denim jacket over your shoulders, and you are good to go.
5. Sports attire
When it comes to dressing for a tourist tour in the Vatican, casual outfits are easier to incorporate into your look.

Combine your cozy clothing with premium staples to create the perfect hybrid wardrobe. Wear your matching sweatshirt set just as it is, or dress it in a box blazer.
Find cute, comfortable and cheap sweatpants and joggers to look fashionable every day.

6. Straight-leg jeans and a button-up shirt
No style looks more classic, simple, and polished than straight-leg jeans with a buttoned-up shirt. Tuck the shirt in the front of the jeans and accentuate your waist with a thin belt.

Avoid ripped jeans and hip-hop-style baggy jeans that show parts of your underwear.

Complete the outfit with your favorite sneakers, or wear fancy loafers for a more elegant look.
7. Maxi dresses are flattering on all body types
Maxi dresses are a good choice for everyday looks. These dresses are perfect for any season, as they can be styled and layered in many different ways.
Wear a lace maxi dress for a feminine, vintage-inspired look. Otherwise, pair a maxi dress and sneakers for a more relaxed style.
Here is our selection of the best affordable maxi dresses made in the USA under high social and environmental standards.
8. Tank top with a cardigan and mom-fit jeans
Tank tops are everywhere during the summer, especially in hot summers like in Rome. 
But do not get upset if tank tops don't fit the Vatican dress code because we have the perfect solution for you.
Style your favorite tank top with a pair of mom-fit jeans and a cardigan. 
Wear high-waisted jeans that define your waist and flatter your curves.
They will give a vintage-inspired look.
Finally, use the cardigan to cover your shoulders when entering the Vatican. 
Here are the best organic cotton tank tops to look fashionable and feel comfortable while visiting the Vatican.
9. Capri pants with a fitted top
Capri pants are among the favorites for many women during the summer and for travel. They are lightweight and relaxed.

Capri pants have a shorter cut of cropped pants. Capri pants usually end mid-calf and come in many fabrics – denim, cotton, stretchy fabrics, linen, and others.

Thin, wide, conical, straight, or elongated – there is such a large variety that we are sure you will find what best fits you and makes you feel fresh and comfortable.
10. Trench coat for rainy days

The most rainfall in Rome is seen in November, but also in April there are frequent short rainfalls. Furthermore, Rome experiences extreme variation in the perceived humidity.

If you happen to visit the Vatican on those humid and rainy days, it is a good idea to wear a trench coat.

Check out our selection of the best affordable and sustainable trench coats that will shield you from the rain.
11. A color-matching knit set
Knit sets have become very popular. They instantly make you look radiant and comfortable. They are perfect for cold winter days because they keep you warm all day while leaving the sensation of freedom. 
A knitted ensemble adds glamor to any outfit. And you will not want to take it off! Get inspired by our selection of the best Australian-made knitwear brands here.
12. A shirt dress
Wear a shirt dress for a comfortable, effortless, yet elegant look. Shirt dresses have remained popular for decades, and today you can find them in a variety of fabrics, colors, and silhouettes.
Remember to choose a shirt dress that hits just above the knee. Accessorize it with a belt and wear it with a denim jacket during the mid-season for a cute casual look.
However, if you cannot do without your favorite short shirt dress, bring a pair of leggings to put on at the entrance to the Vatican.
13. Men's wear
Shirts are the most recommended clothing for men when visiting the Vatican. You can also wear a T-shirt, as long as it does not have offensive slogans or images.
If it is hot and you cannot live without shorts, make sure the shorts come up to the knee. Dress them up in a linen shirt and sneakers.
14. Dress in the colors of the Vatican
Yellow and white are the colors of the Vatican. The yellow color symbolizes the papacy and the Holy See, while white represents the spiritual authority of the papacy on Earth.

Play with these two colors to create the best outfit to visit Vatican City.

15. Foulard
One of the most used accessories of Italians is the scarf, or foulard, used by both men and women. Thanks to its versatility, Italians use it as an indispensable accessory for every season, perfect for embellishing their look and adding sophistication to every outfit.

Scarves and foulards can enrich, personalize and enhance even the plainest piece of clothing.

In our case, they also have another essential function - covering the uncovered parts of your body and allowing you to visit the Vatican serenely. 
16. Tailored and well-fitted outfits
In general, European people prefer tailored and well-fitted looks. Oversized, baggy, and loose clothes are not garments that Europeans prefer and are sometimes considered tasteless.
Whether you agree with it or not, try to follow this rule when visiting the Vatican. Oversized and loose clothes that expose part of the body and underwear are not allowed in the Vatican.
Pants with holes or rips are also considered inappropriate.
17. Avoid plunging necklines
The Vatican has a strict dress code, as we have already pointed out. The same also applies to tops with plunging necklines. Deep v-neck shirts for both men and women are ill-suited. 
It is, after all, a place of religious significance, and it is crucial to wear appropriate attire while there. 
18. Comfortable shoes

Without a doubt, the most comfortable and suitable shoes for visiting the Vatican are sneakers. We recommend classical white sneakers as they match everything.
Especially if you are eager to climb to the top of St Peter's dome through its progressively narrower and sloping stairs, comfortable shoes are essential.

Wear fancy loafers or flats if you want to add a sophisticated touch to your outfit. Ankle boots for the cold season are also a great idea.

Leave your flip-flops at home, no matter how comfortable you feel wearing them. During summer, replace flip-flops with a nice and colored pair of espadrilles.
Find out the best brands for sustainable sneakers in Europe here.
19. Hat and a bottle of water
In high season, queues to get inside the St Peter Basilica or the Vatican museums could be too long and spoil part of the day. You could find yourself waiting in a queue under the sun for many to enter the Vatican.
Besides, the museums are very extensive and can be overwhelming. It's almost impossible to see everything. One thing to be aware of is that the museums do not have air conditioning, so in the height of summer, it can be very hot.
We recommend you wear a hat and take a bottle of water always. However, remember to take off your hat when entering the St Peter Basilica.
Learn more about Tiempo de Zafra, who creates beautiful hats from waste.
20. 
Travel comfortably with a backpack
A backpack is the best solution for visiting the Vatican. It keeps your hands free for photo shoots and sits comfortably on your back. Also, if you need to cover up, you can put a jacket or scarf in your backpack.
However, there are a few things to keep in mind. First, it's important to note the size restrictions on backpacks allowed in the Vatican Museums. 
All backpacks must not be larger than 35 cm x 40 cm x 15 cm. If your backpack is too big, security guards will check it in. Also, backpacks are not allowed in certain areas of the Vatican Museums, such as the Sistine Chapel. If you attempt to bring your backpack into one of these areas, you will be asked to leave it in a specific area during the visit.
Was this article helpful to you? Please tell us what you liked or didn't like in the comments below.
About the Author: Iana Jekova