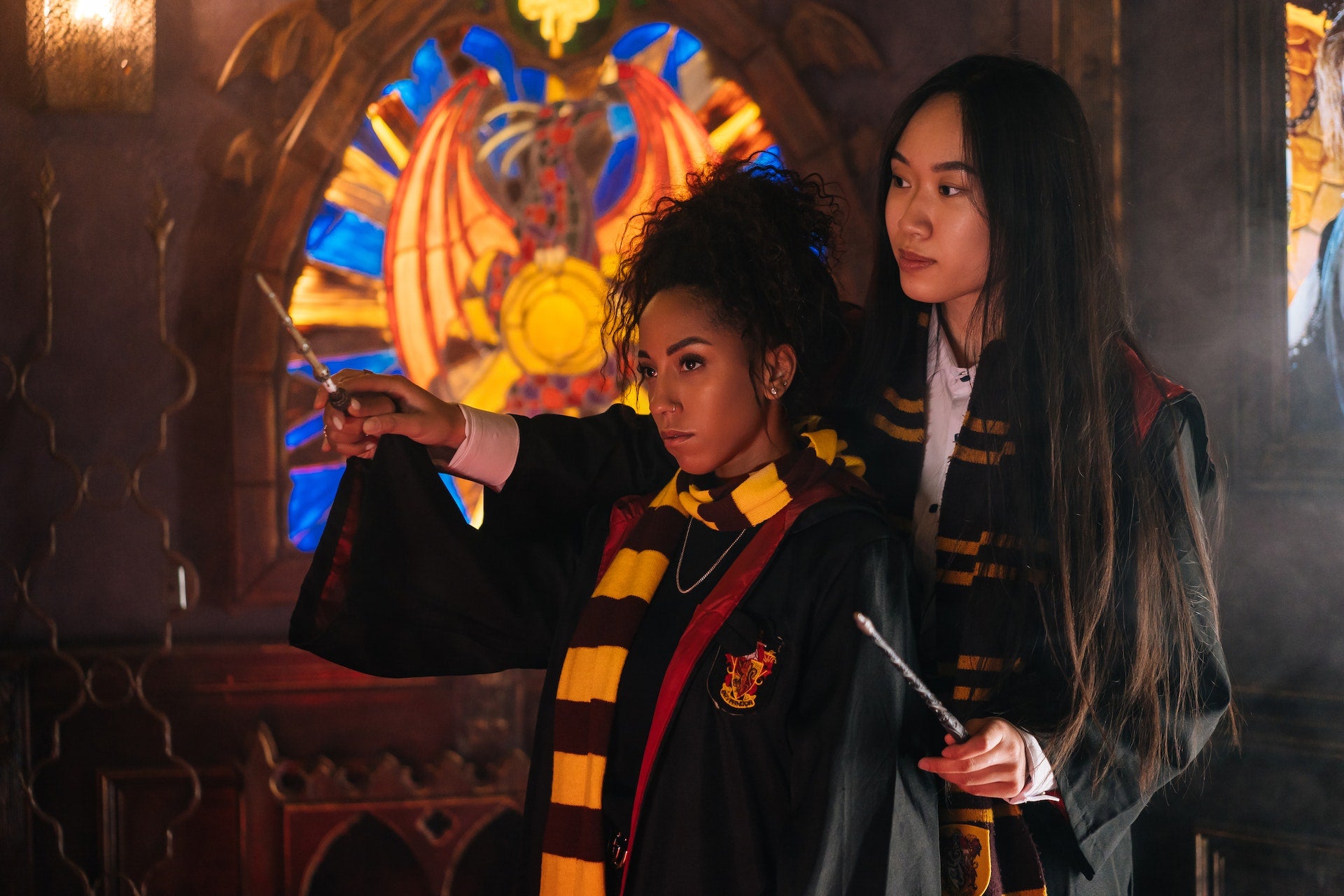 The Best 15 Outfits To Wear At Harry Potter World
The Warner Bros studio tour London, also known as the Harry Potter World London, offers regular people the opportunity to go behind the scenes of their favorite Harry Potter movies, to experience a little bit of the famous world of wizards and wizardry.

If you were a kid or a teenager in the early 2000s, chances are that you were fascinated when the Harry Potter movies aired, and a visit to Harry Potter World is a wish that becomes reality for an entire generation.

If you have this great opportunity and want to choose the perfect outfit for it, we're here for you. Keep reading to discover 15 amazing outfits that you can wear on a visit to Harry Potter world.
Panaprium is proud to be 100% independent, free of any influence, and not sponsored. We carefully handpick products from brands we trust. Thank you so much for buying something through our link, as we may earn a commission that supports us.

Wizard robes
Let's start with the obvious. We are certain that the idea of wearing a custom wizard robe or uniform pops up every time there's an opportunity to visit Harry Potter World.
That is completely understandable because your inner child still dreams of being part of the wizards' world and this is the perfect chance to wear such an item.

We say that wearing the wizard robe can be a little uncomfortable because it can get really warm with one, and your goal should be to feel comfortable.
However, if you do decide to wear this attire, you can either purchase it from one of their gift shops, or you can do it in a very sustainable way, by checking the online vintage shops that sell pre-loved items.
Here you can find over 25 second-hand clothing apps for affordable vintage.

T-shirts
Visiting any theme park or movie set is all about feeling awesome and having a great time.
Wearing comfortable clothes is very important because it allows you to feel cozy and relaxed, as opposed to uncomfortable clothes which can be too tight, not breathable, or too harsh for your skin.

A basic T-shirt is one of your best choices for this occasion. T-shirts are very easy to match with any of your other clothes, and a quality one will last you a very long time.

Check out our sustainable shopping recommendations.




Dresses
Choose a sporty fashion style dress to wear during your visit to Harry Potter world. This way you will feel comfy and be fashionable.

Take a look at our article about the best summer organic cotton dresses for 2023.



Flannel shirts
A flannel shirt is another great choice. They are very stylish and versatile, and they can be worn with jeans, skirts, trousers, or denim shorts.

Your flannel shirt can now be affordable, eco-friendly, and made from locally sourced, organic, or recycled materials.
Check out the best affordable American-made flannel shirts.




Jeans
We all know how versatile and comfortable jeans are!
They can be worn in an infinite number of beautiful, cozy, and fashionable combinations.

Create a very relaxed outfit, that will allow you to feel great the whole day, starting with a sustainable pair of jeans. Add your favorite T-shirt and hoodie, and you are ready to go.





Cute leggings
Leggings are probably the most comfortable clothing item one can wear.
Initially designed as gym wear, leggings have gained a lot of popularity as streetwear because they are so cozy and easy to wear.

Wear yours with a tank top, a T-shirt, or a crop top. Add a jacket, a sweatshirt, or a hoodie if needed.

Don't forget to purchase your leggings from sustainable brands that work under very high-quality standards.




Denim shorts
A pair of denim shorts never fails you in case you want to put together a relaxed outfit.
Denim shorts do not go out of fashion, this is why buying a high-quality pair from a sustainable brand is a great investment in your wardrobe.

Add a T-shirt and your outfit is ready!




Tank tops
Tank tops are great for summer. They are available in many colors and materials.
You can choose a basic, simple one, or you can go for a more interesting design for example one that ties with a bow.

Discover amazing tank tops made by sustainable brands.



Denim vests
Denim vests made a comeback and regained popularity. They are here to stay because they are gorgeous additions to any wardrobe.

Wear one to Harry Potter World, in case you want something fashionable and lighter than a jacket. Denim vests look great with tank tops or T-shirts.

Take a look at the best affordable and sustainable denim brands if you want to make your choice eco-friendly.



Denim jackets
Denim jackets are durable, perfect for layering, timeless, and classic clothing items that can beautifully complete any casual outfit.

Make sure yours comes from an ethical brand.




Flare leggings
Bring the 1970s to life with a beautiful pair of flare leggings or pans. Their bell-like shape is very flattering to your figure as it makes your legs appear longer.
Flare leggings are also very comfortable and can be worn dressed up or down.

Purchase yours from an eco-friendly brand.




Crop tops
Crop tops are very modern and they no longer appeal to a high school audience only. You can wear a crop top in many ways, for example with skirts, jeans, or shorts.

You can even wear crop tops without revealing stomach skin - here's how.

Buy your crop top from a sustainable brand.



Hoodies
Complete your cool and relaxed outfit with a comfortable hoodie. Take a look at our affordable and sustainable shopping suggestions.

Backpacks
Choose to wear a backpack during your visit to Harry Potter World.
This way, you will have a lot of room for your personal belongings, but also for whatever you might buy from the gift shops. In addition, your hands will be free at all times.

You can now buy sustainable backpacks made by ethical brands.




Shoes
Last, but not least, we need to talk about shoes. More often than not, they're the most important part of your outfit and that's because uncomfortable shoes can ruin a beautiful day.

Make sure to choose shoes that fit and that are made from light, comfy materials that will allow you to have a great time, no matter how long you have to stand and walk.

Purchase them from sustainable brands.



What to avoid
Avoid overdressing, wearing clothes that are elegant, uncomfortable shoes such as heels, and clothes that restrict your natural body movements. Such an outfit would only prevent you from having the best time.

Remember that relaxed outfits don't have to be baggy. They can be cute and fashionable if you make the right choices for your body type.

Conclusion
Visiting Harry Potter World is a great opportunity to fulfill a childhood dream. You should make the most out of this beautiful experience, and to do so you need a comfortable outfit.
You can keep things basic, or you can personalize your outfit according to your preferences.

One very important thing you should consider is the fact that you are going to spend many hours wearing that certain outfit, which is why you should make it as comfortable as possible.

Our best travel tips are to plan everything, including accommodation and transportation so that you can be stress-free on that special day. 
Check out the terms and conditions, and do your best to avoid having prohibited items on you. It is also extremely important to check in advance if taking pictures is allowed or not.

Avoid finding yourself in an embarrassing situation and never rely on information that you've heard from a friend, or that you've read online on another website than the official one, because regulations are subject to modification. It is always the best check the terms and conditions yourself, shortly before arrival.

Do some research about the gift shops available there and about the attractions that you want to see.
If you like our tips, share this article with your friends!
Was this article helpful to you? Please tell us what you liked or didn't like in the comments below.
About the Author: Miruna Dulcea