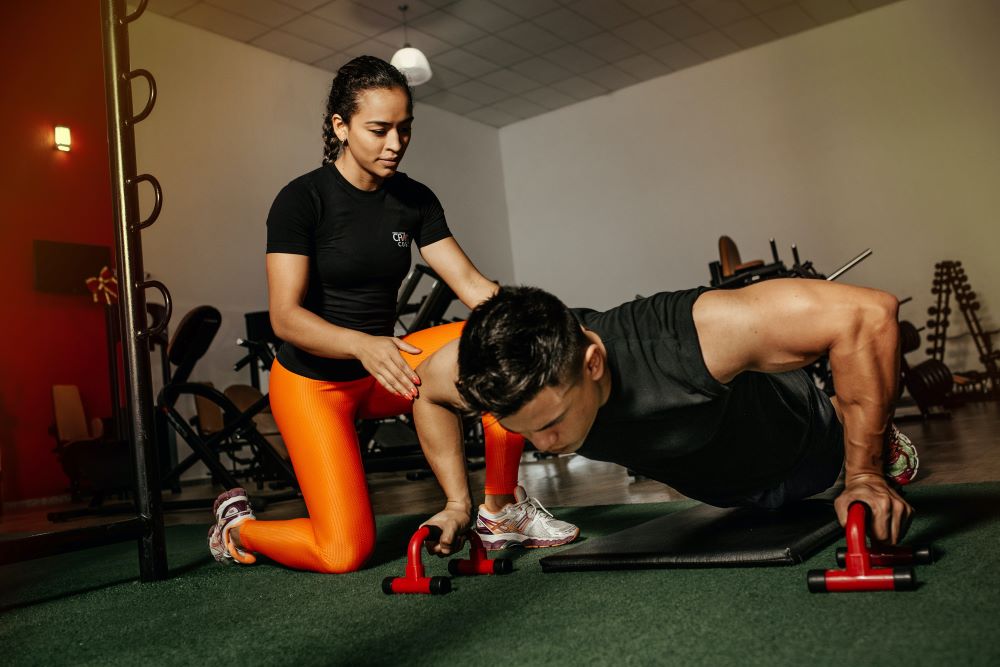 Dress for Success to a Gym Interview (17 Ultimate Outfits)
The moment has finally arrived – you have landed an interview for a position at a gym or fitness center. It is an exciting opportunity to combine your passion for a healthy lifestyle with your career ambitions.
While showcasing your qualifications and enthusiasm is crucial, the question arises: What should you wear to a gym interview? Striking the perfect balance between professionalism and practicality is key.
The specific dress code may vary depending on the gym's culture and the position you are interviewing for, so it is a good idea to reach out to the employer or HR department for any specific guidelines or expectations.
Whether you are applying for a personal trainer, front desk, or managerial job, your attire can speak volumes about your commitment and preparedness. In this guide, we will walk you through 17 essential outfit items for a personal trainer position.
In most gyms, the personal trainer interview has a practical part as well, where your knowledge about fitness and nutrition, as well as people skills will be put to the test. So, let's dive in and discover the ideal interview attire that will help you stride confidently into your fitness career.
Panaprium is proud to be 100% independent, free of any influence, and not sponsored. We carefully handpick products from brands we trust. Thank you so much for buying something through our link, as we may earn a commission that supports us.
Blouse or Button-Down Shirt
Select a well-fitted blouse or button-down shirt for a polished look. Ensure it is made from high-quality fabric and choose neutral colors or subtle patterns that convey professionalism.
Check out our selection of the best affordable, ethical, and sustainable blouses, as well as the 15 best affordable shirts made in the USA. 
Blazer or Sports Jacket
Layer your outfit with a blazer or sports jacket that complements your shirt and slacks. A well-tailored jacket adds a touch of sophistication and confidence to your overall appearance. 
Wondering what to wear under your lovely blazer? Check out our list of the original outfits to wear under a blazer. 
Slacks or Trousers
Opt for tailored slacks or trousers that match your top. Choose classic and versatile colors like black, navy, or gray to create a timeless, professional look.
Do not forget to have a look at our extensive collection of the best organic cotton trousers in 2023. 
Athletic Leggings
Have a clean, well-fitted pair of athletic leggings on hand, especially if there is a practical workout component in the interview. Look for leggings with moisture-wicking properties for comfort.
They should be comfortably fitted but not too tight. Ensure they are not see-through to maintain modesty. Do not forget to check out the 20 best affordable and sustainable yoga and gym leggings. 
Closed-Toe Flats or Low Heels
Wear closed-toe flats or low heels that are both stylish and comfortable. These shoes should be clean and in excellent condition to maintain your professional image.
For more inspiration, check out these affordable and sustainable ballet flats we have selected just for you. 
Stylish Belt
Choose a simple yet stylish belt that complements your slacks or trousers. A belt not only holds your outfit together but also adds a refined touch to your appearance. Here are the 10 best ethical and vegan leather belts for women. 
Professional Handbag
Carry a professional handbag or tote that is well-organized and clean. It should be large enough to hold your documents and essentials while complementing your overall outfit. Make sure to check out the 15 best faux leather designer handbags of 2023. 
Stylish Wristwatch
Wear a stylish wristwatch that reflects your personality while emphasizing your punctuality and time management skills. Choose a design that suits both formal and sports attire.
Sports Bra
Underneath your formal attire, opt for a supportive sports bra that provides comfort and coverage. Look for a design that does not create visible lines or bulges.
Choose a sports bra with medium to high support, ensuring it offers coverage and minimizes bouncing during physical activities.
Opt for a neutral or subtle color. Make sure to check out our extensive selection of the best affordable and sustainable sports bras. 
Moisture-wicking Blouse or T-shirt
For the practical segment of your interview, choose a moisture-wicking blouse or shirt that complements your outfit. This will help you stay comfortable during physical activities and maintain a polished look.
For more inspiration, check out the 15 best affordable and ethical T-shirts made in Australia. 
Athletic Shoes
Keep a pair of clean, supportive athletic shoes in your gym bag. These shoes should be suitable for both performance and style, demonstrating your readiness for any physical tasks.
Ensure your athletic shoes are clean and well-maintained. Choose a pair with adequate support and consider a neutral color to match various outfits.
Headband or Hair Tie
Keep a headband or hair tie within easy reach to secure your hair during physical activities. This showcases your preparedness and attention to detail. Here are the 10 best affordable and eco-friendly hair ties. 
Water Bottle
Bring a reusable water bottle to stay hydrated during the practical part of the interview. It demonstrates your commitment to health and fitness, an essential aspect of working in a gym environment.
Minimal Makeup and Well-groomed Hands
Maintain a natural and minimal makeup look that enhances your features without being distracting. Subtle makeup highlights your professional and composed appearance, regardless of the outfit you are wearing.
Ensure your hands are well-groomed, and your nails are neatly manicured. This attention to detail highlights your professionalism and commitment to maintaining a polished appearance.
Minimal Jewelry
Opt for subtle jewelry, such as stud earrings and a delicate necklace, that complements both formal and sportswear.
Avoid statement pieces to maintain a balanced and professional look. Here are the 15 best sustainable jewelry brands you need to know. 
Athletic Socks
Opt for plain, neutral-colored athletic socks that match your outfit. Avoid patterns or flashy colors for a professional look. Check out the 20 best affordable, sustainable, and organic socks. 
Confidence
The most important item to wear is confidence. Approach the interview with a positive attitude, a genuine smile, and a firm handshake. Your self-assured demeanor speaks volumes about your readiness to excel in a fitness-related role.
Was this article helpful to you? Please tell us what you liked or didn't like in the comments below.
About the Author: Gohar Davtyan