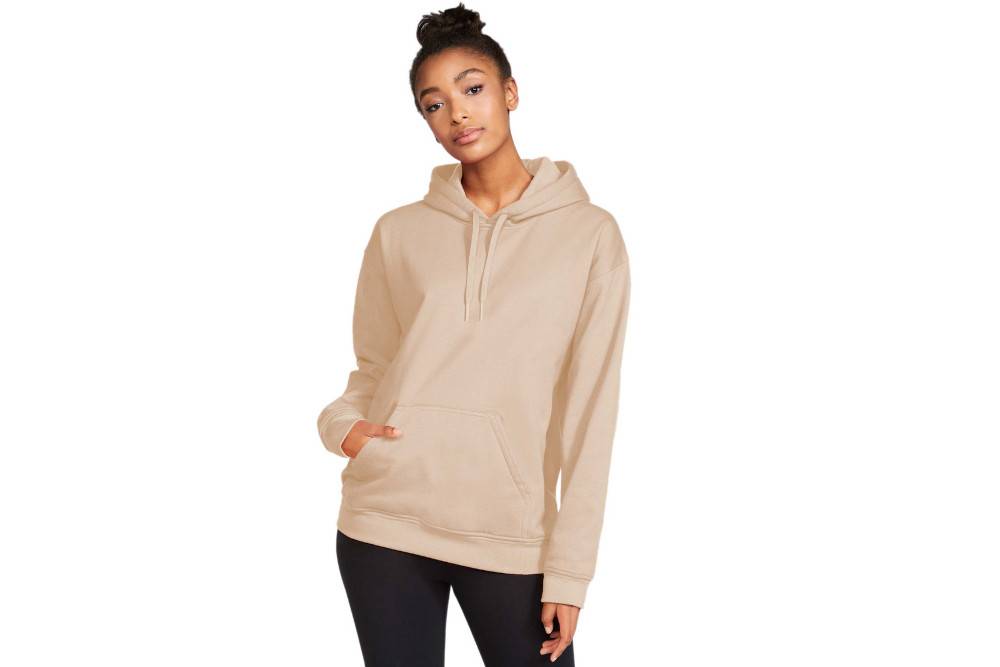 Gildan is a Canadian fashion retailer founded in 1984 in Montreal, Quebec, by Glenn Chamandy and Greg Chamandy. The multinational clothing-retail company creates wholesale blank apparel and organic basics.

Gildan makes clothing and accessories for men, women, and children. It owns other brands such as American Apparel, Alstyle, Peds, Secret, Goldtoe, Silks, and Comfort Colors.

Gildan is one of the world's largest vertically integrated manufacturers of apparel, socks and hosiery. It has 44,000 employees and operates 12 owned Tier 1 factories in Honduras, Nicaragua, Bangladesh, and the Dominican Republic.

Gildan has been re-imagining and building the future of responsible apparel manufacturing, fostering a circular economy and higher standards at every step of its operation.

Gildan makes apparel better by respecting human and natural resources for the environment, circularity, people, communities, and transparency. It pays as much attention to what goes into the work as what comes out.


Panaprium is proud to be 100% independent, free of any influence, and not sponsored. We carefully handpick products from brands we trust. Thank you so much for buying something through our link, as we may earn a commission that supports us.

Sustainability Rating: 5/10
Rating FAQ

Category: Clothing, accessories

For: Women, men, children

Type: Basics, knitwear, activewear, underwear, loungewear, outerwear

Style: Casual

Quality: Medium

Price: $$

Sizes: S-2XL, 4-14 (US), 6-16 (UK), 36-44 (EU), 6-16 (AU)

Fabrics: Cotton, modal, acetate, polyester, nylon, spandex, wool, silk

100% Organic: No

100% Vegan: No

Ethical & Fair: Yes

Recycling: Yes

Producing countries: Bangladesh, Honduras, Nicaragua, Dominican Republic, Haiti, Mexico, Guatemala, China, India, Vietnam

Certifications: Oeko-Tex, WRAP, Sedex, SMETA, FLA



Sustainability Practices
Gildan takes wide-ranging measures to protect biodiversity, reduce its consumption of water, energy, and other resources, avoid waste, and combat climate change.

It wants to be better and more efficient by looking at every aspect of its value chain to ensure the healthy functioning of our planet. However, a large portion of its business remains detrimental to the environment.

Gildan only doesn't use any certified organic materials such as organic cotton. It uses recycled materials such as recycled polyester made from recycled plastic bottles.

Most of the fabrics it uses are either natural without relevant certifications, such as regular cotton or synthetic petroleum-based fibers such as polyester, nylon, and more.

Gildan publishes a list of all its manufacturers and processing facilities on its corporate website, GildanCorp.com. It aims to protect its people by applying human rights principles in the workplace and across its operations.

Gildan used to employ sweatshops in Haiti, where workers were forced to work under the lowest wages in the hemisphere. Labor rights violations involving Gildan in Haitian factories were previously reported.

Gildan now cares more about its suppliers with higher transparency and worker empowerment initiatives. It ensures that its employees' salaries and benefits are sufficient to meet basic needs and provide discretionary income.

The 2021 Fashion Transparency Index gave Gildan a score of 63% based on how much the group discloses about its social and environmental policies, practices, and impacts.

Gildan manufactures its clothes in many other East Asian countries where human rights and labor law violations still happen every day.

The Canadian clothing retailer does show some labor certification standards that ensure good working conditions, fair wages, health, safety, and other human rights for workers in its supply chain.

Gildan has a code of conduct that applies to all its suppliers and subcontractors based on the regulations set by the International Labor Organization (ILO).

Gildan assesses compliance with its Code of Conduct by informal visits or third-party audits with or without notice. It works to offer ethical and empowering working conditions while treating its workers with respect and dignity.

Gildan doesn't use any exotic animal skin, hair, fur, or angora. But it uses wool and silk to manufacture many of its clothing pieces.

These animal-derived materials are cruel and unethical. They also harm the environment by producing greenhouse gases and waste. More sustainable alternatives exist.



Sustainability Goals
Gildan has committed to reducing its environmental impact across the entire supply chain. It will make meaningful advancements by 2030 in several areas, including climate, energy, water, circlarity, and transparency.

Gildan plans to reduce its scope 1 and 2 CO2 emissions by 30% by 2030. It also aims to attain a 20% reduction in water withdrawal from nature by 2030.

Gildan has committed to sourcing 100% sustainable cotton by 2025 and 30% recycled polyester or alternative fibers and/or yarns by 2027.

It also plans to achieve zero manufacturing waste by 2027 and to use 75% recycled or sustainable packaging and trim materials by 2027.

Gildan plans to attain the ISO 45001 certification at all its company-owned and operated facilities by 2028. It will also achieve gender parity for roles at the director level and above by 2027.


Buy Here
Discover Gildan's sustainable collections at GildanBrands.com.
Reviews And Experiences With Gildan
Have you had (good) experiences with shopping at or the products of Gildan? Then leave us your rating below.