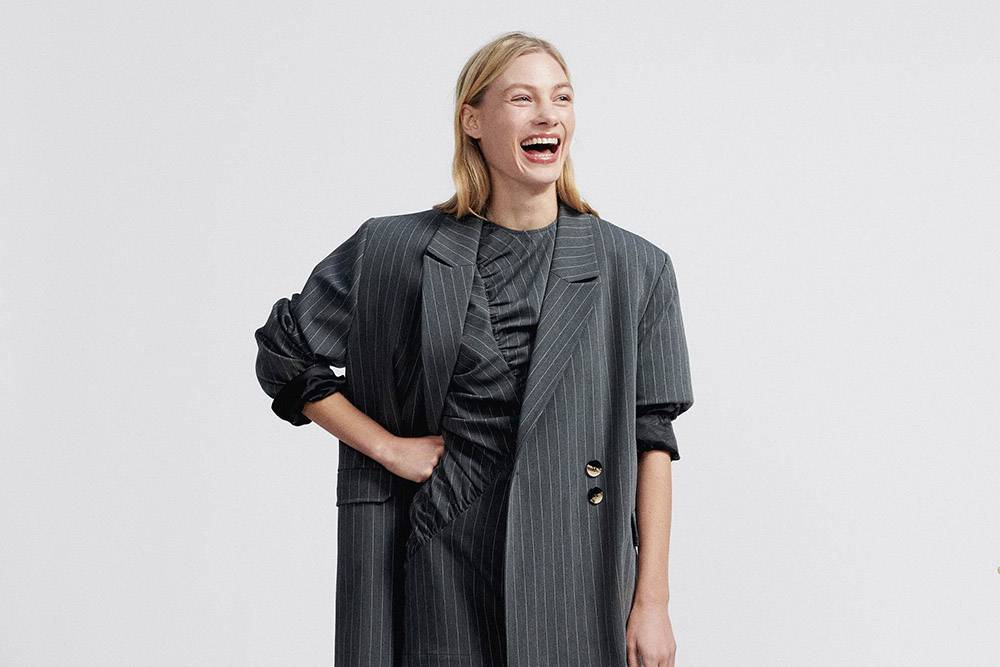 GANNI is a responsible clothing brand that doesn't follow trends but creates exclusives capsules for women. It offers stylish, cute, and classic clothes, shoes, and accessories.

The clothing brand from Copenhagen creates fashionable and classic pieces for every wardrobe. Its garments are elegant, chic, and responsibly made with deep care for the planet.

GANNI is a modern clothing brand committed to making organic fashion and led by a husband-and-wife team, including Creative Director Ditte Reffstrup and Co-Founder Nicolaj Reffstrup.

GANNI features strong Scandinavian styles full of unexpected details and personality. It describes itself as Scandinavian design, but not as you know it.

The brand creates clothes inspired by the women that wear its best pieces and is on a mission to make confident designs for everyday wear.

GANNI doesn't identify as a sustainable brand due to the contradiction between the current fashion industry that thrives off newness and consumption and the concept of sustainability.

GANNI focuses instead on becoming more responsible and committing to better choices every day to minimize its social and environmental impact.

GANNI wants to make women feel like they can do anything. It's a creative collective and diverse community committed to environmental responsibility and progressive social activism.

GANNI has introduced over 30+ responsible initiatives last year, including a take-back scheme, rental platform, and certified, organic, or recycled fabrics into its collections.
Panaprium is proud to be 100% independent, free of any influence, and not sponsored. We carefully handpick products from brands we trust. Thank you so much for buying something through our link, as we may earn a commission that supports us.

Sustainability Rating: 6/10
Rating FAQ

Category: Clothing, bags, shoes, accessories, jewelry

For: Women

Type: Basics, denim, nightwear, loungewear, knitwear, outerwear, swimwear, underwear

Style: Casual, classic

Quality: High

Price: $$

Sizes: XS-2XL, 0-14 (US), 4-18 (UK), 32-46 (EU), 4-18 (AU)

Fabrics: Cotton, linen, hemp, jute, lyocell, acetate, viscose, polyester, nylon, spandex, acrylic, polyurethane, rubber, leather, wool, silk, down

100% Organic: No

100% Vegan: No

Ethical & Fair: Yes

Recycling: Yes

Producing country: Bulgaria, China, Greece, India, Italy, Portugal, Spain, Turkey

Certifications: GOTS, GRS, RWS, FSC

Sustainability Practices
GANNI is committed to making more responsible choices and minimizing its environmental and social impact. It strives to use more sustainable materials and be honest about its sustainability practices.

GANNI has partnerships with SOEX and I:CO, sorting, recycling, and reselling service providers. It's exploring new business models such as rental and resale.

GANNI uses a high proportion of sustainable materials, such as organic cotton, linen, and jute. It also uses recycled materials, such as recycled polyester, recycled rubber, and regenerated nylon.

Some of its clothes contain semi-synthetic fibers or regenerated cellulosic fabrics such as Tencel lyocell and viscose. Tencel is an environmentally friendly fiber made with wood pulp from FSC certified sustainable forests.

GANNI also uses some highly polluting synthetic petroleum-based fibers such as polyester, spandex, and acrylic.

GANNI is committed to diversity, gender equality, and inclusion in the workplace. It also stands in solidarity with the Black Lives Matter movement.

GANNI supports women empowerment worldwide, the transgender and gender non-conforming, LGBTQ community.

GANNI manufactures its clothes in Bulgaria, China, Greece, India, Italy, Portugal, Spain, and Turkey. It works with its suppliers to pilot social responsibility initiatives and obtain traceability through its supply chain.

GANNI doesn't have a code of conduct that applies to all its suppliers and subcontractors.

The clothing brand publishes a list of its manufacturing and processing facilities and makes it available publicly on its corporate website.

GANNI doesn't present any certification that ensures social and labor standards, ethical and sustainable production.

It doesn't disclose if it conducts any audits to ensure good working conditions, decent living wages, health, safety, and other rights for workers in its supply chain.

GANNI doesn't use any exotic animal skin, or hair, fur, angora. But it uses leather, wool, silk, and down feathers to manufacture many of its clothing pieces.

These animal-derived materials are cruel and unethical. They also harm the environment by producing greenhouse gases and wastes. More sustainable alternatives exist.

Sustainability Goals
GANNI aims to incorporate more sustainable solutions, quality fibers and pays a premium for better, certified materials. It invests in recycling technology and infrastructure projects to accelerate the transition to circular fashion.

GANNI is committed to a 30% CO2 emissions reduction per kg of clothing by 2023. It has decided to phase out the use of animal leather in its collections to reduce emissions.

GANNI plans to achieve 100% supply chain traceability by 2021 and make it more transparent.

GANNI aims to reduce wastage by limiting overproduction and using its own deadstock by 2023. It plans to recycle 100% of its packaging by 2020 and eliminate unnecessary plastic by 2023.

Buy Here
Discover GANNI's sustainable collections at ganni.com.
Reviews And Experiences With GANNI
Have you had (good) experiences with shopping at or the products of GANNI? Then leave us your rating below.