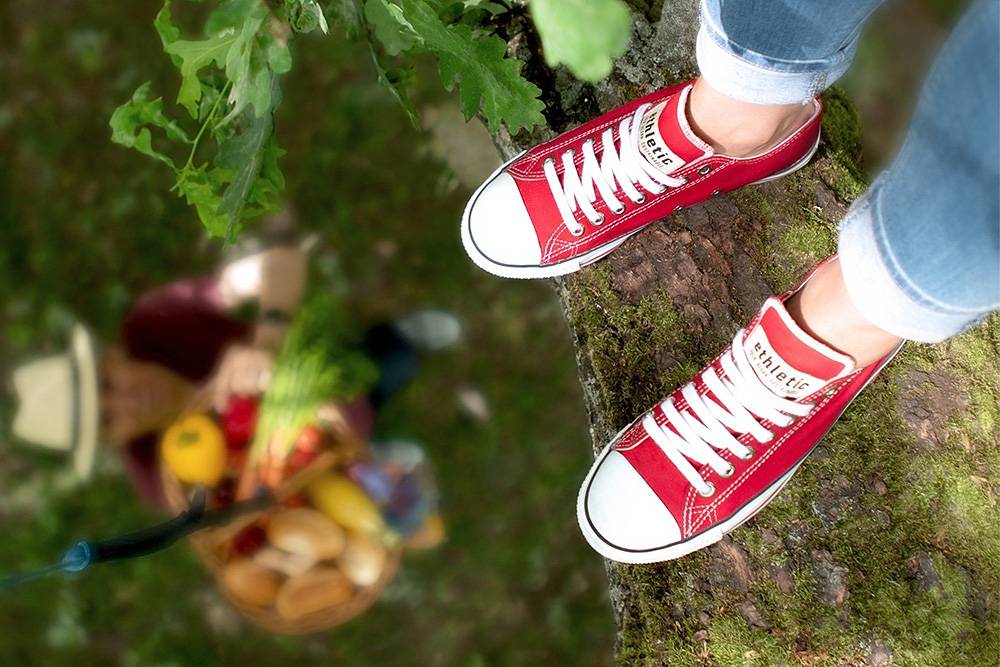 Ethletic is a German sneaker brand that creates socially responsible and environmentally friendly shoes. It allows its customer to directly tip the people who made their shoes.

Ethletic is the first company to tip garment factory workers in Pakistan. Each worker has its name, ID card, and phone number registered via the platform Tip Me and receives its share via text message on their mobile phone.
Panaprium is proud to be 100% independent, free of any influence, and not sponsored. We carefully handpick products from brands we trust. Thank you so much for buying something through our link, as we may earn a commission that supports us.
Sustainability Rating: 7/10
Rating FAQ

Category: Shoes

For: Men, Women

Type: Sneakers

Style: Chic, classic

Quality: Medium

Price: $

Sizes: 6-13 (US), 36-47 (EU), 3-11 (UK)

Fabrics: Cotton, rubber

100% Organic: Yes

100% Vegan: Yes

Ethical & Fair: Yes

Recycling: No

Producing Country: Pakistan

Certifications: FSC, Fair Trade, PETA

Sustainability Practices
"Ethletic products are made using only sustainable resources. While the Fairtrade system ensures that producers and manufacturers receive their fair share today, sustainability means that these agricultural areas maintain their economic potential for generations to come. Ethletic pays an additional premium to the official welfare society run by the employees of our production facilities of one US dollar for each pair of shoes sold."


Ethletic makes its shoes in Pakistan with Fairtrade-certified organic cotton and FSC-certified rubber from sustainably farmed plantations in Sri Lanka. Its products are made using only sustainable resources of certified Fairtrade or FSC supply chains.

Ethletic became in 2004 the first sneaker brand on the global market to be certified with the Fairtrade quality seal for organic cotton. But it doesn't use recycled materials and doesn't operate any recycling program.

The brand appreciates all people working in its supply chains, their skills, their commitment, and their history, growing together and learning from each other.

Ethletic also actively supports Fairtrade projects in the local communities where its production facilities are located. Additionally, it pays one US dollar to the Talon Fair Trade Workers Welfare Society run by the employees of its production facilities for each pair of shoes sold.

However, the sneaker label doesn't reveal if it conducts audits to ensure good working conditions in its supply chain.

Ethletic is a vegan brand approved by PETA. All of its products are made without any animal-based ingredients.



Sustainability Goals
Ethletic is an ambitious project that's still relatively small in terms of manpower and budget. It receives support from like-minded animal rights activists, athletes, artists, musicians, and bloggers living and promoting a fair, eco-friendly, and vegan lifestyle.

The brand doesn't show any measurement of its greenhouse gas emissions, water, land, and energy use, pollution, and waste across its supply chain. It doesn't have any clear sustainability goal or timeline to improve in the future either.


Buy Here
Discover Ethletic sustainable sneakers at shop.ethletic.com.


Reviews And Experiences With Ethletic
Have you had (good) experiences with shopping at or the products of Ethletic? Then leave us your rating below.