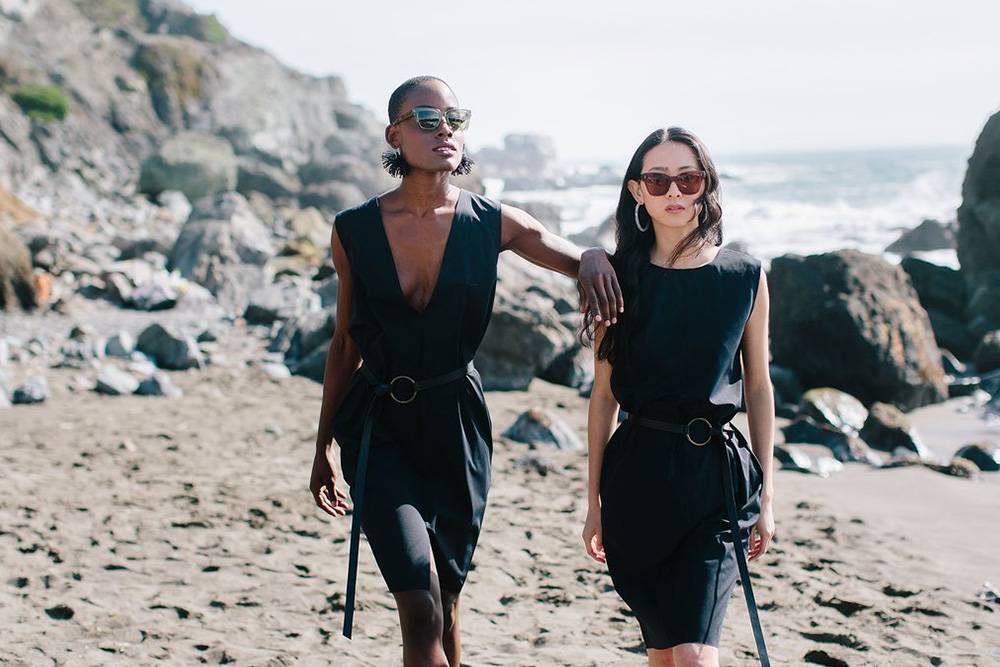 Époque Evolution is a clothing brand based in San Fransisco founded in 2018 by Nancy Taylor and Hannah Franco.

It creates classic, stylish, minimalist, and sustainable clothes for women. Its clothing pieces are versatile and cover a large range of products that fit a modern conscious lifestyle perfectly.

The brand designs and sells sustainable knitwear, racerback tanks, crop tops, mock-neck shirts, bathing suits, pencil skirts, dresses, outerwear, and accessories in white, beige, grey, black, sand, taupe, or cyan at an affordable price.

Époque Evolution makes it easy for conscious consumers to craft a versatile, sustainable, and minimalist wardrobe that follows the ethos of slow fashion.


Panaprium is proud to be 100% independent, free of any influence, and not sponsored. We carefully handpick products from brands we trust. Thank you so much for buying something through our link, as we may earn a commission that supports us.

Sustainability Rating: 6/10
Rating FAQ

Category: Clothing, Accessories

For: Women

Type: Basics, swimwear, dresses, outerwear

Style: Casual, chic, classic

Quality: Medium

Price: $$

Sizes: XS-XL, 2-16 (US)

Fabrics: Cotton, polyester, nylon, spandex, wool, leather

100% Organic: No

100% Vegan: No

Ethical & Fair: Yes

Recycling: Yes

Producing country: USA, Portugal

Certifications: GOTS, OEKO-TEX



Sustainability Practices
"We choose sustainable, organic, upcycled, deadstock and post-consumer waste recycled fibers when available. We work with mills that are committed to best practices and reducing the collective carbon footprint. We pick fabrics for our core collection that don't require dry-cleaning or other toxic care. Our effort to be responsible is certainly an ever-evolving work in progress, but we hope everyone will take a step in the right direction with us!"

Époque Evolution focuses on quality over quantity, to look good and feel good. It believes in experiences first, living your life, and not shopping for it.

The brand is committed to sustainable materials, manufacturing, and fair wages and treatment for the incredible people who make its clothing. It uses a fair amount of organic or recycled materials, including GOTS certified organic cotton, recycled polyester, and regenerated nylon.

Époque Evolution manufactures its clothes in the USA or Portugal, countries with little risk of social standard infringements. The mills and factories it works with are committed to reducing their carbon footprint and improving working conditions.

They prioritize fair work practices and safe working conditions, manufacture responsibly, for the environment, and people working in their facilities. However, Époque Evolution provides no information regarding conducted audits to identify potential risk areas.

The brand doesn't use fur, exotic animal skin, or down feathers but uses wool and bovine leather. Wool and leather production is cruel, unethical, and harmful to the environment. More sustainable alternatives already exist.



Sustainability Goals
Époque Evolution is committed to best practices and reducing the collective carbon footprint.

However, the label doesn't show any measurement of its greenhouse gas emissions, water, land, and energy use, pollution, and waste across its supply chain. It doesn't have any clear sustainability goal or timeline to improve in the future either.


Buy Here
Discover Époque Evolution sustainable collections at epoqueevolution.com.


Reviews And Experiences With Époque Evolution
Have you had (good) experiences with shopping at or the products of Époque Evolution? Then leave us your rating below.