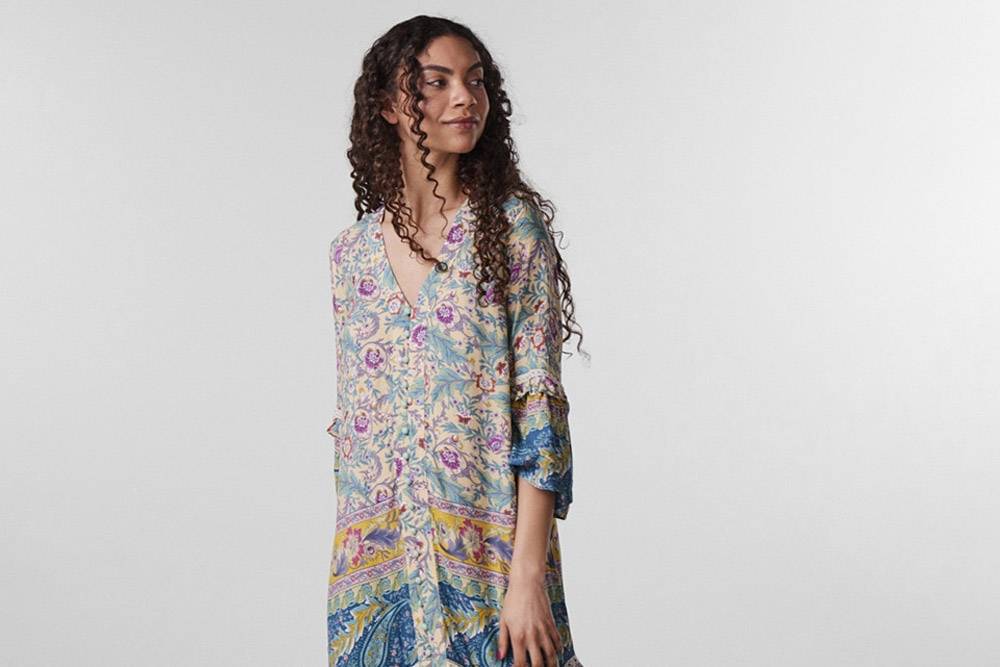 El Corte Inglés is a Spanish fashion retailer founded by César Rodríguez González and Ramón Areces in 1940 in Madrid. The multinational clothing-retail company creates fast fashion for the whole family.

El Corte Inglés makes clothing, accessories, shoes, swimwear, sportswear, and lingerie. It also creates jewelry, homeware, fragrances, and beauty products.

El Corte Inglés follows the latest fashion trends for women, men, and kids. It offers curated clothing selections and guarantees innovation with the ultimate goal of making people's lives easier.

El Corte Inglés is working to make the planet more sustainable and forge a better future for everyone. It takes massive action to tighten its bond with society and the environment.

The Spanish clothing retailer fosters decent and responsible manufacturing conditions and rationalizes resource consumption and waste generation.

The Spanish clothing retailer offers a sustainable collection made from organic or recycled materials called "Responsablemente." Its ultimate goal is to reduce the consumption of resources, control greenhouse gas emissions, and prevent and recover waste.
Panaprium is proud to be 100% independent, free of any influence, and not sponsored. We carefully handpick products from brands we trust. Thank you so much for buying something through our link, as we may earn a commission that supports us.


Sustainability Rating: 5/10
Rating FAQ

Category: Clothing, accessories, shoes, bags, jewelry

For: Women, men, children

Type: Basics, denim, dresses, knitwear, underwear, loungewear, swimwear, activewear, outerwear, maternity, heels, flats, sandals, boots, sneakers

Style: Casual

Quality: Low

Prices: $

Sizes: XS-6XL, 2-26 (US), 4-28 (UK), 34-56 (EU), 4-28 (AU), plus size

Fabrics: Cotton, linen, hemp, ramie, jute, lyocell, modal, viscose, cupro, acetate, polyester, nylon, spandex, polyethylene, polypropylene, acrylic, neoprene, leather, wool, silk, down

100% Organic: No

100% Vegan: No

Ethical & Fair: No

Recycling: Yes

Producing countries: Bangladesh, China, India, Pakistan, Portugal, Spain, Turkey, Vietnam

Certifications: GOTS, OCS, GRS, RDS, RWS, FSC, BCI, Bluesign, Oeko-Tex, BSCI, SMETA, WRAP, SA8000



Sustainability Practices
El Corte Inglés takes measures to align with steadfast principles of ethical and responsible conduct. It wants to evolve towards an omnichannel model more aligned with digitalization, diversification, and sustainability.

El Corte Inglés is taking the lead, setting trends, fostering change, and creating new concepts. It adapts and innovates to accelerate the transformation of the business model.

El Corte Inglés has an environmental policy to reduce the impact of materials used and intensify the use of sustainable and environmentally friendly materials. However, the majority of its business remains detrimental to the environment.

El Corte Inglés only uses a very small proportion of organic materials such as organic cotton and hemp, or recycled materials such as recycled cotton, recycled polyester, and regenerated nylon.

Only very few of its collections are dedicated to sustainable fashion. Most of the fabrics it uses are either natural without relevant certifications, such as conventional cotton or linen, or synthetic petroleum-based fibers such as polyester, nylon, acrylic, and more.

El Corte Inglés also uses a little amount of semi-synthetic fibers or regenerated cellulosic fabrics such as Tencel lyocell, modal, acetate, viscose, and cupro.

Tencel is an eco-friendly fiber made with wood pulp from certified sustainable forests. But only a very small proportion of the materials used by El Corte Inglés are environmentally friendly and sustainable.

El Corte Inglés produced less than 10% of its garments in close neighborhood countries and more than 80% in Asia. It works with carefully selected manufacturers to ensure compliance with social responsibility commitments.

El Corte Inglés manufactures its clothes in Turkey and many other East Asian countries where human rights and labor law violations still happen every day.

But the Spanish clothing retailer is making progress in its goal to verify the social, labor, and environmental conditions in its factories. It ensures the respect for good ethical, social, employment, and environmental standards.

El Corte Inglés demonstrates certification to ensure international human rights, labor, social and environmental standards along the entire supply chain.

El Corte Inglés has a code of conduct that applies to all its suppliers and subcontractors based on the regulations set by the International Labor Organization (ILO).

El Corte Inglés assesses compliance with its Code of Conduct by conducting audits for social, environmental, and good governance in its suppliers' manufacturing plants.

El Corte Inglés works with more than 1,780 manufacturing suppliers and conducted 2,647 audits in the 2020/2021 turnover year, with 75% corresponding to the Amfori BSCI system.

El Corte Inglés doesn't use any exotic animal skin. However, it uses animal hair, fur, angora, leather, wool, silk, and down feathers to manufacture many of its clothing pieces.

These animal-derived materials are cruel and unethical. They also harm the environment by producing greenhouse gases and waste. More sustainable alternatives exist.


Sustainability Goals
El Corte Inglés has committed to reducing the impact on the environment. All El Corte Inglés and Supercor stores will have Zero Waste certification by 2025.

El Corte Inglés will achieve a 30% reduction in the supermarkets' plastic footprint by 2025. It also plans to increase the number of sustainable items by at least 5% a year.

El Corte Inglés aims to purchase 50% of cotton in its products based on BCI principles by 2023. It will use at least 25% of materials with a low climate-change impact (organic, recycled, regenerative, sustainable) by 2025.

El Corte Inglés has committed to 100% use of renewable energies in its operations and incentivized in the supply chain by 2030. Its medium-term goal entails progressively reducing emissions to achieve carbon neutrality.



Buy Here
Discover El Corte Inglés's sustainable collections at Elcorteingles.com.
Reviews And Experiences With El Corte Inglés
Have you had (good) experiences with shopping at or the products of El Corte Inglés? Then leave us your rating below.