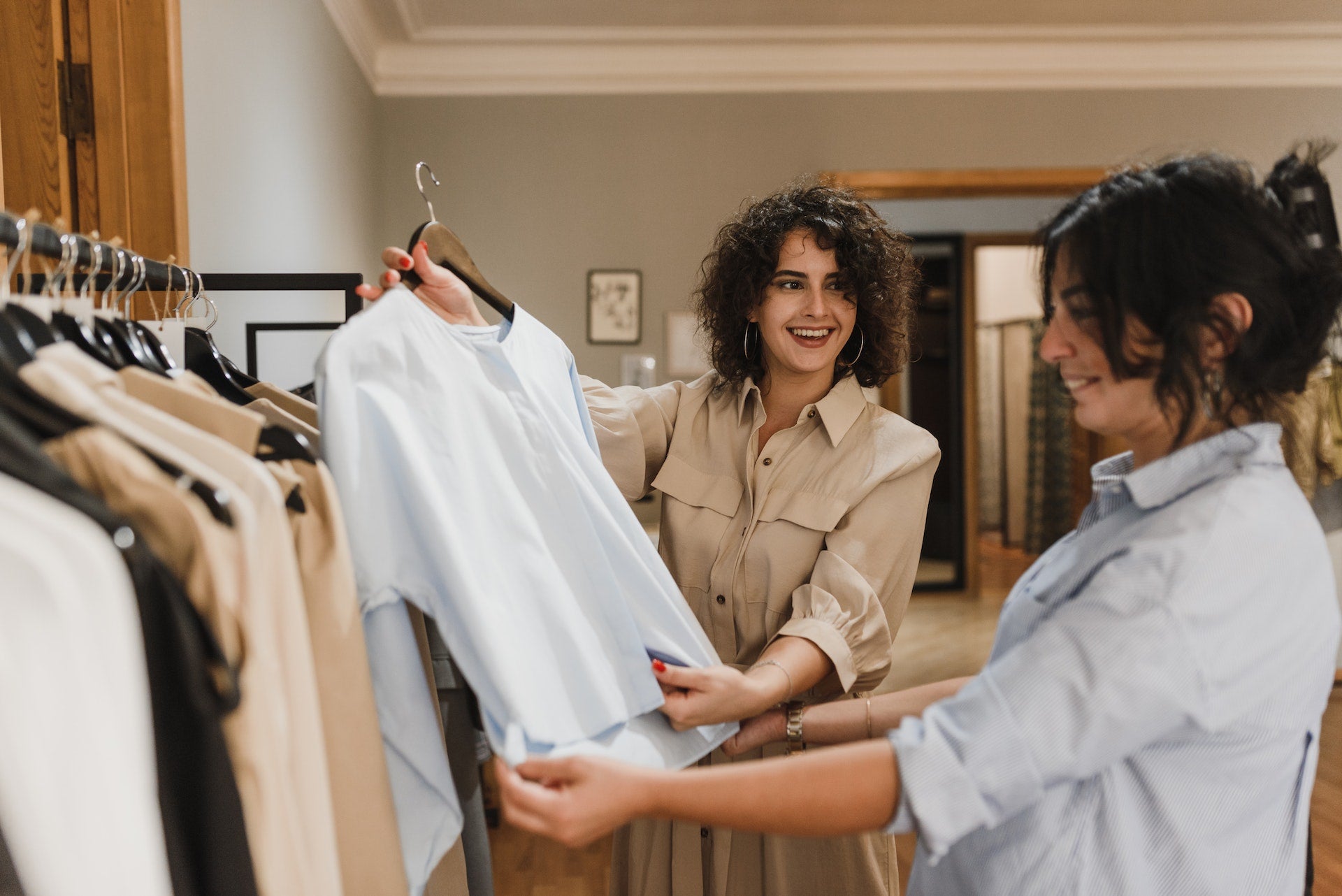 The Most Amazing Outfits To Wear To Dubai Mall - 15+ Tips
Dubai Mall is one of the world's largest shopping malls and it is part of the famous complex called Downtown Dubai.

With over 1200 shops, apart from the vast shopping experience, it offers many attractions such as an amusement park, a haunted house, and a cinema.

If you are visiting Dubai, it is recommended to pay a lot of attention to the clothes you are wearing, as this city has a rather strict dress code compared to other big cities in the world.

Keep reading to discover amazing outfits to wear to Dubai Mall.


Panaprium is proud to be 100% independent, free of any influence, and not sponsored. We carefully handpick products from brands we trust. Thank you so much for buying something through our link, as we may earn a commission that supports us.

Dress code
Dubai Mall does not have a very specific dress code, but many locations, including shopping centers, have a courtesy policy at the entrance, asking visitors to wear respectful clothing.
As a tourist, you are not expected to cover your head or wear the same clothes as the locals.

However, dressing respectfully is very important. You should avoid any revealing clothing items. 

Tank tops
Never wear tops with spaghetti straps that reveal your cleavage.
If you love tank tops, choose one that only reveals your arms.
Discover the best affordable and sustainable tank tops.

Outfits with trousers
Wearing trousers is a great idea because with them you can create fashionable and elegant outfits that are not revealing.
Choose a pair of sustainable trousers, made from a comfortable material.

Wear them with a cute shirt or blouse.

Cover your knees
Make sure not to wear mini skirts, shorts, and mini dresses. They are often considered disrespectful clothing because they reveal your knees. Instead, go for clothes that cover your knees.
For fashion inspiration, take a look at the best sustainable clothing brands in Europe.



Maxi dresses
Maxi dresses are beautiful, fashionable, and also comfortable. They are breathable and allow a lot of movement.
For Dubai Mall, maxi dresses are some of the most stylish and safe choices.

Be a conscious consumer and purchase an affordable maxi dress from an ethical brand!
Outfits for men
When visiting Dubai Mall men should also wear conservative, elegant outfits. The best combination is a shirt made from a lightweight material and a pair of trousers.

Read our article if you want to discover the best affordable and ethical men's clothing brands.




Avoid see-through materials
While in some cultures, see-through materials are considered attractive and fashionable, this is not the case in Dubai.
Instead choose fabrics that are eco-friendly and comfy, such as organic hemp.
Click here to discover multifunctional shirts, and tees made from this amazing material.



Skirts
The most beautiful skirts to wear to Dubai Mall are maxi skirts.
Very breathable and versatile, they provide a lot of coverage without making your attire less fashionable!
Maxi skirts come in many colors and can be worn with T-shirts, blouses, or shirts.
Check out our selection of the best maxi skirts.

Outfits with shirts
Dress up any skirt or pair of trousers you are wearing with a basic white shirt.
You will have a great outfit that doesn't require much preparation!

Achieve a dressy look: Let yourself be inspired by these 15 best ethical button-up shirts.

T-shirt + trousers
If you love comfortable outfits, a T-shirt worn with trousers can be a great choice.
T-shirts are one of the most comfortable clothing items someone can wear, and they provide enough coverage to be perfect for Dubai Mall.

Create a relaxed outfit with a T-shirt and a pair of trousers. Take a look at our article about the 20 best American-made T-shirts for women and men.

Long-sleeved tops
Wearing a long-sleeved top in the heat of Dubai sounds counterintuitive. However, the right materials protect you against sun exposure and hot temperatures, which can bring more comfort than a sleeveless or short-sleeved top.

Our best recommendation for you is to purchase a simple long-sleeved top, without any prints or cuts, that is easy to match with the other items in your wardrobe.

Check out these amazing Scandinavian closing brands for affordable basics.

Leggings
Do you love leggings? We do too!
They are comfortable, easy to match with many tops, and suitable for a variety of occasions.

Keep in mind that Dubai is a city that requires tourists to have rather conservative outfits, and if you choose to wear leggings, make sure to add a longer top that covers your hips.

Discover affordable leggings made by sustainable brands.
Wear great lingerie
We've said it many times: Great lingerie is the foundation of amazing outfits, while poorly chosen underwear can ruin your day.

If you want to have a great time you need lingerie that is made from high-quality materials that are gentle with your skin.
For a respectful outfit, never opt for bright colors that might be visible through your clothes.

Take a peek at our sustainable recommendations.

Comfortable shoes
Make sure you don't need to call it a day earlier because of the wrong shoes!
Complete your outfit with a pair of comfortable shoes. Dubai Mall is huge, and because you will walk a lot your choice of shoes is crucial.

Luckily, you can now purchase amazing ethical and vegan shoes made from environmentally friendly materials!



Lightweight materials
Dubai weather is hot and most tourists aren't used to the temperatures. Do yourself a favor and pay attention to the materials of your clothes.
Always choose lightweight and comfortable fabrics that allow a lot of breathability.

Many sustainable brands produce high-quality clothes that are friendly with the environment, but also with the wearer! Click here to discover some of them.



Jeans
We can't talk about vacation destinations without mentioning one of the most popular and loved clothing items: Jeans.
Is it okay to wear them to Dubai Mall? The short answer is yes!
You should, however, choose a simple, conservative pair of jeans that doesn't feature cuts and attention-grabbing details. Dress your jeans up a little bit and wear them with a shirt or an elegant blouse.

Here are our sustainable recommendations.




Other NOs
Having in mind what you shouldn't wear can be of great help when choosing your outfit.
Anything too tight is too much for Dubai Mall. This doesn't mean that your clothes have to be oversized! Just avoid those sexy, inviting clothing items that hug the natural curves of your body too close.
Mini skirts, shorts, and mini dresses beautifully showcase your legs, but they are inappropriate to be worn in Dubai. Save them for another occasion and choose maxi dresses and skirts instead.
Never wear tops with deep cuts that highlight your chest.

Summing up
If you want to have a great time visiting Dubai Mall, but also in Dubai in general, you should stay away from clothes that are regarded as sexy and stick to traditional colors and styles.
It may sound complicated, but if you follow these easy tips, you shouldn't have any problems because of your attire.

Don't forget that traveling and experiencing a new culture will make you face unfamiliarity, uncertainty, and sometimes even confusion. All these are normal results of being in an unknown environment. Being aware of them can make things a bit easier.
To have the best time, always double-check the dress code as well as the other requirements.
If you like this article, share it with your friends!
Was this article helpful to you? Please tell us what you liked or didn't like in the comments below.
About the Author: Miruna Dulcea