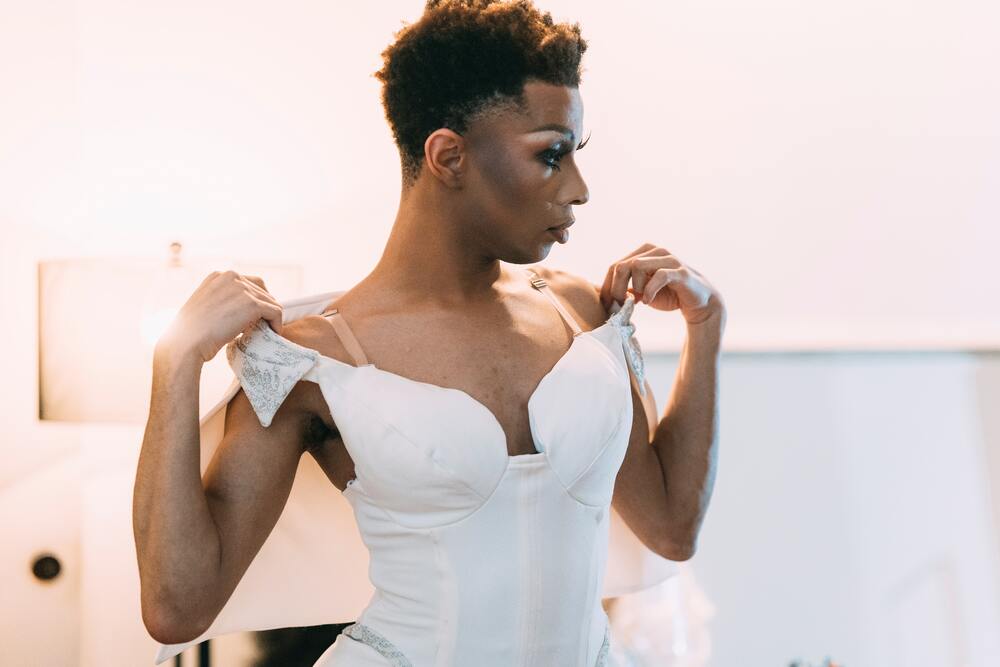 How To Dress My Husband As A Woman: 15 Practical Ideas
Dressing your husband like a woman is difficult since many men won't like the idea. First, he must agree to dress as a woman since you can't force him to wear feminine clothes without his consent. If he resists, convince him and tell him why you want him to dress like a woman.
You can try different tricks, like playing a game in which you are confident you will emerge victorious, and the loser must obey the winner's demands. If he loses, give him the dress you want him to wear and enjoy the moment.
If your husband agrees to wear feminine clothes, here are some outfit ideas you can use to dress him and make him feel right with his decision:
Panaprium is proud to be 100% independent, free of any influence, and not sponsored. We carefully handpick products from brands we trust. Thank you so much for buying something through our link, as we may earn a commission that supports us.
A skirt
A maxi skirt is one of the simplest outfits for your husband to wear. They are versatile, stylish, and available in various designs, allowing your man to choose his favorite design.
They are also flexible, and if you blend them correctly, your man will love them since they can be more understated than a dress. A kilt can be perfect if your man is uncomfortable wearing women's skirts.
A maxi dress
Dresses can be another perfect outfit for your husband. They are comfortable to wear during the summer months as they are lightweight and breathable. Maxi dresses are also ideal for men since they don't need much blending. Choose a dress your husband loves seeing you wearing and will most likely love it.
Also, select a loose-fitting dress to evoke a feminine sense, especially when the flowing fabric sways around his legs, creating an incredible sensation. Pair the dress with a watch, bold makeup, silvery jewelry, and heels. You can match dresses with your husband, and people will envy you.
Women's skinny jeans
Your husband will also look good in women's skinny jeans. The skinny jeans will show off your man's wider hips and thighs in a funny way. Even though skinny jeans may appear too tight for men, most are comfortable since they are stretchers. Pair it with a t-shirt, a belt, a watch, silvery matte lipstick, a thin necklace, and heels.
Lingerie
Women's underwear or lingerie is one of the safest pieces of women's clothing your husband can wear in public. This is because other people will see only see his outer clothing, and they won't see his innerwear. This will make you satisfied since you are aware of his dirty secret. You can let him wear lingerie with his favorite outfits like jeans, a button-down casual shirt, sports shoes, and a cap.
Here is our selection of the finest lingerie made in the USA.
Heels
Heels are another excellent option for your husband to look like a woman, especially if he is short. The heels will help him add some height but don't go for heels that are so high since he will not be comfortable walking in them.
Help him practice walking in heels to avoid tottering on heels. If he doesn't like heels, choose other cute feminine flats. Let him walk down and upstairs to learn how to balance while wearing heels.
Women's leather jacket
You can dress your husband as a woman by making him wear a woman's leather jacket. You can convince him you want to match all your outfits, from the bottoms to the tops. Pair the women's leather jacket with a lady's slack, flats, a t-shirt, a thin necklace or chain, a bracelet, and sunglasses.
Here are the best affordable, sustainable, and vegan leather jackets.
A bra
If he is comfortable, you can make your husband wear a bra with a dress or a blouse. Ensure that his bra is supportive to prevent hurting him. Let him match the bra and the panties.
Swimsuit
If you are going to the swimming pool together, convince him to wear your swimsuit and see how it turns out. But it is always good to ensure you choose the swimsuit for your husband wisely since most women's swimsuits are too small and don't support the male figure.
Check out these 15 best-recycled bikinis and swimsuits you'll love.
Women's scarves
Most men wear women's scarves to keep them warm. These scarves are soft and comfortable to wear even in public. Unlike men's scarves, women's scarves are small and come in numerous colors. Try to tie the scarf femininely if you want your man to have a more girl look. He can match the scarf with a sundress, a bangle, a chain, pinkish lipstick, and women's flats.
Women's culottes
Women's culottes are another fabulous outfit for your husband to dress as a woman. These wide-legged pants will make your man look funny yet stylish. Let him match the culottes with a graphic t-shirt, women's boots, and a woman's jacket for a more feminine look.
Makeups
Makeup is a crucial aspect of a woman's attire. If you want your husband to look like a woman, you must contour his face to have a feminine look by applying makeup on his face. However, ensure you don't overdo it.
The contouring powder, highlighter, and minimal foundation will do the trick and give him a radiant appearance. Apply some makeup on him to enhance or conceal masculine features for a more feminine appearance. Add eyeliner, false lashes, eyeshadow, mascara, lipstick, and blush to create a perfect girl look.
Do his hair up
The hairstyle can make one look like the opposite gender. You can style up your husband's hair to your desired appearance and make him look like a girl. If he has no problem changing his hairstyle permanently, you can let his hair grow naturally. But if it is for a short period, use wigs and experiment with different colors and styles to find the one that he loves and suits him well.
Nail polish
Nail polish serves as fingernails makeups that enhance one's appearance and other benefits. For example, most men usually use clear nail polish to fortify their nails, which are prone to cracking, while other nail polish types can aid in breaking the habit of nail biting. Apply feminine nail polish on your husband's nails if you want him to mimic a lady.
Role-swap
This is the most enjoyable method to dress him publicly while minimizing the fear of judgment. Change up your outfit! Other people on the road will undoubtedly stare at you, but they will likely dismiss it and view you as a joyful and goofy pair. Some may even be jealous of your connection!
Conclusion
Dressing your husband as a woman can be challenging, especially if you want him to wear female clothing in public. Most men may not like the idea, but if you do it for fun, they will love it with time. You will laugh and cherish these funny moments, and it is great for keeping memories to remember when both of you are old. 
Was this article helpful to you? Please tell us what you liked or didn't like in the comments below.
About the Author: Dinushka Breaker Gunasekara