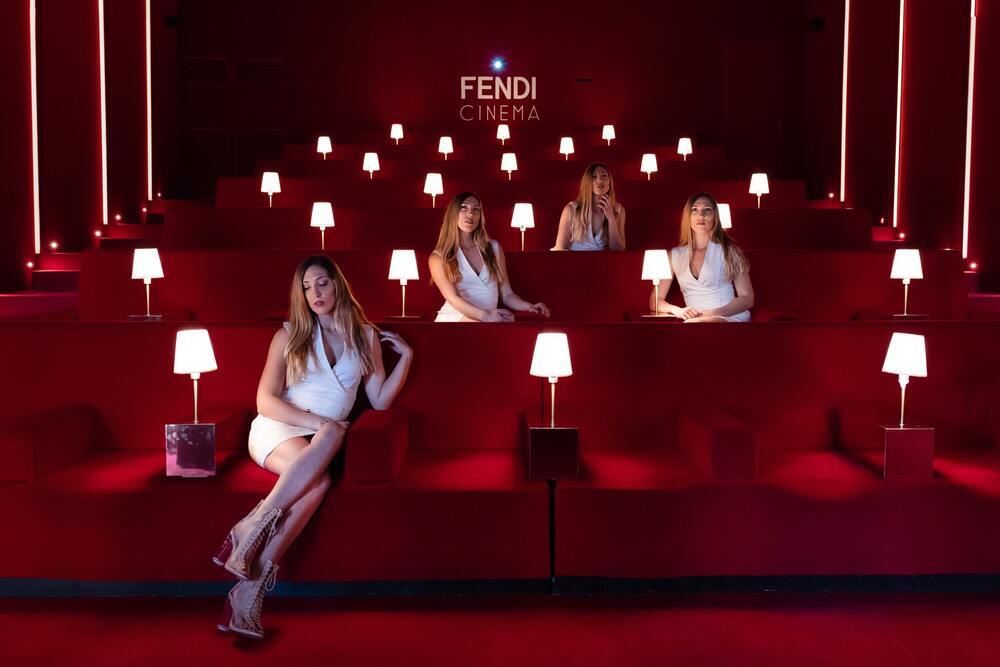 How To Dress To A Movie Premiere (20+ Best Outfits)
You don't get to walk the red carpet every day. You'll want to look your best if you're fortunate enough to attend a movie premiere. It involves selecting the appropriate attire. But which option is the best?
Many people feel that wearing a long dress is ideal. However, ensuring the dress is appropriate for the premier is essential. For example, if it's a children's movie, you don't want to wear something too sexy or formal. If it's an elegant evening affair at one of those red-carpet premieres, go for a designer outfit!
Don't worry about dressing up too much if it's a small gathering with friends at your local movie theater. Simply go for a lovely dress. Men can go for turbans with polo shirts and slacks. Do not wear shorts, tank tops, t-shirts, or flip-flops.
 Also, make sure the outfit is comfortable. You will be sitting down for a while and don't want to be uncomfortable. If you're uncomfortable in a long dress, don't force yourself into it. Just go for something that looks great, and you are comfortable in.
This guide shares trendy ideas on what to wear a movie premiere. Keep reading to find out more.
Panaprium is proud to be 100% independent, free of any influence, and not sponsored. We carefully handpick products from brands we trust. Thank you so much for buying something through our link, as we may earn a commission that supports us.
Formal attire
If the gathering is a black-tie affair, wear a long evening gown. Sequined and cocktail dresses are also acceptable, especially if the movie screening does not need a black tie. To be extra safe, opt for a gorgeous black dress.
A dress that falls to the floor
The word "gown" can sound daunting to some people. You do not need to go out of your way to wear a swishing gown and steal the show. Just go for something simple but elegant. Or you can rent one.
A stunning red cape dress
At the premiere of an action film, I recommend a girl-in-charge cape dress to look put together and confident.
A simple black dress
A simple black dress might be your best bet if you are the understated, no-frills type. The proper selection and use of color can significantly enhance the overall effect. Alternatively, you can wear an orange dress that stands out against your dark skin and makes you look stunning.
Breezy sundress

Are you attending the premiere of a new animated film during the day? Do it in a breezy sundress. Wear a breezy sundress if the movie theatre you are going to encourages a more relaxed dress code.
Check out our selection of dresses made in the USA.
Elegant dress pants
If you feel stylish enough, embrace your urge to wear dress pants to the upcoming premiere. Nothing beats a dressy blouse and a pair of elegant dress pants when you want to look polished and put together.
Original jumpsuits
Although not every dress accommodates a woman's figure, jumpsuits are surprisingly flexible. Not sure what type of jumpsuit to wear? Check out these affordable and sustainable jumpsuits.
Experimental outfits

If you're looking for a unique neckline, skip the off-the-shoulder and V-neck styles and try something new like a boat neck, high collar, square neck, or sweetheart neckline. Just adding that one nuance will change the entire tone.
Sparkly heels
You'll be posing for photos and rubbing elbows with other celebrities during the event, so wear comfortable yet elegant shoes. We would like you to walk around with something different than blistered feet!
A pair of heels can improve or break your fashion sense, so choose a stylish pair you feel at ease posing in. That way, you'll have plenty of images for your fresh social media postings the next day!
Clutch bags

You'll also need a dependable purse or clutch to contain your necessities, such as your phone, lipstick, perfume, breath mints, and other essentials. You do not need a grip if you are only carrying your phone; additionally, bear in mind that during most movie premiere screenings, mobile phones are confiscated to prevent leaks to the public.
Elegant jewelry
Because this is a social occasion, anticipate being dressed up from head to toe - including Jewelry! If you're wearing an elaborate gown, a modest pair of earrings and a necklace would suffice. Yet, if you're wearing plain attire, wear striking Jewelry to stand out, especially for an evening event!
Classic Tuxedo
A tuxedo is a classic outfit you can dress up or down depending on the accessories you plan to wear. For a more formal look, go for a classic black tuxedo with a white shirt and a black bow tie. If you want a more relaxed appearance, choose a colorful tuxedo jacket with a bright-colored shirt and no tie.
Dress shoes
Get a stylish pair of shining leather or imitation leather dress shoes for the ultimate formal look. If the dress code requires smart casual attire, you can still wear dress shoes or spice it up with a pair of bright sneakers.
Not only do a man's dress shoes tell folks where you're going and where you've been, they tell everyone who sees you how much you know about men's style and fashion, and they project an important image about how you, the well-dressed gentleman.
Polo tees

Short-sleeved shirts and polo shirts are two of the most common choices. That's because, as wardrobe staples, they look great with everyday casual wear and more formal attire.
Classic double-breasted pinstripe suit
This classic attire is in its own league! You can try different patterns like pinstripes and see how you look. Pair it with oxblood or brown shoes for a sophisticated movie premier look.
A soft sport j
acket
Sub in a soft unconstructed sport jacket for a classy yet simple look at the premiere. You'll not only look great without trying too hard, but you'll also be comfortable throughout the event. Throw in a contrasting pocket square if you want to jazz things up a little bit.
Dark denim jeans

What about combining your favorite shirt with a dark denim jeans? This isn't a novel fashion move, but it's been around for a reason. It's functional, comfy, modern, and, most importantly, it always looks nice. You can choose a slimmer cut but avoid skinny options. When it comes to color, dark indigo is your best bet.
A classic watch
Go for something with vintage, silver screen charm. Choose a leather strap to match your shoes and a sleek face to complement yours.
Grey three-piece suit
If a tuxedo isn't your style and you want something simple that can be worn later, consider a three-piece grey suit for guys. Grey is the right color because it's both classy and adaptable. Alternatively, you can go for pinstripe three piece suit. Spice it up with a white pocket square and a navy bowtie.
Don't forget the general guidelines on what to wear to a movie premiere:
Be aware of the dress code
The invitation to a movie premiere will typically include instructions regarding the appropriate attire to wear. The typical dress for those attending a movie premiere is often a black tie, which requires men to wear tuxedos and requires women to wear elegant evening gowns. If the invitation specifies a specific dress code, you must adhere to it.
If it does not, you might seek direction from the location, the time of day, and the occasion. If, for instance, the premiere is scheduled for the evening, you should dress more appropriately for it than if it were planned for the morning.
Select the appropriate colors
While choosing the right shade for your dress, remember to consider the event you will attend. Black is a well-liked color choice for movie premieres because it is sophisticated, conventional, and ageless.
Dressing in all black, be it a gown or tuxedo, is rarely a mistake. If you want to wear something more vivid, try using jewel tones such as emerald green, sapphire blue, or ruby red. 
Pay close attention to details
The details make all the difference when getting dressed for a movie premiere. You can improve a well-tailored suit or gown by adding the appropriate accessories. A timeless watch, a pair of cufflinks, and a pocket square may significantly improve a man's overall appearance.
Women should accessorize their outfits with striking Jewelry, a little clutch purse, and a pair of elegant heels. Keep your accessories understated and straightforward rather than going all out with flashy or bright pieces. This will help you avoid seeming garish.
Think about the weather
Remember to consider the weather while choosing what to dress for a movie premiere. If the premiere is going to take place in the summer, you should choose a lighter fabric, such as silk or chiffon.
If the temperature is expected to drop, you should wear layers of clothing, including a coat and a shawl. Because you may be required to spend a significant amount of time outside, it is essential that you dress in a way that is not only comfortable but also appropriate for the current climate.
Select appropriate footwear
Choosing the right shoes to wear to a movie premiere is just as crucial as getting your outfit together. Women need to select a pair of high heels that is comfortable and suitable for the event they will be attending because this is the footwear most commonly worn by women.
Despite their stunning appearance, it can be challenging to maneuver in stilettos, especially on the red carpet. An alternative that would be more comfortable would be elegant flats or low heels. Men should always ensure their black dress shoes are clean and polished to look their best.
Avoid being overly open
A movie premiere is glamorous, but you shouldn't wear something too revealing. It can be rude to wear a low-cut neckline or a short skirt, and choosing an elegant and tasteful outfit is essential. 
Keep things simple
When it comes to getting dressed for a movie premiere, keeping things simple is typically best. Clothing that is striking or outrageous will always give the impression of less sophistication and style than an outfit that is simple and tasteful.
Stick to classic pieces of clothing, such as a tiny black dress or a well-fitted suit. Remember that attention should be placed on the movie, not your attire.
Take care of your hair and makeup
Regarding the accessories for a movie premiere, having fewer options can frequently give off the impression that they are superior. It just takes a few well-chosen accessories to improve your appearance, but it takes a lot more than that to make you look cluttered and disorganized.
It is recommended that women carry their essentials, such as a phone, wallet, and makeup, in a clutch or a tiny purse for convenience when moving these goods. Men can use their pockets or smaller pouches when carrying the necessary goods. Subtlety and refinement are two qualities that should characterize Jewelry.
Remember, grooming
Last but not least, before going to a movie premiere, you must pay careful attention to your grooming. For men, this means having a clean-shaven face or a beard that has been neatly cut and well-groomed hair and clean nails.
This involves giving your hair a stylish cut, grooming your nails, and applying cosmetics that complement your clothes. Keep in mind that your appearance is a direct reflection of your personality.
Have fun!
Dressing appropriately, fashionably, and comfortably for a movie premiere is essential. Remember that the focus should be on the film and the actors, not your dress. If you follow these recommendations, you'll look and feel your best at the next movie premiere you attend.
Don't forget the 3Ws:
WHO: Find yourself, find your style and your comfort. 
WHAT: Consider the occasion or the theme of the event you are dressing for. It will help you determine the right outfit.
WHERE: Consider the location. Some locations may not be ideal for heavy outfits like leather, flowy dresses, or jackets. Knowing the location will help you pick comfortable outfits.
With these ideas and tips, you should be ready for the next movie premiere. I hope you've enjoyed this guide and that it gave you guidance on what to wear! Have fun!
Was this article helpful to you? Please tell us what you liked or didn't like in the comments below.
About the Author: Geri M. Vin