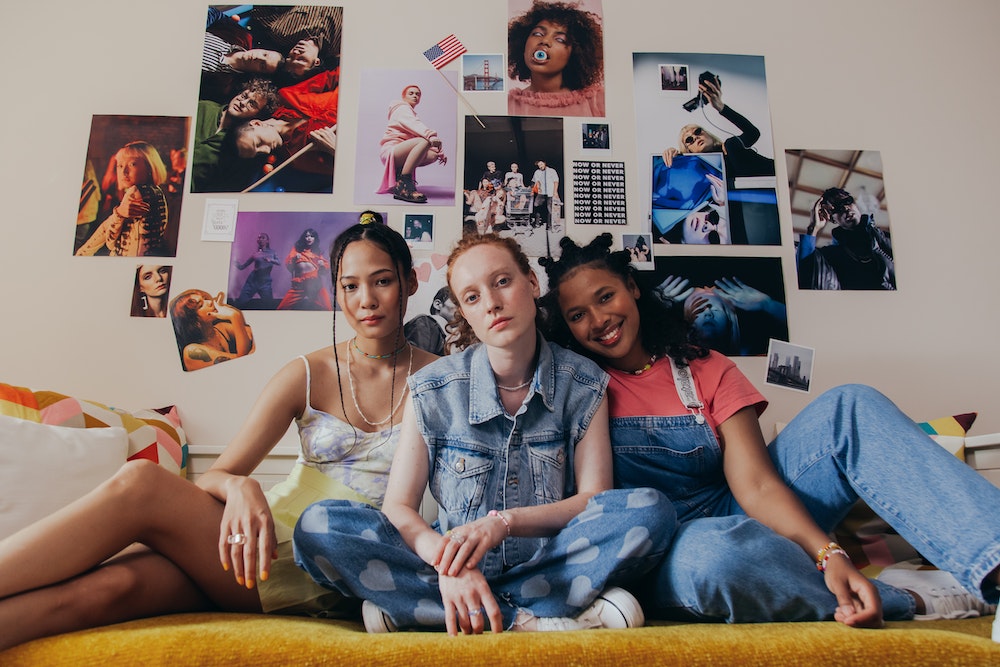 How to Dress Like The 90s With Normal Clothes
The 90s was a decade of iconic music and fashion trends that still hold immense popularity today. If you're not sure where to start, then you've come to the right place.
From grunge-inspired ensembles to vibrant streetwear, the fashion of the 90s continues to influence contemporary styles. 
If you are ready to rock the nostalgic vibes of the 90s, here are 14 ways to help you achieve the ideal retro-chic look.
Panaprium is proud to be 100% independent, free of any influence, and not sponsored. We carefully handpick products from brands we trust. Thank you so much for buying something through our link, as we may earn a commission that supports us.
Chill in denim overalls
Denim overalls were a staple of 90s fashion and can be worn in a variety of ways. They are making a major comeback right now, which is great news if you love looking trendy but feeling comfortable. 
Pair your overalls with a striped tee or a crop top for a casual yet trendy outfit, and you will look the height of 90s fashion.
Take a look at our selection of the 15 Best Ethical and Sustainable Dungarees.
Pick up a plaid shirt
Channel your inner grunge girl with a plaid shirt for a peak 1990s look.
You could tie it around your waist, or wear it buttoned up with a pair of baggy jeans to lean into the tomboy trend.
Here is our selection of the 4 best American-made plaid shirts.
Button into high-waisted Mom jeans
It's no secret that skinny jeans are taking a back seat for looser, baggier styles, like the Mom and Dad jeans. 
Don't let the names fool you, because these styles are at the height of fashion right now. Relaxed-fit jeans are comfortable, flattering, and perfect for achieving that vintage 90s aesthetic. Pair with a cute T-shirt and tennis shoes, for top 90s vibes.
Take a look at our best sustainable Mom jeans.
Slip into a cute dress
Slip dresses epitomize the feminine and minimalist style of the 90s. Worn by many of the TV characters from our favorite sitcoms and supermodels alike, they are stunning and cute.
Layer your slip dress over a white tee or wear them on their own for an elegant and sensual look that will have you feeling like a star.
Read our guide on cute and cheap summer dresses here.
Grab a band T-shirt
Band T-shirts are a must-have for any 90s-inspired wardrobe. Opt for iconic bands like Nirvana, Pearl Jam, or Guns N' Roses to showcase your love for vintage rock.
Go full grunge by pairing it with ripped jeans and a carefree attitude.
Check out more grunge outfit inspiration from our blog Outfit ideas to wear at a Pearl Jam concert.
Choose a chunky sweater
Cozy up with oversized, chunky sweaters. Lean into the 90s by choosing bright colors, thick knits and zany patterns.
Consider matching these with a denim or cord mini-skirt to accentuate your figure, and you will look gorgeous. 
Read our selection of the 10+ best eco-friendly, recycled jumpers and sweaters. 
Layer with a leather jacket
A statement leather jacket instantly adds an edgy and rebellious vibe to any ensemble, and although they can be linked to many eras of the past, they surged in popularity again in the 1990s. 
Pair with matching trousers, throw it over a floral dress or style it with ripped jeans for a casual and cool look. 
Pick a vegan jacket to add a sustainable edge to your fit.
Get cute in a tube top
Tube tops were all the rage in the 90s and continue to be a fun fashion statement today. They are so versatile you can pair with them just about anything – all you need is a confident smile to pull off this iconic style.
Wear your tube top with high-waisted bottoms or a cord skirt for a trendy outfit.
Take a look at our selection of sustainable and affordable crop tops.
Step into combat boots
Complete your 90s-inspired look with a pair of combat boots. This sturdy and fashionable footwear add an element of grunge to any outfit.
Style with camouflage cargo trousers for a nod to the 90s girl band All Saints.
Here is our list of the 20 best affordable and vegan work boots.
Add accessories to your hair
Carrie Bradshaw may have laughed at scrunchies, but little did she know that this cute and casual item would make a strong comeback. And so have 90s-inspired hair jewels and butterfly clips.
Use these eye-catching hair accessories to elevate your ponytails or messy buns and add a touch of playful nostalgia.
Check out our selection of super cute scrunchies.
Dazzle in a denim jacket
They never went out of style, I hear you cry. You are right – but the classic denim jacket was especially all the rage in the 1990s. 
You could layer it over a dress for a night out, or wear it with jeans for a casual and timeless look that would suit meeting friends. 
Read about the affordable denim jackets that every woman needs.
Slay in bike shorts
Bike shorts have made a comeback in recent years, thanks to a certain Kardashian. But Kim K didn't invent the wheel, as you may already know, these shorts were also a 90s staple. 
Pair your bike shorts with an oversized graphic tee or a cropped sweatshirt for an athleisure-inspired ensemble that will have you looking hot and fashionable.
Here are some of our bike shorts top picks.
Try platform shoes
Elevate your style, both literally and figuratively, with platform shoes. Whether it was sneakers, boots, or sandals, platform shoes were hugely popular in the 90s.
Jump on this trend and pair them with a short dress, or baggy jeans to fit many moods and occasions.
Have a look at our list of some of the best affordable, sustainable vegan high heels here.
Feel fab in a fanny pack
For festivals, bike rides, hikes and clubbing, fanny packs are one of the best handbag stand-ins. Adding them to any outfit will instantly add a retro feel. 
Stay on-trend and hands-free with a fanny pack while adding a 90s flair to your outfit.
Upgrade your festival gear by checking out our guide.
How to pull together your 1990s outfit 
The fashion of the 90s continues to captivate and inspire. To pull together your outfit from this, era, remember to embrace the iconic fashion trends of the decade, but stay true to your personal style too.
Accessorize with bright funky jewelry, or go more understated with hoop earrings or a dainty necklace. Style your hair in spice buns, or a half-up, half-down hairstyle. 
Get ready to showcase your love for amazing vintage fashion in a contemporary way.
Was this article helpful to you? Please tell us what you liked or didn't like in the comments below.
About the Author: Catriona Jean