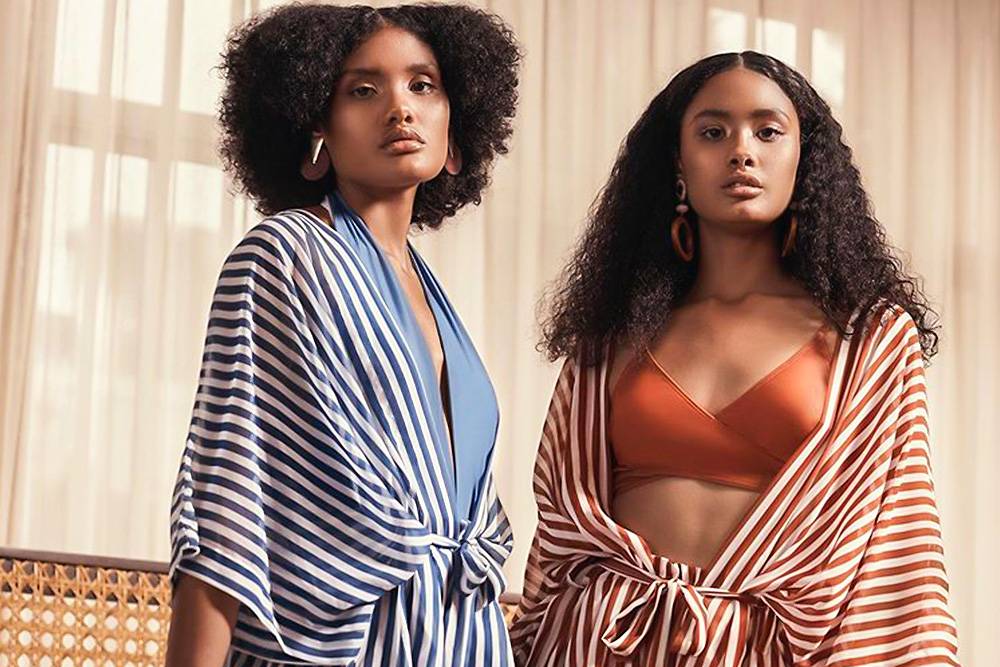 Diarrablu is an American sustainable fashion brand that creates color-rich clothing for women. The brand produces unique and versatile pieces such as jumpsuits, dresses, and shoes in Senegal.

Diarra Bousso, born in Senegal, launched her apparel brand Diarrablu in 2015 in Silicon Valley. She previously created a fashion and lifestyle company called Dakar Boutique Group in 2013 which now houses her label Diarrablu.

The majority of Diarrablu clothing pieces are made by artisans in Dakar. Diarra's mother, Khoudia Dionna runs the atelier in Dakar and oversees all locally manufactured products.
Panaprium is proud to be 100% independent, free of any influence, and not sponsored. We carefully handpick products from brands we trust. Thank you so much for buying something through our link, as we may earn a commission that supports us.

Sustainability Rating: 4/10
Rating FAQ

Category: Clothing, Shoes

For: Women

Type: Dresses, swimwear, tops, pants, jumpsuits

Style: Exotic, traditional

Quality: High

Price: $$

Sizes: XS-3XL, 0-26 (US)

Fabrics: Cotton, linen, rayon, lyocell, cupro, polyester, nylon, spandex, leather

100% Organic: No

100% Vegan: No

Ethical & Fair: Yes

Recycling: Yes

Producing Country: Senegal

Certifications: No certification



Sustainability Practices
"When I decided to launch a line, the first thing I did was go back to the artisanal village. I spent a few weeks there just watching how they work and thought about how I could incorporate technology. [...] We need to help artisans brand their work with storytelling and social media. Otherwise, they're just seen as a corner shop, and they're going to disappear."

 - Diarra Bousso, Diarrablu founder


Diarrablu's mission is to iterate for sustainability while highlighting the African continent's rich colors and unique patterns. It merges tradition and technology to create bold prints on sustainable fabrics.

The brand's ethos is focused on sustainability, wanderlust, tradition, and algorithms. It uses a good amount of environmentally friendly materials such as organic cotton and linen as well as some recycled materials. But it creates swimwear and many dresses with synthetic fabrics.

Most pieces are produced in Dakar, Senegal but Diarrablu doesn't reveal its other manufacturing locations. The brand doesn't provide any information regarding certifications, social standards, or audits it should conduct to identify potential risk areas.

Diarrablu uses leather soles made from animal skins to create its shoes. Leather is a material commonly used by fashion brands. However, leather production is cruel and unnecessary. There are better alternatives that protect people, animals, and the planet.

Sustainability Goals
Diarrablu doesn't reveal if it measures its greenhouse gas emissions, water use, water pollution, land use, air pollution, and waste across its entire global supply chain.

The brand is committed to sustainability but presents no improvement goals for the foreseeable future.


Buy Here
Discover Diarrablu's sustainable collections at diarrablu.com.


Reviews And Experiences With Diarrablu
Have you had (good) experiences with shopping at or the products of Diarrablu? Then leave us your rating below.