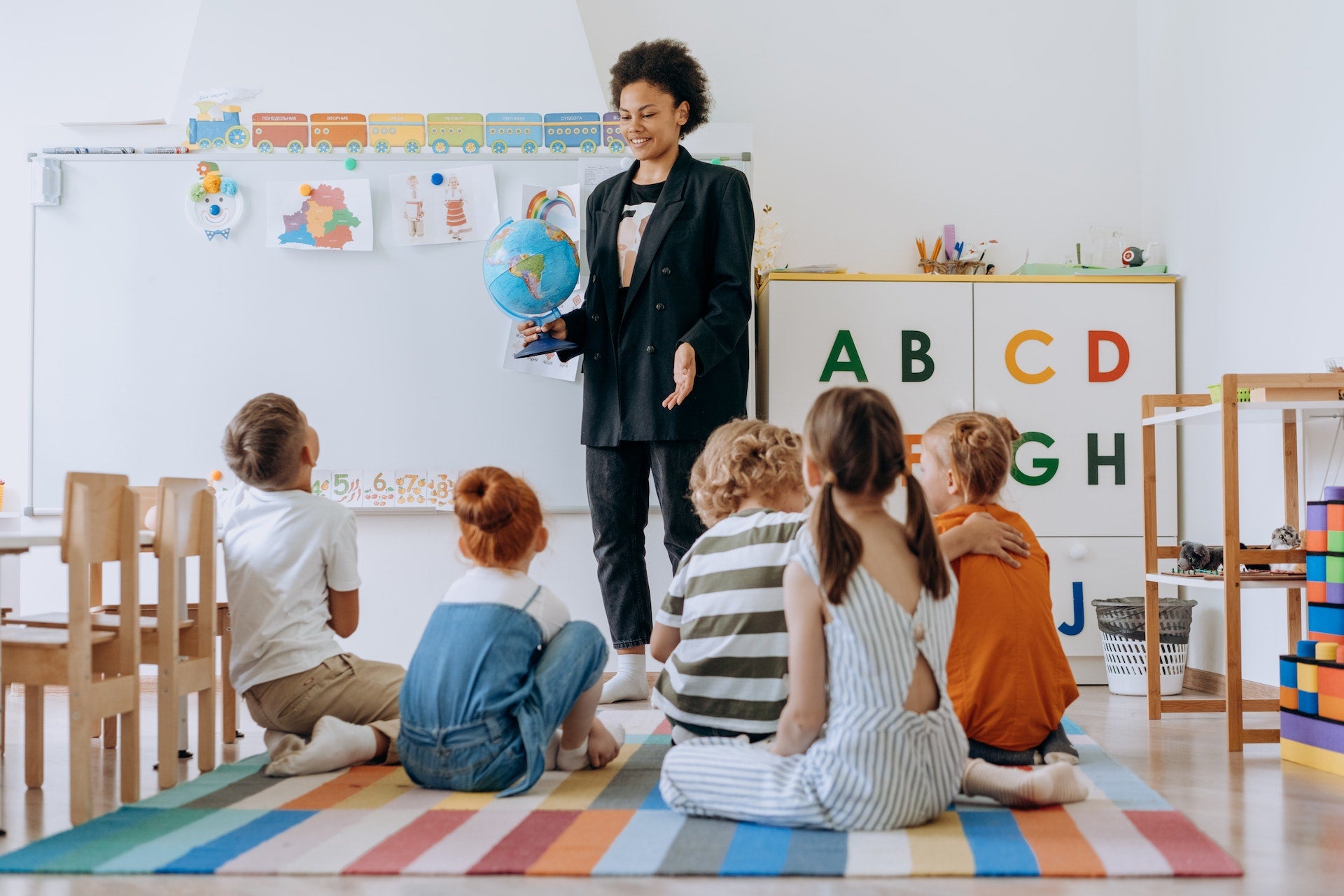 The Best Daycare Interview Outfits In 2023
First impressions are extremely important when it comes to interviews.

Working with children requires you to have a professional, yet friendly attitude, and this should be reflected in your attire as well.

The right attire helps you professionally present yourself and increases your chances of getting the job.

It may sound difficult but we've got you covered! Keep reading to discover fabulous outfit options that you can wear to a daycare interview!



Panaprium is proud to be 100% independent, free of any influence, and not sponsored. We carefully handpick products from brands we trust. Thank you so much for buying something through our link, as we may earn a commission that supports us.

Wear dresses
The clothes you wear influence the way people think and feel about you. Choose an elegant, midi dress that is both feminine and professional.
Midi dresses look great on any body type, and they come in a lot of beautiful colors and patterns.
Click here to discover the best affordable, ethically-made dresses.



Blazers
A blazer works like a magic trick that turns a regular outfit into a professional one in an instant.

If you feel that your attire is too relaxed, add a blazer to save the day! You can create an amazing smart-casual outfit with a simple pair of black jeans, a black T-shirt, and a beautiful blazer.

Purchase yours from a sustainable brand.




Shirts
Shirts are perfect for a daycare interview. You can combine them with skirts, trousers, or black jeans, and you can always add a blazer for an elegant look.
Timeless and versatile, a shirt is appropriate for many occasions, especially in professional environments.
Make sure to buy sustainable, high-quality shirts, that will last you a very long time.



Trousers + shirt outfits
Create a simple, but effective combination that works every time! Wear a beautiful pair of trousers with your favorite shirt.
For this type of outfit, having clothes in the right size for your body is very important, because too-tight and unintentionally oversized outfits don't look professional.

Check out the best organic cotton trousers in 2023.



Sweaters
If the weather allows it, a sweater is a fantastic option for a daycare interview.
Put together a preppy look: Wear a sweater over a white shirt, and let the collar of your shirt be visible. Your outfit will be cute and professional!
For inspiration, read our article about the best sweater brands.



Dress & cardigan
Cardigans are beautiful garments that can be worn in formal settings. If you want a more relaxed version of a blazer that still looks fantastic, choose a cardigan instead.
You can easily style it with a beautiful dress and a pair of comfortable shoes.

Discover amazing cardigans made by ethical brands.



Turtlenecks
Let's talk about turtlenecks! They are extremely practical, they keep you warm and cozy and they are very flattering.
You can wear turtlenecks with skirts or trousers, but also with dresses - if you have a slightly oversized dress or a pinafore dress, you can wear a turtleneck underneath.

Love turtlenecks? Click here.

Cute blouses
Blouses are very beautiful and have a softer appearance than shirts. If you don't usually wear shirts there is no need to force yourself to wear one for the interview.
A blouse can do the same job, and you'll look fantastic and feel relaxed.

Read our article if you are interested in stylish, sustainable blouses.

Maxi dresses
Can you enjoy movement, breathability, and comfort and have a stylish, feminine outfit at the same time? Of course, you can!
Choose a beautiful maxi dress from a sustainable brand and enjoy all the advantages it brings.
The color and material options available are endless, which means it will be easy to find a maxi dress that you love!




Wear pleated skirts
Pleated skirts are very stylish and flattering. They highlight your waist, accentuating the hourglass shape of your silhouette.
A pleated skirt is a versatile clothing item that suits a variety of occasions and can be worn in many combinations. For a daycare interview, we recommend pairing it with a shirt.

Check out these sustainable brands from Paris if you want to learn about their ethically made products.



Colors
Let's talk about colors!

Neutral and dark colors are the safest and most elegant colors someone can wear for an interview. White, beige, black, grey, brown, dark blue and dark green are always fantastic choices.
However, during a daycare interview, the playful, positive side of your personality is very important and you can highlight it with your clothes.
Make sure to choose professional outfits, without anything too tight or revealing.

Let yourself be inspired by these sustainable brands.

Pencil skirts
Flattering and versatile, pencil skirts are great clothing items that you can integrate into professional outfits.
You can go for the classic combination with a shirt and a blazer, or you can create an outfit that is a little bit more relaxed: Replace the shirt with a blouse, and the blazer with a cardigan.

Discover comfortable and affordable pencil skirts made by sustainable brands.

Are jeans allowed?
Although jeans are not our number one recommendation, a lot of people agree that they can be worn for interviews. That is because jeans are extremely versatile and comfortable.

You need to pay a lot of attention to how you style them so that you can end up with a professional outfit. Jeans can be worn dressed up or down, and you must dress them up because otherwise your outfit will be too relaxed.
Always go for a simple pair that doesn't feature an excessive amount of attention-grabbing details.
Wear something elegant with your jeans, for example, a shirt and a blazer. Forget sneakers and running shoes! Complete your outfit with a pair of elegant shoes instead.

Check out the 20 best affordable and sustainable Lyocell denim jeans.

Shoes
Loafers? Ballet flats?

As long as you avoid sports shoes and wear something comfortable, everything is a safe choice. Feeling uncomfortable shows in your behavior, which is why you should prioritize comfort when it comes to footwear.

Take a look at these amazing Australian shoe brands.




Wear a sweater dress
If the interview is taking place during the cold season, a sweater dress is a gorgeous alternative! Make sure its length is not above the knees, and add a pair of tights to complete your outfit.

The most beautiful sweater dresses are now both affordable and sustainable!




Avoid these
Now that you have some solid outfit options for daycare interviews, we need to talk about the clothing items that you should avoid at all costs.

Never wear revealing clothes. They are inappropriate for interviews. Because you will work with children, this type of clothes is completely unacceptable and can cause your interview to go badly in an instant.

Oversized clothes, clothes that are too tight, see-through materials, items that feature cut-outs, visible underwear, sporty clothes, as well as party attire should be avoided.
We recommend focusing on simple and versatile pieces and minimalist accessories. This way, you will make a great first impression!
Last but not least, a positive attitude is always desirable, so don't forget to smile!
If you like our advice, share this article with your friends!
Was this article helpful to you? Please tell us what you liked or didn't like in the comments below.
About the Author: Miruna Dulcea