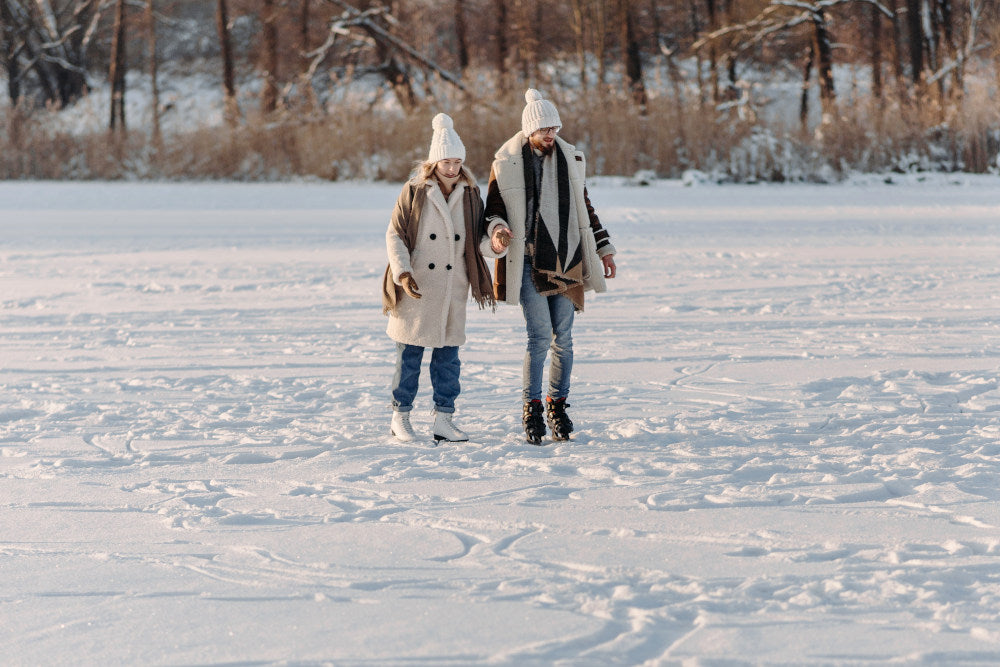 Cutest Outfits For An Ice Skating Date: The Ultimate Guide
Ice skating date is such a romantic experience! Skating together is a great opportunity to have fun and create great memories with your new partner.

Before getting to the skating ring, you must select your clothing wisely and appropriately for the ice. Of course, you will want to look flattering and cute, but for an ice skating date, you need something that allows you to skate well and feel confident.

The correct clothing will keep you warm and ensure you look beautiful while enjoying the company of your date. So, keep reading and take inspiration from these cute, stylish, and practical outfits for an ice-skating date.
Panaprium is proud to be 100% independent, free of any influence, and not sponsored. We carefully handpick products from brands we trust. Thank you so much for buying something through our link, as we may earn a commission that supports us.
1. Mini skirt with tights
Do not give up your favorite mini-skirt look just for the cold. You can always wear it with one minor modification. This time match it with a pair of warm tights.

There are different types of tights, but for this case, anything over 50 Denier is suitable for this occasion. You can also find thermal or fleece-lined pantyhose for maximum warmth.
Here are some of the best affordable and sustainable mini skirts that can help you discover beautiful styles.
2. Cute leggings
You can never go wrong with a pair of cute leggings. They are especially advisable when it comes to physical activity, what figure skating is.

Leggings are cute and extremely comfortable; they feel like a second skin and give you freedom of movement.

You can go for water-resistant leggings if you are a beginner at skating or choose regular leggings if you have some experience.
Check out our selection of the best Affordable & Sustainable Yoga & Gym Leggings.
3. Fur glamour
Let us correct the misconception that wearing fur is outdated and even wrong. People often avoid fur coats because of conscious choices. And this could be understandable if not for the fact that many companies replaced real fur with synthetic.

Fur coats have always been an essential part of the luxury fashion industry and will always be a trend. So, bring some luxury allure to the skating ring by wearing a faux fur coat. You can match it with a pair of leggings or a skirt and tights.
Let's support companies that don't exploit animals at all. Make sure that the fur coat you buy is made of synthetic fibers. Check out who is still using real fur and make a conscious choice.
4. Figure skating leg warmers
Besides being very useful during ice skating, leg warmers look fashionable. The leg warmers will be your best feature as you can match them with everything. They look cute on leggings, skirts, dresses, or fancy tights.
5. Winter earmuffs look very cute
Winter earmuffs are chic and cute, and of course, their best advantage is keeping your ears warm. You can match the color of the earmuffs with your clothing or use them to add an accent color to your outfit.

Winter earmuffs also come in various shapes and materials. They can be oval, round, or seashell-shaped and made of fur, cable knits, fleece, eco-shearling, and much more.
6. Light jacket
Wearing a heavy jacket is not suitable during ice skating. It may be logical to think that you need to wear a warm jacket, but in reality, you will be moving around and getting warm. That is why wearing a light jacket is best for the ice ring. 
Wear a short quilted jacket atop a crisp button-up or slim-fitting turtleneck for a cute and classic style. 
7. Feel confident in a sweatsuit
Choose sweatpants that fit well and feel comfortable. Fitted sweatpants usually make your figure prettier and are easier to dress up.

Wearing a sweatsuit is a great outfit idea for an ice skating date. Your favorite sweatpants will look super cute on the ice ring. It will protect you from the ice and cold without restricting your mobility.
Here are some of the best affordable and sustainable sweatpants and joggers that you can wear to look fashionable and feel comfortable on the ice ring.
8. Turtleneck sweater
If wearing a scarf seems too much for you during an ice skating date, you can opt for a turtleneck sweater. You can wear it under a light jacket. This combination will be just enough to keep you warm but not overheat you while on the ice ring. 
Check out our selection of the most adorable, comfortable, and affordable organic cotton turtlenecks made under high standards.
9. Matching outfits
Make some special memories of your relationship by wearing matching outfits. Picture yourself as the cutest couple on the ice ring, showing tender love and thoughtfulness through matching outfits.

Wearing the same thing will help you create a closer bond and a distinctive image of your relationship.
10. Fluffy fleece jacket
Fleece is a super soft fabric made to keep you warm! Fleece jackets are lightweight and very comfortable. Fleece has such a squishy touch that your partner will not leave a moment to embrace you.

Something to keep in mind with fleece is that it is not windproof. So, if you plan to go to an open ice-skating ring, you might want to take something in reserve.
11. A tulle skirt for a romantic look
Who said that tulle skirts are only for ballet or kids? With its soft and airy feel, tulle is perfect for creating cute and romantic styles.

Wear a tulle skirt on the ice ring and become the princess of the day. Combine a short or midi flowy tulle skirt with a sweater and a light jacket, and you will get a cute and original outfit for your ice-skating date.
12. A cute hat
It is advisable to wear a hat to keep your head and ears warm on the ice. But don't just pick the first hat you see in your closet.

Wear a beret hat for a refined and stylish look, or choose a faux fur hat for a unique and sophisticated touch. Match the hat to your outfit wisely, and it will become a hero accessory for your look.
This list of comfortable and stylish headwear will help you look and feel your best, check it out.
13. Skate boot covers
Skaters usually wear boot covers to protect their skates from scratches and cuts. Additionally, boot covers will protect you from tripping over your laces.

But apart from their functionality, boot covers that match the color of your tights or leggings create the illusion of longer legs.
14. Thin cotton socks
Wear thin cotton socks when coming to the ice-skating ring. Make sure that you don't wear socks that are too thick. They can cause blisters as the skates must have a very tight fit.
Also, the socks must be long enough to cover the ankles, do not wear no-show socks to go skating.

After all, we want you to fully enjoy your date and remember the day as one of the best in your relationship.
Here is our selection of the best affordable and organic sock brands.
15. Gloves are a must
Wearing gloves is very important during ice skating. They will keep your hands warm, and more importantly, a pair of soft-knitted gloves or mittens will protect your hands if you fall on the ice.
Choose cute, affordable and sustainable gloves, ethically made with eco-friendly materials from our list here.
Was this article helpful to you? Please tell us what you liked or didn't like in the comments below.
About the Author: Iana Jekova