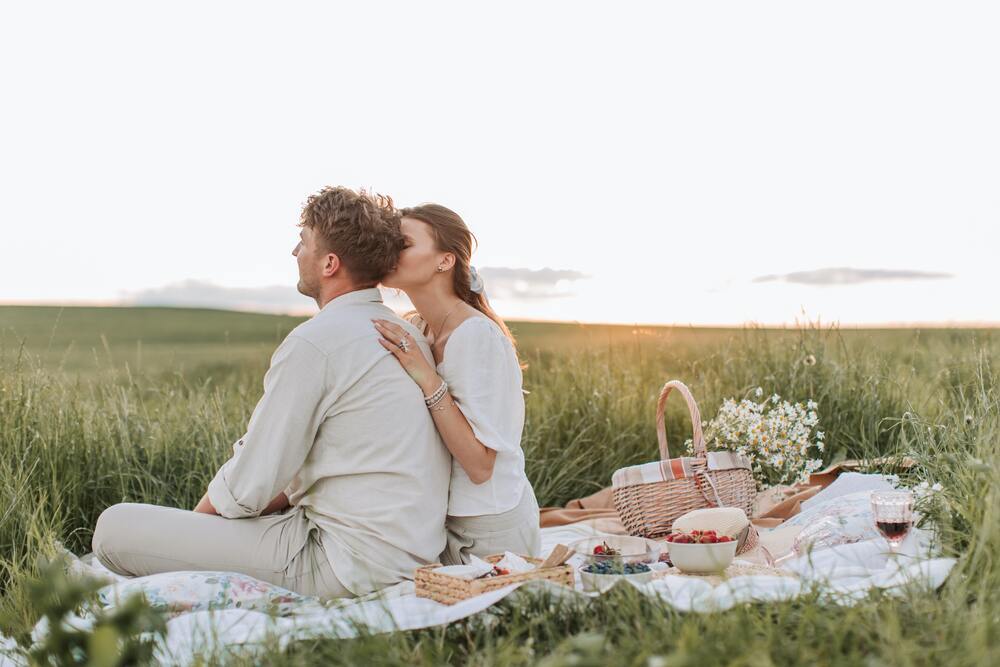 19+ Picnic Date Outfits To Look Twice As Cute
After a busy work schedule or hefty duties, a picnic may be all you need to relax! A well-planned picnic presents an excellent opportunity to get fresh air and bond with friends in the warm and temperate months. But hey, what should you pack for a leisurely outdoor date?
Choosing the right outfits may be overwhelming initially, but it's easy when you have inspiration. That's why we have compiled a guide on a few outfits that might impress you and make your picnic stress-free. Check out these fantastic outfits to consider for your next picnic date.
Panaprium is proud to be 100% independent, free of any influence, and not sponsored. We carefully handpick products from brands we trust. Thank you so much for buying something through our link, as we may earn a commission that supports us.
Maxi skirt and crop top
A maxi skirt is one of the most comfortable, stylish, and attractive apparel items you can wear on a picnic. Unlike short skirts, a maxi skirt is quite adaptable and fits well to people of all body sizes. Besides, the skirts come in a broader array of materials, including chiffon, cotton, and satin. Flowered and printed maxi skirts are also available.
Depending on the picnic venue, you may choose a plain maxi skirt or a patterned one. Plenty of attractive and stylish tops for pairing with it are also available, although a crop top fits the best!
Pick a patterned/flowered crop top if the skirt is plain, and pick a plain one if your maxi skirt is patterned/ flowered. Ensure your maxi skirt is comfortable along the waist, especially if your picnic date lasts an extended period.
15 best affordable and sustainable long maxi skirts.
Graphic tee and jeans
Graphic tees are popular for a good reason; they are pretty comfortable, classy, and you can pair them with many types of jeans.
For instance, you can easily combine your cropped graphic tee with straight-leg faded jeans and rock your picnic date. Rugged, wide-legged, or short jeans could be an excellent combination for your graphic tee. You can carry a jacket or oversized blazer if your picnic date is in a chilly place.
Feel free to tie your cardigan or add a beautiful belt for a more casual look on your picnic. A uniform color of jeans is the best combination for your graphic tee, and your shoe color choice should be plain.
10 best affordable and sustainable graphic tees.
Floral maxi dress and a fitted jacket
A maxi dress is a versatile apparel you can wear on many occasions, including on a picnic date. Most maxis are light, comfortable, and cute and fit well on petite and big-sized ladies.
Don't worry if you don't like floral dresses! You can pick a patterned or plain one with beautiful accessories.
Easily pair your floral maxi dress with a well-fitted plain jacket. Since most maxi dresses are loose, you can opt for a belt around your waist to show your figure and get that fantastic look.
A crop top could also add glamor to your dress, mainly if it's light and leaves most of your upper body open. If your picnic date is on an extremely sunny day, don't hesitate to add a sunhat and some shades.
15 best affordable maxi dresses made in the USA.
Faux leather leggings and a camisole
Faux leather leggings are classy and can be perfect for you when the weather is chilly. Black leggings are the best because they blend well with almost every color you pair them with. Wear stiletto boots, probably zippered ones, for the most beautiful appearance when wearing leather leggings.
Flat sandals can also combine well with your leggings. As for the top, a camisole can be an excellent combination. A tunic sweater, an oversized shirt, and a big sweater top could also be perfect for your faux leather leggings. Complement your look with a clutch back and a pair of shades.
Check out our selection of the top 12 best organic cotton camisoles you'll love.
Slit dress/skirt/trouser and crop top
Another outfit you can wear for your picnic is slit wear. For a slit skirt, you can choose between a long and a short one. A short slit skirt can fit well with many top options, including a crop top, a loose jacket, a blazer, or a knitted top.
A graphic tee can also pair up a short-sit skirt, mainly if you wear sneakers. A long-slit dress will have limited top options, but a short-sleeved tee is ideal.
A slit dress is also ideal for your picnic date, mainly if you want to show your hourglass figure. Wear it with a stylish jacket if the weather is cold.
Similarly, you choose stylish slit material trousers for your picnic date. The trousers can either be fitting or loose, and you can pair them with a well-fitting graphic tee.
Off-shoulder/one-shoulder top and jeans
Off-shoulder clothes have been in the clothing industry since the 1960s and have undergone tremendous changes since then; we have one-shoulder tops and dresses. One-shoulder tops are casual and versatile, meaning you can combine them with many clothes. They also come in many materials, like satin and cotton.
Off-shoulder tops can either be short or long-sleeved. They can be loose or fitting, although a fitting one-shoulder top fits well for a picnic outing.
Pair your one-shoulder top with black jeans, a short floral skirt, or long straight, material trousers. Complement the look with a leather jacket and sneakers or boots if you'll stay till late. A pair of denim shorts and sun shades will be great in summer.
A pair of shorts and boots/sneakers
Step out on your picnic date with shorts, a graphic tee, boots, or sneakers! Unlike most apparel, shorts provide a casual and unique look needed for a perfect picnic date. The main types of shorts that you may consider for your outfit include:
Bermuda shorts
High waist shorts
Short shorts
The length of your shorts does not matter, provided that you are comfortable and pair it up with a good top. However, you can wear leggings if you are not satisfied with the length of your shorts.
Wear your shorts with a graphic tee, an ankara top, a v-neck, or baggy shorts for a relaxed picnic look in warm months. A buttoned pair of shorts and an accent belt would also be valuable to your look. You can wear boots, flat shoes, or sneakers, and carry a cardigan/jacket if you stay late.
15 best organic cotton shorts for women and men.
High-waist pants/ jeans and tucked shirt
High-waist jeans have become popular for good reasons. They hide love hurdles and big bellies. They also keep your shirt top well tucked in throughout. You can therefore choose high-waist pants if you are comfortable showing off your beautiful figure and waist.
As for the top, you should be picky because high-waist pants are meant to show your waist. You can wear a well-fitting bodysuit, tucked shirt, or a crop top with your high-waist pants. Keep the look casual with white sneakers and an oversized sweater top.
Jumpsuit and a vegan leather jacket
Jumpsuits come in many styles, designs, and colors, making them ideal for a picnic date. The best thing about them is that you remain comfortable even if the weather is windy, it rains or becomes cold.
A plain blue jumpsuit is always a yes for a picnic date, although you can choose any other color. Depending on the design of your jumpsuit, you can pair up your jumpsuit with sneakers, flat shoes, or even boots.
A vegan leather jacket and a small clutch will complement your look. You can even add a hat if the sun is hot. For a smooth picnic experience, ensure the jumpsuit material is light and not excessively tight.
20 best affordable and sustainable jumpsuits.
Buttoned skirt and animal print top
Most buttoned skirts are comfortable and combine well with many tops. You can wear any skirt color, but blacks easily blend well with many colors. If you don't have a light top for your black buttoned skirt, buy a sleeveless animal print top to pair with it. Your top should be a crop top if the skirt is long.
Carry a scarf or a jacket if your picnic will last till late. This look is versatile, so any shoes can fit well. However, sneakers will be the best because a picnic is casual.
Sundress and sneakers
Sundresses are cute and comfortable, and blend well with other accessories, including sneakers. They also come in varying beautiful designs that you can easily choose the best according to the shape of your body.
Knee-length sundresses blend well with many sneakers, and you can wear them in many ways to achieve your desired look. For instance, wear a sundress alone, under a cardigan, or a blouse.
You can also carry a jean jacket because even though sundresses are beautiful, most are light and may not provide the warmth you need when it is cold outside. Your sundress can be printed, floral, or just plain.
15 best affordable sundresses made in the USA.
A midi dress top and belt
Midi dress tops come in countless designs and are excellent options for picnic dates. Pair your midi dress with boots in fall or spring, and choose a long-sleeved midi-dress. Generally, a lengthy midi dress top needs a coat of the same hem dress or a short stylish jacket.
Pick the right midi dress top for your height and body shape, and add colorful earrings and other accessories to complement your picnic summertime beach. A belt is not mandatory, but you may consider it if the dress is buggy and you would like to fit well.
If a midi dress does not work for you, you can choose a midi skirt with a fitting tank top. Check out our selection of 15 best affordable and sustainable midi skirts.
Printed pants and a bodysuit
This look is simple and comfortable for pants lovers. Pick a classy printed pant, and pair them with a bodysuit or a tee shirt you can easily tuck in.
One good thing about printed parts is that they are light and comfortable, so they don't interfere with your comfort during your picnic. They also come in many printed patterns so that you can choose the best for your needs.
You don't need many accessories with this look, but you can wear a classy necklace and carry a jacket if you stay till late at night. If you don't like printed pants, pick plain loose pants, floral or striped ones.
20 best-patterned pants to easily look stylish.
A matching top and skirt/short set
Matching tops and skirt/short sets are not only worn in office or dinner events, but you can also rock them on your picnic date. Most of these matching sets are very comfortable, and you can make them comfier by ensuring they are not extremely tight. Remember, it's a picnic, and you must be flexible enough to walk, sleep, or even sit.
Your matching set can include a skirt, shorts, and a trouser. Cotton is the best material for your picnic occasion, but you can pick jeans, nylon, and any other material that interests you.
As for the shoes, sandals, boots, and sneakers can work depending on the style of your matching set. You can also wear a cap and sunglasses on a sunny day.
A patterned shirt and an overall
An overall is an incredible idea if you do not fancy wearing a skirt, trousers or a jumpsuit. You only need to pair it with a fitting shirt inside and the right sneakers or sandals.
This look works well in all seasons, and you only need to consider a few things. For instance, you can choose a lengthy and heavy overall for a winter picnic. A short overall and short-sleeved tee will work best in summer. Your tee could either be graphic, patterned, or just plain. Any color can be great, but a bright-colored one is the best.
Most overalls come with side pockets or one large front pocket. An overall with pockets are great because you can conveniently store your picnic accessories.
Check our selection of 15 best ethical and sustainable dungarees and overalls.
A blazer and oversized tee
The right outfit for an outdoor event must be comfortable yet stylish, which is what this outfit offers. An oversized tee is an incredible option for your picnic if you are comfortable showing a bit of your skin and would like to be flexible enough during the event. A blazer completes the look, although you can choose a scarf or a small, stylish jacket.
As for the tee, you can choose plain, graphic, or printed. If it's graphic, the blazer/jacket should be plain for the perfect match. We suggest a high-quality cotton material for the oversized tee for comfort. Long boots are the best combination for this look because the tee is already short.
Check out our section of the top 20 ethical and sustainable blazers you'll love.
Loose jeans and halter top
Loose jeans are airy, making them a pretty outfit for an outdoor event like a picnic. The jeans also create a casual look for your picnic and are easy to pair with multiple clothes. A halter top is a perfect combination, but you may need to carry a blazer or a cardigan in case the weather turns cold.
A crop top and a band tee are good top pairs for your baggy jeans. Be sure to include a belt if the jeans are extremely baggy, and carry a matching handbag. This look goes well with sneakers or black boots; and you can wear sunshades.
T-shirt dress and knee-length boots
Nothing beats the comfy cotton tee shirt dress paired with booties or flats. Tee shirt dresses have become popular due to their comfort and versatility, and you can wear them on your upcoming picnic. Tee shirt dresses come in many materials, including jeans, cotton, and leather, so you can choose the best for your body and specific needs.
Color options are many, although bright colors like pink and yellow will make you stand out during your picnic. Black knee length will finish the look, but you can choose sneakers. Tie your waist with a cardigan or a jacket, or wear a long-knitted sweater.
Statement sweater and shorts
A statement sweater is an excellent outfit idea when it's cold and windy. The sweater remains firm throughout your picnic, giving you the warmth, you need. Neutral colors like gray and black are the best because they match almost any other outfit. However, you can choose bright colors like yellow, white, and pink for a summer look in warm and temperate months.
You can pair your statement sweater with jeans shorts, preferably blue or black. Complement the look with long boots, sneakers, or stylish sandals.
Check out our selection of top 15 most adorable, and affordable organic cotton jumpers and sweaters made under high standards.
Camisole and denim shorts
Going for a summer picnic? Worry not. Pick up your favorite camisole and pair it with a nice short. Denim shorts are versatile and quite comfortable, so they are a great outfit idea for a picnic. You can add a cardigan on top of your camisole to remain warm at night.
Wear tight-straight trousers if you don't like shorts. And since a camisole exposes your neck, wear a good-looking necklace. You can wear a belt (optional), depending on the design of your shorts or trousers.
This outfit goes well with sneakers, boots, and sandals.
For inspiration check out these top 20 organic cotton camisoles and these 20 best affordable and sustainable denim shorts.
Wrapping up
Choosing the proper clothing for your picnic can be challenging, especially if this is your first time. But it doesn't have to be. You can consider many options, from trousers to dresses and skirts, and stay stylish and classy during your outing day. Hopefully, our guide has given you more insights on what you can wear to make your picnic date more enjoyable and satisfying.
Was this article helpful to you? Please tell us what you liked or didn't like in the comments below.
About the Author: Dinushka Breaker Gunasekara