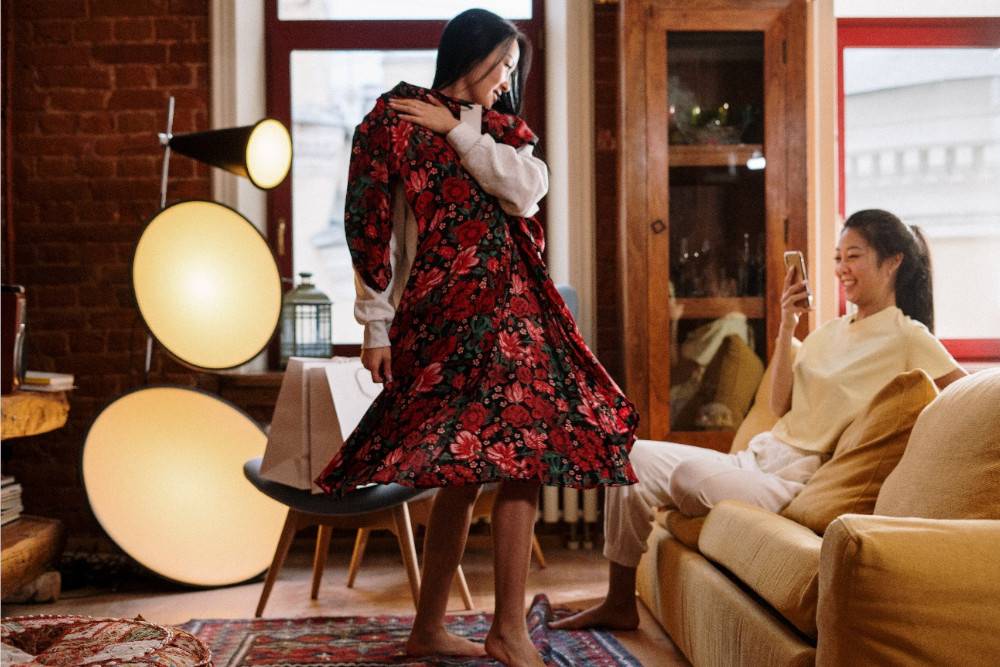 10 Cute Outfits Modern Chinese Women Love to Wear
Fashion has become a hot topic in modern-day China, with more and more women trying to combine looks and outfits that are trendy and cool on the one hand and elegant and sexy on the other.

Modern Chinese women prefer outfits that embody a creative mix of styles ranging from a modern take on traditional items like qipao to oversized T-shirts and hoodies.

Discover some of the most popular outfit items that are no doubt present in the wardrobe of a modern Chinese woman.


Panaprium is proud to be 100% independent, free of any influence, and not sponsored. We carefully handpick products from brands we trust. Thank you so much for buying something through our link, as we may earn a commission that supports us.

Qipao reimagined


Whether you know it as a cheongsam or a qipao, this tightly fitting outfit is one of the most renowned fashion pieces in China. Even though qipao dates back as far as the Qing Dynasty, it is still widely worn by modern Chinese women today to attend official ceremonies and events or just out in the streets for a beautiful photoshoot in an idyllic oriental style.

Nowadays, fashion designers and brands give a new touch to this treasured item making it look more refreshing and modern while keeping its cultural importance intact. Many brands offer eco-friendly qipaos made with recyclable materials.  


Pantsuit


Another favorite outfit is a pantsuit worn not only by Chinese businesswomen today but also by fashionistas who like the feminine twist on an outfit exclusively worn by men in the past. Indeed, we are referring to the Zhongshan suit, known as Mao Suit as well.

This beautiful two-piece attire was an example of practical clothing back then. Consequently, it's become an iconic piece of Chinese culture and fashion heritage, and modern fashionistas go for it both for its practicality and beautiful feminine design.

Our selection of affordable and sustainable suits both for women and men.


Handmade Jewelry


Handmade products, especially jewelry, are widely popular in China nowadays. Instead of buying mass-produced jewelry, Chinese women opt for a handmade version to feel unique, fashionable, and trendy.

Women love to look feminine and make themselves feel special by wearing cute pieces of jewelry whether it is made of gold, jade, or diamonds.

As more and more people become eco-conscious, many tend to choose jewelry that is sustainable and made of eco-friendly materials.  

Check out our recommended sustainable jewelry brands you need to know.


Pajamas as daywear


Yes, you read that right. Another absolute favorite of the Chinese female populace is pajamas, which may well be nightwear elsewhere, but many Chinese have long been enjoying wearing their PJs in public.

In fact, during a few international events hosted in China, the local governments ran campaigns to encourage residents to stop wearing their PJs outside to appear more civilized.

Although PJs are not necessarily considered a high fashion trend, the trend to wear them has caught on elsewhere. Silky or patterned versions of the two-piece combo have managed to appear both on red carpets and catwalks around the world.

Check out our recommended sustainable pajamas to wear every day.


Oversized T-shirts


Who does not like a loose-fitting top as part of a comfortable outfit? This fashion trend is heavily affected by the Hip-hop culture in China, so youngsters see it as a way of expressing themselves and their personalities.

Wearing oversized T-shirts has gained momentum in China not only because they are super trendy but also because they are ultra comfortable to wear.

Women love to pair these T-shirts with shorts and joggings or short skirts, which makes them look skinny and cute. It is an undeniable part of street-style fashion.

Check our selection of best affordable and sustainable tees.


Thigh-high socks


Once a big trend in the 1990s, these 'long' socks have made a comeback in recent years and have become one of the most sought-after fashion items for women. You can find various types of socks knitted or crocheted in monotone colors or designed beautifully with graphic or animal prints.

These are mostly paired with skorts, shorts, or just with a long oversize T-shirt worn as a dress.

Women wear thigh-high socks even during the cold months of winter. However, the thermal counterparts are in the game then.  

Our selection of sustainable socks to feel comfortable and relaxed.


Tops with printed characters


Multiple Chinese collections have featured Chinese character printing. A lot has changed here as well. While in the past Chinese women would solely wear dresses or tops printed in foreign languages, overwhelmingly in English, nowadays they prefer tops printed in Chinese characters and quotes.

Some western brands have incorporated these tactics into practice to attract more Chinese customers, especially the young generation.

Make sure to check our list of organic cotton crop tops.


Loose hoodies


Another absolute favorite of ladies is the loose hoodies. People initially wore hoodies to appear cool and look western.

However, the ideas have changed, and nowadays, Chinese brands offer a selection of hoodies with an oriental touch, like brush stoke embroidery or Chinese characters printed on them.

Loose hoodies like oversized T-shirts are mostly paired with tight shorts or skirts and are one of the most common outfits in the streets of big cities.

See here our selection of affordable and sustainable hoodies.


Skorts


Another big hit in China is the skorts. These are an absolute winner among teenagers, but even women in their 40s love to wear them.

Even though they look like skirts, they offer the comfort of shorts. Chinese women love wearing short skirts or shorts, and skorts are an amazing alternative offering a great combo of femininity, practicality, and comfort.

Make sure to check out our recommendations on comfortable pleated tennis skirts.


Brightly-colored stylish sneakers


Sneakers have long stopped being mere shoes for sports activities and have become a daily preferred footwear making fashion statements.

Even the more expensive models are super popular among young Chinese women. Some have a grand collection of sneakers from renowned brands and market leaders.

These brightly-colored sneakers can be paired with shorts, skirts, and short dresses, as they are the go-to items for a casual and comfortable outfit.

Have a look at our selection of vegan sneakers.

These 10 items are a must-have in China. You can try an elegant look with a tight dress and heels, or loose hoodies paired with shorts and colorful sneakers.

Modern Chinese women pay a lot of attention to what they wear and try to style these items in a way that makes them stand out and appear unique. Due to the increasing general awareness of climate change, many go for sustainable products and recyclable materials as well.
Was this article helpful to you? Please tell us what you liked or didn't like in the comments below.
About the Author: Gohar Davtyan