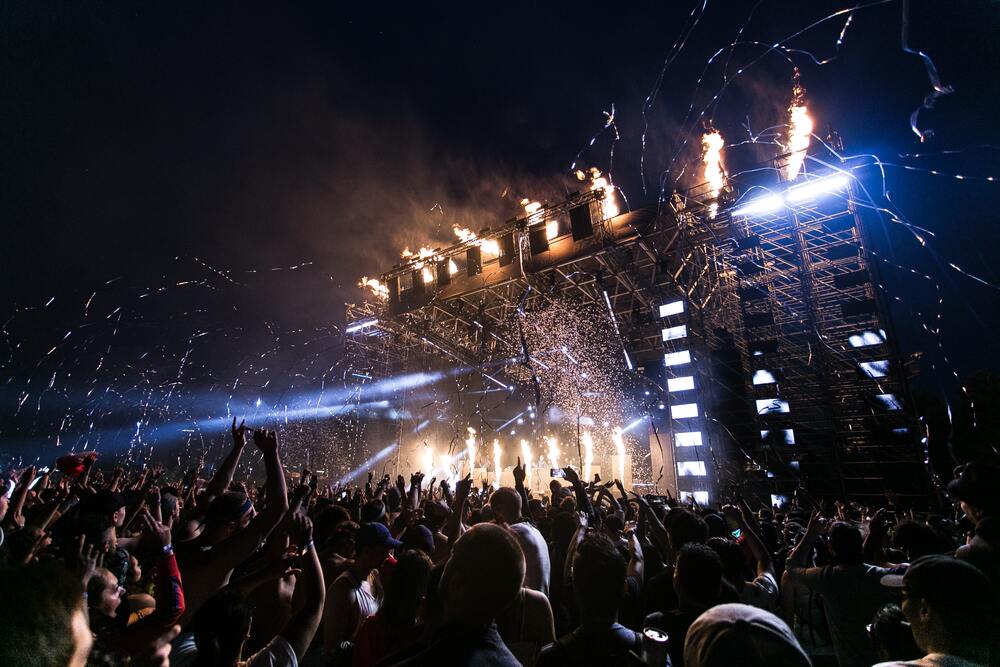 15+ Cute Outfits To Wear To A Kiss Concert
Going to a Kiss concert is one of the best activities we add to our calendars yearly. As a band, Kiss does not mind taking risks, and they are respected for their ingenuity in everything they do, from music to theatrical performances and even fashion.
That said, a Kiss performance is typically about having fun and relaxing. As a result, you can dress comfortably, whether it's an oversized tee shirt and shorts or a set of tights and shoes.
This article contains outfit suggestions that will help you explore the limits of your creativity and make you look your best at a Kiss concert. Read on and find your perfect fit!
Panaprium is proud to be 100% independent, free of any influence, and not sponsored. We carefully handpick products from brands we trust. Thank you so much for buying something through our link, as we may earn a commission that supports us.
A t
-shirt

and

a faux leather mini skirt
Everything in a Kiss concert, from the makeup to the costumes and the stage show, is usually on fire. So bear this in mind as you choose your attire. You can wear a T-shirt with a leather mini-skirt to complete the punk style.
Here is our selection of the best affordable and ethical t-shirts made in Australia.
All black
Go for all black when in doubt. Something about an all-black ensemble makes me feel like I can take on the world. It's simple, stylish, and ideal for a Kiss concert. Swap boots for a pair of elegant heels, and you're good to go! 
Corset skirt
I adore corsets for the charm and form they lend to a dress. If you want to appear stunningly beautiful, I suggest you try corsets. Pair your black corset with a choker neck top for a medieval rock lock.
Cargo pants
Don't want to deal with a bag? Cargo pants are your best bet as they have pockets for every need. To wear it in a trendy way, pair your pants with a tight crop top to contrast the oversized fit of the bottoms.
Check out our selection of the best affordable and sustainable cargo pants made under high standards.
A
graphic t

ee

with ripped jeans
Always prioritize comfort when selecting an outfit for a Kiss concert, as you may be on your feet for several hours. Similarly, you will be standing between thousands of people going crazy with music. As such, play it safe and relaxed with your favorite graphic t-shirt and ripped jeans. You can tie a flannel printed scarf for a more casual yet chic look.
Check out our selection of the best affordable and sustainable graphic tees.
Overall and a bra top
Why not let your overall shout at your next Kiss concert? They are usually chic and comfy and require little effort for an excellent concert look. Blend it with a cheeky bralette and white sneakers for a versatile yet sexy look. If you don't fancy showing too much skin, add a long mesh sleeve over your bralette or crop top for more coverage.
P
leated

faux

leather skirt

and

a cro

p top
Looking for a gorgeous Parisian grunge look? Sub in a pleated faux leather skirt with a knotted or cropped tee and pint coat.
Here is our selection of the top 15  affordable, ethical, and sustainable crop tops.
A skull-printed t-shirt paired

and denim

shorts
The Kiss band is known for spooky and goth attire. Also, anyone who has ever attended the show will tell you that the music is usually a near-death experience' due to their soul-shaking performance.
So, this is an excellent opportunity to show your inner gothic girl taste. A skull-printed T-shirt with denim shorts is ideal for the concert.
Sheer

m

esh

t

op
Of late, the mesh top has become a fashion staple in concerts. Both celebrities and fans in shows wear it. And to keep up with the trends, wear a sheer mesh top to your next Kiss concert! Trust me; you'll be glad you did.
Dark

d

enim
Adding a touch of denim to your outfit will give you the boost you need. If you want to go all in on denim, I recommend you go for darker denim. It will add a  whole new level of sophistication to your overall look.

Check out these affordable denim brands.
Black

faux l

eather

m

ini

s

kirt
Black leather mini skirts are versatile as you can pair them with different pieces for various looks. For example, you can style it with silver boots, a bold graphic tee in black, and a faux leather jacket for a grunge-rock look.
Cardigan
and

j

umpers
Want to have a smoking outfit in the winter? Don't sweat. Wear your snapbacks, beanies, or hats with a cardigan or jumper. You can also add heavy chains dangling from your sweaters and bands on your fingertips to enhance the bright rocky sheen.
Here are the 20 best, most affordable, and sustainable cardigans.
Feminine

t

omboy

v

ibe
If you fancy the '80s vintage clothing, pair your vintage tee with a denim jacket, shorts or trousers, and a hat for a striking tomboyish look. Sneakers will look fantastic with this ensemble and keep you comfortable.
Are you looking for vintage attire? Check out these 40 best thrift stores in Berlin for affordable vintage.
Cowboy

b

oots!
Now is the right time to pull out your cowgirl boots and jazz up them! They look great with a band shirt and a solid-color skirt or trousers. You can dress up this look with chunky metal accessories!
Accessori

ze
Silver accessories are a must-have in a Kiss concert. Because most of the outfits in such a concert are usually in dark colors, a touch of silver will blend it perfectly. Go for chokers, studs, bracelets, belts, chains, or necklaces, depending on your creative juices. Also, show your piercings if you have them.
Here is our selection of the best affordable and sustainable hair accessories.
Don't forget makeup
Great makeup up is a must in a Kiss concert. If you enjoy wearing cosmetics, now is the time to show off your abilities. Any nice makeup will do, but a traditional white face blended with a black star on the eye works well.r
A f
anny pack

/

crossbody purse
You can wear it on your chest to prevent your valuables from getting lost.
Make those memories
Wear one of these outfits to impress at your next Kiss concert. I hope the ideas were helpful and you will feel the music flowing through your body while looking your best.
That said, a memorable event like a Kiss concert is all about having fun. So, make as many memories as possible while feeling fabulous and beautiful. Hydrate and enjoy.
Was this article helpful to you? Please tell us what you liked or didn't like in the comments below.
About the Author: Dinushka Breaker Gunasekara