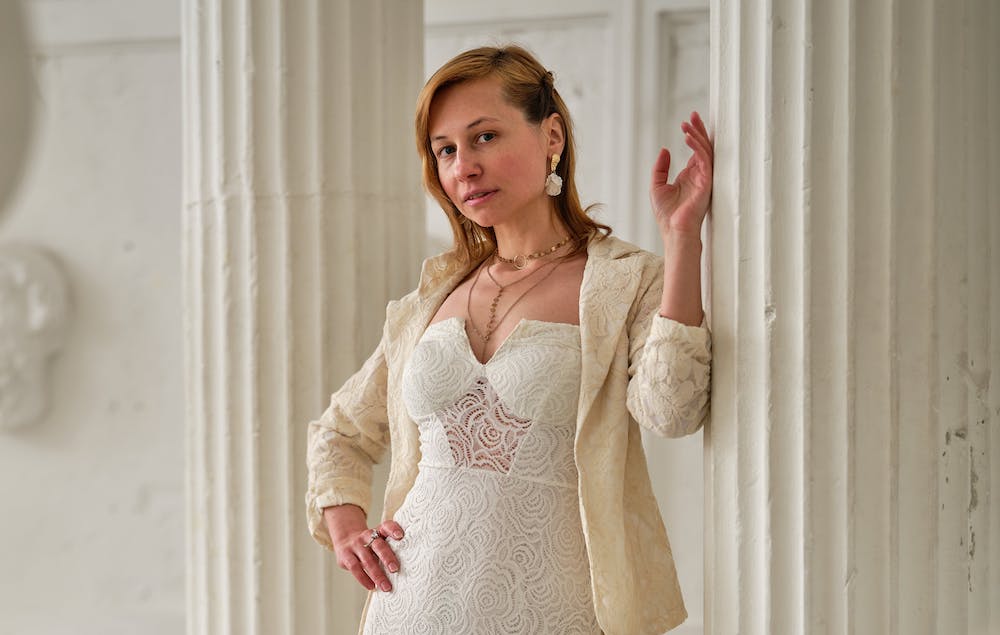 15 Classy Outfits to Wear If You're Petite
Getting dressed for a formal event is a lot of fun, but it can also be daunting. For those with petite frames, choosing the right outfit can be challenging. 
How do you dress classy without drowning in your clothing? 
Women with petite frames are in luck because there is an endless array of outfit possibilities. From the office to eveningwear, there are plenty of ways to dress a petite frame in a way that is flattering and sexy. 
Get ready for the 15 best petite, classy outfits that are bound to turn heads and make waves. 
Panaprium is proud to be 100% independent, free of any influence, and not sponsored. We carefully handpick products from brands we trust. Thank you so much for buying something through our link, as we may earn a commission that supports us.
Off-the-Shoulder Top
An off-the-shoulder top is a great way to show off your shoulders, neck, and collarbone. 
Go for a retro-inspired look with an off-the-shoulder top and high-waisted capri pants. You can also wear an off-the-shoulder blouse with a boho-inspired maxi skirt and heels. 
You can find plenty of options with our favorite affordable petite clothing brands.
Trousers & Chunky Heels
Trousers and a pair of chunky heels make an excellent work outfit if you're petite. 
There's nothing classier than wearing well-tailored trousers with modern, feminine heels. Go for neutral colors like camel, gray, and black for a classy sensibility. 
Check out our selection of sleek cotton trousers.
Maxi Skirt with a Slit
Maxi skirts are the best cut to wear if you have a petite frame. Plus, the long silhouette of a maxi skirt is just plain classy. 
Wear a maxi skirt with a slit on one side for a flirtatious, feminine outfit. This look is fantastic for a night out or a formal outdoor party. 
Explore our selection of sustainable maxi skirts.
Vertical Stripes
Vertical stripes are a simple way to build a classy petite outfit. 
Vertical stripes are slimming and elongating, which are both helpful if you're petite. 
Wear a striped jumpsuit for a fun, summery look, or wear a pinstripe blazer and pants for a professional, put-together look. 
A Structured Blazer & Pants
A structured blazer and some well-tailored pants are your best friends if you're a petite woman who loves keeping it classy. 
Look for a structured blazer that is cropped just above the hips. High-waisted, wide-leg pants are an excellent option. Finish off your look with an elegant white blouse, and you're good to go. 
Don't miss our selection of elegant, sustainable blazers.
An A-Line Skirt
An A-line skirt is an excellent option for a classy petite outfit. 
A-line skirts have a natural flare to them, making the legs appear longer and more slender. Wear an A-line mini or maxi skirt with a feminine blouse or a simple tucked-in t-shirt. 
Check out our selection of sustainable and affordable skirts that look great on petite figures.
A Tailored Printed Pantsuit
A tailored printed pantsuit is a fun way to mix up your classy wardrobe if you're petite. 
Wear a breathable plaid or houndstooth pantsuit with high heels, a white button-up, and a creative pair of sunglasses. Whoever said suits are just for men?
Shop the best sustainable suits for women (and men).
A Knee-Length Dress & Heels
Many people think that midi-length dresses are "bad" for petite figures. This simply isn't true when you pair a knee-length dress with cute heels. 
Wear a flowy, boho-inspired dress with wedge heels or a knee-length black dress with slinky, strappy heels. Whatever you choose, make sure you feel comfortable and confident while wearing it. 
Explore our selection of the best sustainable and vegan heels.
A Monochromatic Ensemble
A monochromatic outfit is an excellent way to look classy if you're petite. This may seem counterintuitive, but it's actually a great tip for petite figures. 
Wearing the same color creates a continuous visual line up and down your body. So, a monochromatic look creates the illusion that you are taller and more elongated. 
Wear an all-black look for a mysterious edge, or try wearing a monochromatic outfit with your favorite bright color. 
Check out our selection of black dresses to get started.
A Turtleneck and Pants
A turtleneck paired with some slim-fit pants is a great way to create a cozy, classy look. 
Wear a black mockneck or turtleneck with neutral-colored pants for a slimming effect that looks great on any body type. 
Shop our selection of organic cotton turtlenecks.
Voluminous Tops & Skinny Jeans
It can be a challenge to play with proportions when you are petite. An easy way to do this is by wearing a voluminous blouse with skinny jeans. 
A flowy, beautiful blouse is an easy way to create a unique silhouette without drowning in fabric. The skinny jean fit offsets the larger fit of the blouse, making it a perfect look for petite figures. 
Get more tips and tricks in our guide on how to dress a petite hourglass figure.
A Cropped Blazer & Skirt
Cropped blazers are great for petite figures because they lengthen the torso and always look classy. 
Create a fun and professional look by wearing a cropped blazer with a matching skirt. You can also create a color block effect by wearing a cropped blazer with a colorful top and neutral skirt.
Check out our selection of pencil skirts and blazers for more outfit options.
High-Waisted Jeans & A Blouse
For an easy and classy outfit, wear high-waisted jeans and a simple button-up blouse. 
The trick to pulling off this outfit is strategically tucking in the front of your button-up shirt. A French tuck creates a more structured silhouette. 
Otherwise, you risk losing your figure in the folds of the blouse.
Explore our selection of the best sustainable denim jeans.
A Form-Fitting Dress
Being petite doesn't mean you can't show off your curves! Wear a form-fitting dress for a classy yet sexy evening look. 
Form-fitting cocktail dresses look amazing on petite figures. The key is finding an appropriate hemline. Short mini-dresses are recommended because they tend to lengthen the legs. 
Want a more sustainable approach to finding the perfect cocktail dress? Check out our favorite clothing rental companies.
A Cinched Waist
Dressing as a petite woman is fun because you get to play with different looks, silhouettes, and proportions. A popular way to dress up any outfit is to create a cinched waist. 
A cinched waist is flattering for petite figures because it emphasizes your hourglass figure and creates structure. Cinch a dress, skirt, or jeans with a simple belt for an easy, classy look. 
Check out our selection of vegan leather belts.
Was this article helpful to you? Please tell us what you liked or didn't like in the comments below.
About the Author: Liz Flynn