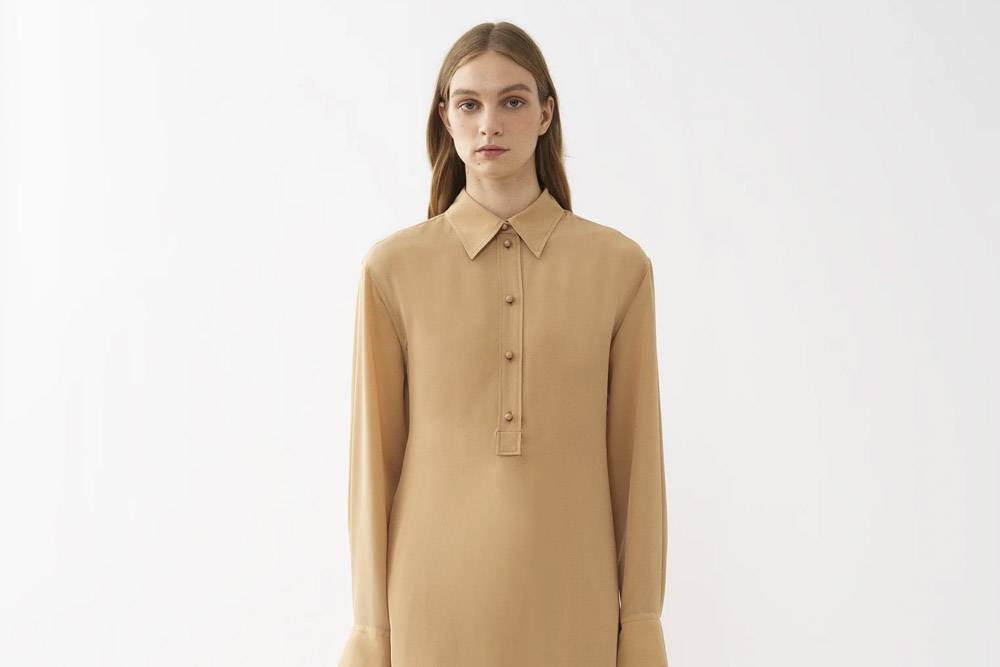 Chloé is a French luxury fashion house founded in 1952 by Gaby Aghion and headquartered in Paris, France. The multinational clothing-retail company creates high-end fashion for women.

Chloé makes clothing, accessories, shoes, eyewear, jewelry, and fragrances. The French luxury goods company Richemont owns Chloé and many other unique brands, such as Cartier, Mont Blanc, Yoox Net-A-Porter, Mr. Porter, The Outnet, and more.

Riccardo Bellini is Chloé's Chief Executive officer. And Uruguayan women's luxury ready-to-wear and accessories designer Gabriela Hearst is Chloé's new Creative Director.

French personal stylist Natacha Ramsay-Levi recently left her role at Chloé after four years. Gabriella Hearst is taking her place and the creative helm.

Gabriella Hearst is a pioneer in sustainable fashion design. She also operates her eponymous brand and creates beautiful collections of sustainable luxury available at her official Gabriella Hearst online store.

Chloé has a sustainable strategy and a long-standing commitment to doing business responsibly. The brand is focused on its ambition to enable luxury to create benefits for all.

Chloé is a fashion brand and clothing retailer based in Paris, France. It makes apparel, footwear, and accessories and offers a collection of basics, denim, knitwear, and outerwear.


Panaprium is proud to be 100% independent, free of any influence, and not sponsored. We carefully handpick products from brands we trust. Thank you so much for buying something through our link, as we may earn a commission that supports us.

Sustainability Rating: 5/10
Rating FAQ

Category: Clothing, accessories, shoes, bags, jewelry

For: Women

Type: Basics, denim, knitwear, outerwear, flats, sandals, heels, boots, sneakers

Style: Chic, classic

Quality: High

Price: $$$

Sizes: XS-XL, 0-10 (US), 2-12 (UK), 32-40 (EU), 4-14 (AU)

Fabrics: Cotton, linen, hemp, ramie, jute, lyocell, modal, viscose, cupro, acetate, polyester, nylon, spandex, polyethylene, polypropylene, acrylic, neoprene, polyurethane, rubber, leather, wool, silk, down

100% Organic: No

100% Vegan: No

Ethical & Fair: Yes

Recycling: Yes

Producing countries: France, Italy, Israel, Kenya, Madagascar, Portugal, Spain, Uruguay, Vietnam

Certifications: GOTS, RWS, RDS, GRS, FSC, SMETA, Fair Trade, B Corp



Sustainability Practices
Chloé is committed to reducing its environmental footprint to bring positive impact to people and the planet for a fairer future. It creates beautiful products with meaningful impact.

Chloé has committed to transform our operations and shift its mindset. It wants to improve social and environmental sustainability with greater transparency and accountability.

The French fashion retailer tackles priority issues like climate change, women empowerment, fair sourcing, equal opportunities, and positive impact on communities.

Chloé only uses a small proportion of organic materials such as organic cotton and hemp or recycled materials such as recycled polyester and recycled cotton.

Most of the fabrics it uses are either natural without relevant certifications, such as regular cotton or linen, or synthetic petroleum-based fibers such as polyester, nylon, acrylic, and more.

Chloé also uses a small amount of semi-synthetic fibers or regenerated cellulosic fabrics such as Tencel lyocell, modal, acetate, cupro, and viscose.

Tencel is an eco-friendly fiber made with wood pulp from certified sustainable forests. But only a tiny proportion of the materials used by Chloé are environmentally friendly and sustainable.

Chloé publishes a list of all its manufacturers on its corporate website. It has a commitment to greater transparency on its supply chain and support local communities.

The 2021 Fashion Transparency Index gave Chloé a score of only 18% based on how much the group discloses about its social and environmental policies, practices, and impacts.

The clothing retailer audits and monitors all supply chain partners for continuous improvement based on SMETA audit methodology. It shares guidelines and encouraging them to initiate a CSR strategy.

Chloé has a Code of Conduct that applies to all its suppliers and subcontractors to increase its positive impact on communities.

Chloé doesn't use exotic animal skin or fur. But it uses animal hair and angora as well as leather, wool, silk, and down feathers to manufacture many of its clothing pieces.

These animal-derived materials are cruel and unethical. They also harm the environment by producing greenhouse gases and waste. More sustainable alternatives exist.



Sustainability Goals
Chloé has committed to reducing its environmental impact across the entire supply chain. It plans to reduce its scope 1 and 2 emissions in line with Paris Agreement 1,5° trajectory.

Chloé will reduce its global Greenhouse Gas (GHG) emissions in line with a target of a 25% reduction by product by 2025, starting with a decrease of 15% by 2022 (vs 2019).

Chloé aims for a 25% reduction of its overall water consumption by 2025, starting with a decrease of 10% by 2022 (vs 2019).

Chloé also plans to offset 100% of the remaining emissions worldwide accross its supply chain by 2025.

Chloé wants to reach more than 90% of lower impact materials in all categories by 2025. It will use 100% renewable energy supply for all its offices and boutiques worldwide by 2025.



Buy Here
Discover Chloé's sustainable collections at Chloe.com.
Reviews And Experiences With Chloé
Have you had (good) experiences with shopping at or the products of Chloé? Then leave us your rating below.