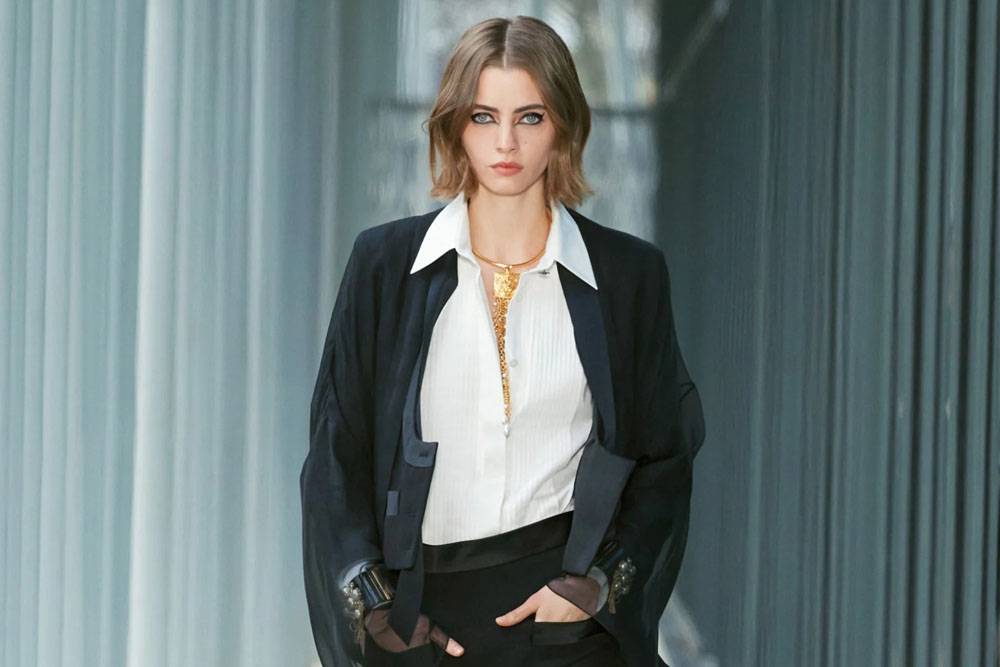 Chanel is a French fashion house founded in 1910 in Paris, France, by Coco Chanel. The multinational clothing-retail company creates luxury fashion for women and men.

Chanel makes clothing, accessories, footwear, watches, eyewear, beauty, and fragrances. It operates more than 300 stores and has 20,000 employees in stores, factories, logistics, brands, and subsidiaries worldwide.

Chanel recognizes climate change as a social and environmental issue. It works to accelerate progress and reduce carbon emissions in its operations and value chain.

Chanel has committed to transform its business and make long-term decisions that have a lasting positive impact on the environment and society.


Panaprium is proud to be 100% independent, free of any influence, and not sponsored. We carefully handpick products from brands we trust. Thank you so much for buying something through our link, as we may earn a commission that supports us.

Sustainability Rating: 3/10
Rating FAQ

Category: Clothing, accessories, shoes, bags, jewelry

For: Women, men

Type: Basics, knitwear, swimwear, loungewear, outerwear, heels, sandals, boots, sneakers, flats

Style: Haute couture

Quality: High

Price: $$$

Sizes: n/a

Fabrics: Cotton, linen, hemp, jute, viscose, acetate, polyester, nylon, spandex, polyethylene, acrylic, neoprene, polyurethane, rubber, leather, wool, silk, down

100% Organic: No

100% Vegan: No

Ethical & Fair: No

Recycling: Yes

Producing countries: not transparent enough

Certifications: GOTS, FSC, RJC, SA8000



Sustainability Practices
Chanel looks for innovations in materials, products and systems that will accelerate its progress to a more sustainable future. It wants to gain a deeper understanding of its climate impacts.

Chanel aims to be better and has committed to reducing emissions and accelerating climate adaptation. It will set net zero goals in the coming years to deliver on climate targets.

Chanel only uses a very small proportion of organic materials such as organic cotton and hemp or recycled materials like recycled plastics.

Most of the fabrics it uses are either natural without relevant certifications, such as regular cotton or linen, or synthetic petroleum-based fibers such as polyester, nylon, acrylic, and more.

Chanel doesn't publish a list of its manufacturers and processing facilities on its corporate website. It doesn't disclose how it chooses its network of suppliers.

The 2021 Fashion Transparency Index gave Chanel a score of only 11% based on how much the group discloses about its social and environmental policies, practices, and impacts.

Chanel conducts selected audits of suppliers on both an unannounced and announced basis. Some of these audits have been based on the International Standard: Social Accountability 8000.

Chanel doesn't have a code of conduct that applies to all its suppliers and subcontractors based on the regulations set by the International Labor Organization (ILO).

Chanel doesn't use any exotic animal skin or fur. But it uses animal hair and angora as well as leather, wool, silk, and down feathers to manufacture many of its clothing pieces.

These animal-derived materials are cruel and unethical. They also harm the environment by producing greenhouse gases and waste. More sustainable alternatives exist.



Sustainability Goals
Chanel has committed to assessing and reducing its carbon emissions and focuses on climate change to limit the average global mean temperature increase to 1.5 degrees Celsius above preindustrial levels.

Chanel has set science-based targets to decrease its carbon footprint (scope 1 and 2) by 50% by 2030 and decrease emissions from its value chain (scope 3) by 40% per unit sold by 2030.

Chanel also aims to shift to 100% renewable electricity in its own operations by 2025.
Reviews And Experiences With Chanel
Have you had (good) experiences with shopping at or the products of Chanel? Then leave us your rating below.