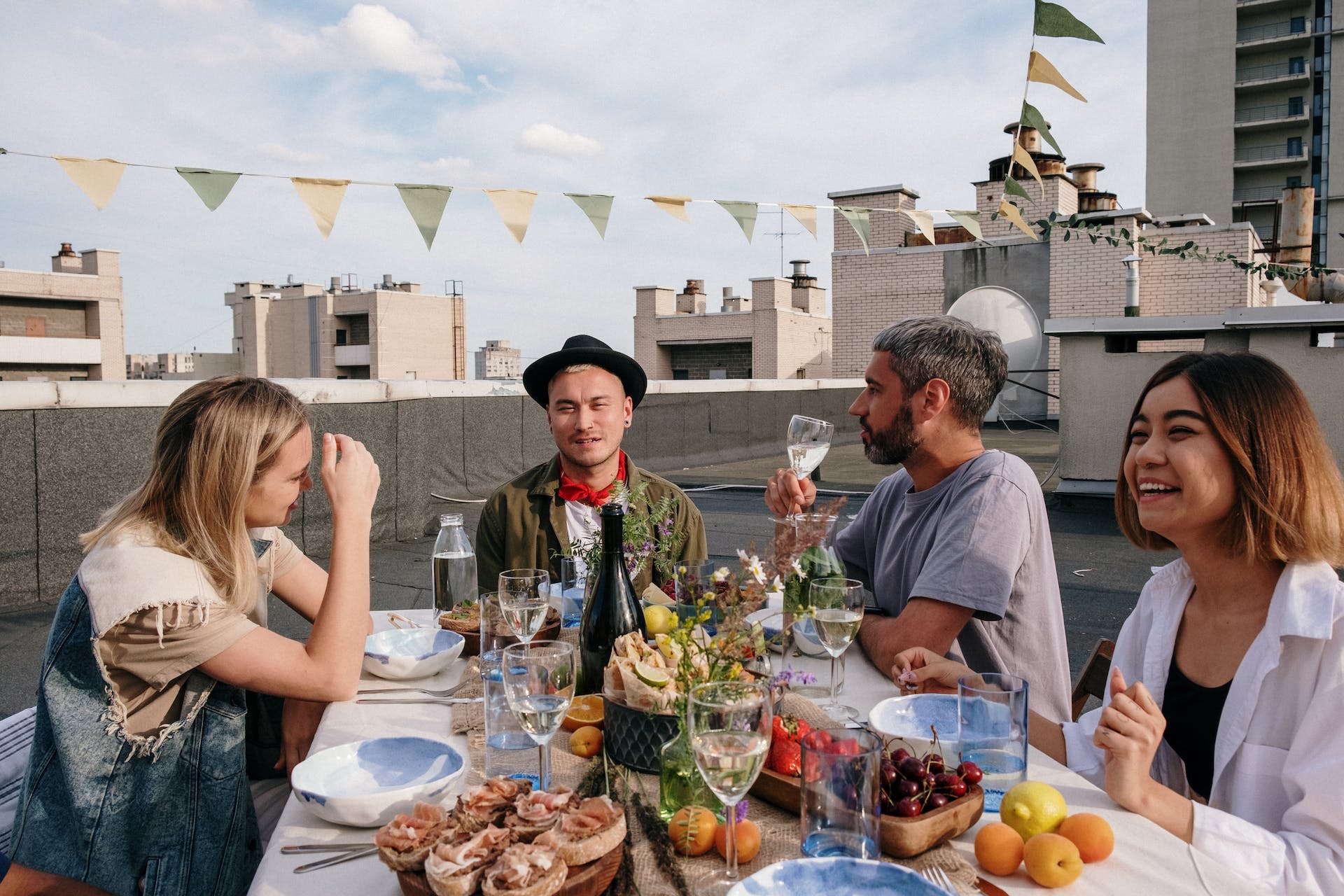 16 Amazing Looks For A Breakfast Party
Breakfast parties are great opportunities to see your friends and family and spend some quality time with them.
Even if it's not the fanciest event, if you are invited to a breakfast party you might be wondering what the best outfit to wear is. Being neither underdressed nor overdressed is the real challenge here because breakfast parties don't have a specific dress code.

We are here to help you create the perfect outfit for the occasion. Keep reading to discover our best tips.
Panaprium is proud to be 100% independent, free of any influence, and not sponsored. We carefully handpick products from brands we trust. Thank you so much for buying something through our link, as we may earn a commission that supports us.

Blazer and jeans
For a smart-casual look, choose a blazer and a relaxed pair of jeans.
Add a T-shirt or a tank top and complete the outfit with a pair of comfortable shoes.
Click here to discover amazing blazers made by sustainable brands.

Shorts and shirt
Shorts are laid-back, while shirts are elegant. Be creative and mix them. You will have an outfit that is easy to wear and that balances comfort and style. Go for a slightly oversized shirt.
Take a look at our sustainable recommendations.

Leggings
Nothing beats the comfort of leggings!
Add a stylish crop top to complete your outfit.
Leggings are available in many colors and materials and they are very versatile. If you love relaxed outfits, check out these affordable and sustainable leggings.



Wear trousers
Step up your style game with a beautiful pair of trousers. Make sure to choose a soft and breathable material that will allow you to feel comfortable the whole time.
Trousers look fantastic in many combinations with shirts, T-shirts, blouses, tank tops, and crop tops.
If you want a pair of trousers that is very versatile and easy to wear with almost anything, choose a new neutral color.
For shopping inspiration click here.



Casual style
A breakfast party is an opportunity to spend time with your friends and family. You should have a beautiful and relaxed outfit that allows you to have an amazing time.
You can dress up a casual style outfit with some beautiful accessories, a blazer, or a nice handbag, but keep in mind that overall you should prioritize comfort.
Let yourself be inspired by these eco-friendly brands.



Flannel shirts
Flannel shirts are incredibly cozy and fashionable. They can be worn with jeans or denim shorts.
The best flannel shirts are sustainable and made from organic or recycled materials.
Be stylish without breaking the bank with one of these affordable American-made flannel shirts.



Slip dresses
Slip dresses have transitioned from undergarments to garments. They are very trendy right now, and you should wear them if you want an effortless and modern look.
Make your outfit more casual with a denim jacket and a pair of sports shoes.
Buy amazing, affordable, and sustainable slip dresses.



Maxi dresses
Comfortable, stylish, beautiful, and available in a wide range of colors and prints, maxi dresses are perfect for those moments when you want something simple, but chic.
They also look flattering on any body shape or size, which makes them a perfect choice for a breakfast party.
Take a look at the 15 best affordable and sustainable maxi dresses.




T-shirt + jeans
This combination is a go-to for many of us. Why? It is versatile, easy to wear, and fits most casual situations.
If you are meeting your parents for a breakfast party, this is a simple and effective outfit that will never disappoint.
Discover beautiful jeans made by sustainable brands.



Color block
Impress your friends with an amazing color block outfit. Strategically mix two contrasting colors.
There is no need to wear very bright colors to create the color block effect, unless you want to. You can choose two soft shades, but make sure one of them is way darker than the other. For example, a light pink sweater and a pair of blue trousers will do a great job.
Read our article to discover the best sweater brands.

Floral shirts
If you love prints, wear a floral shirt for a fresh and feminine look. Match it with a pair of skinny jeans.

For inexpensive and eco-friendly clothing items, check out these ethical brands from Paris.

Comfortable shoes
There is no need to force yourself to wear uncomfortable shoes to a breakfast party.
Don't forget that footwear has a great impact on your health and your mood.
Plenty of sustainable brands create amazing shoes that are beautiful, fashionable, and vegan.



Cute dresses
Enhance your style and boost your confidence with a cute dress. Go for a comfortable and breathable material that will allow you to have a great time during the breakfast party.
There is no need to spend a lot of money to buy a beautiful dress. Many sustainable brands offer cute and cheap dresses that you will love.



Denim jackets
We all know how cool denim jackets are!
They have been around for many years, and they are still wonderful. A denim jacket can be worn over a dress, but also over a T-shirt and trousers combo.
Check out our sustainable selection.



Outfits for guys
When it comes to outfits for guys the best choices are similar to some of our recommendations for women. Shirts and T-shirts are both fantastic choices.
They look great with a pair of jeans and comfortable shoes. Add a jacket if it is a bit chilly.
Read our article about the best affordable and ethical men's clothing brands.



Summing up
Breakfast parties don't have a specific dress code and you should take advantage of this! Choose a beautiful outfit that is also relaxed.
Prioritize comfort and having a great time with your friends and family.
Avoid anything uncomfortable. Don't wear heels, tight clothes, heavy fabrics.
You should also stay away from anything too fancy and inappropriate for a relaxed occasion. Don't wear statement jewelry, gowns, suits, bow ties, work clothes, glitter, sequins, big hats, or too many accessories.
Be a conscious consumer and never purchase from fast fashion brands that sell poor quality items and trends that will go out of fashion next season. Stick to sustainable shopping to enjoy high-quality, beautiful designs for a long time.
If you like this article, share it with your friends!
Was this article helpful to you? Please tell us what you liked or didn't like in the comments below.
About the Author: Miruna Dulcea