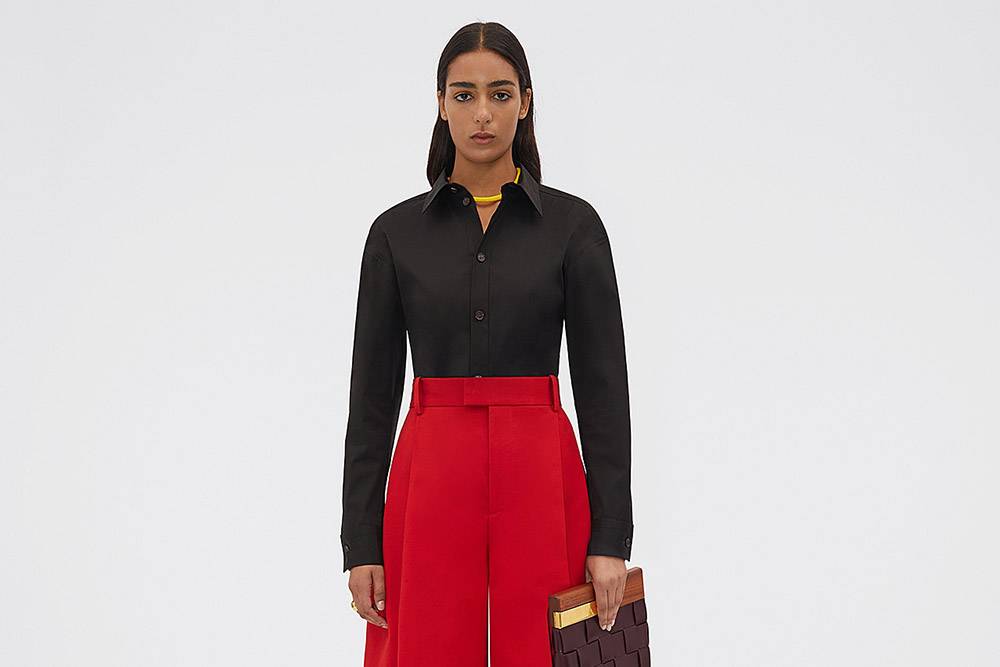 Bottega Veneta is an Italian luxury fashion house that designs womenswear, menswear, shoes, handbags, and accessories. The designer company also creates fragrances and jewelry.

The French fashion group Kering owns Bottega Veneta and several other global luxury brands, including Balenciaga, Saint Laurent, Gucci, Alexander McQueen, Brioni, Boucheron, Pomellato, Dodo, Qeelin, Ulysse Nardin, Girard-Perregaux, and Kering Eyewear.

Sustainability is part of the group's strategy as an ethical necessity and a driver of innovation.

Michele Taddei and Renzo Zengiaro founded the luxury company in Vicenza, Veneto, in 1966. Today, the fashion brand runs its operations from its headquarters in Milan, Italy.

Bottega Veneta celebrates unsurpassed craftsmanship and a new standard of luxury. Its collections feature high-quality pieces made with individuality with innovation in mind.

The luxury label is a great destination to buy timeless accessories and chic clothing. It sets a new standard for luxury and is well-known for its stylish and exquisite hand-finished dresses, handbags, and jewelry.
Panaprium is proud to be 100% independent, free of any influence, and not sponsored. We carefully handpick products from brands we trust. Thank you so much for buying something through our link, as we may earn a commission that supports us.

Sustainability Rating: 5/10
Rating FAQ

Category: Clothing, bags, shoes, accessories, jewelry

For: Women, men

Type: Basics, dresses, knitwear, outerwear, swimwear, flats, sandals, boots, sneakers

Style: Chic, haute couture

Quality: High

Price: $$$

Sizes: S-XL, 6-12 (US), 8-14 (UK), 36-42 (EU), 6-12 (AU)

Fabrics: Cotton, linen, jute, ramie, lyocell, viscose, acetate, polyester, nylon, spandex, acrylic, polyethylene, polypropylene, polyurethane, rubber, leather, wool, silk, down

100% Organic: No

100% Vegan: No

Ethical & Fair: Yes

Recycling: Yes

Producing country: Italy, Spain, Japan

Certifications: SA8000

Sustainability Practices
Bottega Veneta believes that luxury can have a significant contribution to creating a more sustainable world. It continues to lead through responsibility, accountability, and transparency to catalyze transformational change.

Bottega Veneta uses a medium proportion of sustainable materials such as organic cotton, jute, linen, ramie, and recycled fabrics such as recycled polyester and regenerated nylon.

The brand also uses semi-synthetic regenerated fibers such as lyocell, viscose, and acetate made from renewable materials.

However, Bottega Veneta also uses polluting fabrics to produce many of its clothes, including synthetic petroleum-based fibers such as polyethylene, polypropylene, polyurethane, and acrylic.

Bottega Veneta manufactures the large majority of its products in Italy, including apparel, shoes, bags, and accessories.

However, Bottega Veneta doesn't publish a list of its manufacturing and processing facilities on its corporate website.

As part of the Kering Group, Bottega Veneta has taken steps to evaluate forced labor risks in its supply chain. The group has certified several of its businesses under Social Accountability International's (SAI) SA8000 standard.

SA8000 includes an endorsement by the International Labour Organisation (ILO) Conventions and the Universal Declaration of Human Rights.

Kering continues its commitment to bring all of its businesses into compliance with SA8000 and obtain certification. It regularly audits its supply chain to ensure compliance with high social and environmental standards.

Bottega Veneta doesn't use any exotic animal skin, or hair, fur, angora. But it uses leather, wool, silk, and down feathers to manufacture many of its clothing pieces.

These animal-derived materials are cruel and unethical and harm the environment by producing greenhouse gases and wastes. More sustainable alternatives exist.

Sustainability Goals
As part of the Kering Group, Bottega Veneta reduces its environmental impacts and advocates for social welfare through unprecedented innovation and industry collaboration.

Bottega Veneta aims to reach a 40% reduction target of its overall environmental impacts by 2025.

Bottega Veneta is carbon neutral by using greenhouse gas emission offsets that finance verified Reducing Emissions from Deforestation and Forest Degradation in developing countries (REDD+) projects that conserve critical forests, biodiversity and support the livelihoods of local communities.

Bottega Veneta plans to reach 100% sustainable sourcing and 100% traceability for key raw materials by 2025.

Bottega Veneta understands that significant work remains to be done. It wants to demonstrate the transformative power of business for change, making sustainability fashionable for the future.

Buy Here
Discover Bottega Veneta's sustainable collections at bottegaveneta.com.


Reviews And Experiences With Bottega Veneta
Have you had (good) experiences with shopping at or the products of Bottega Veneta? Then leave us your rating below.