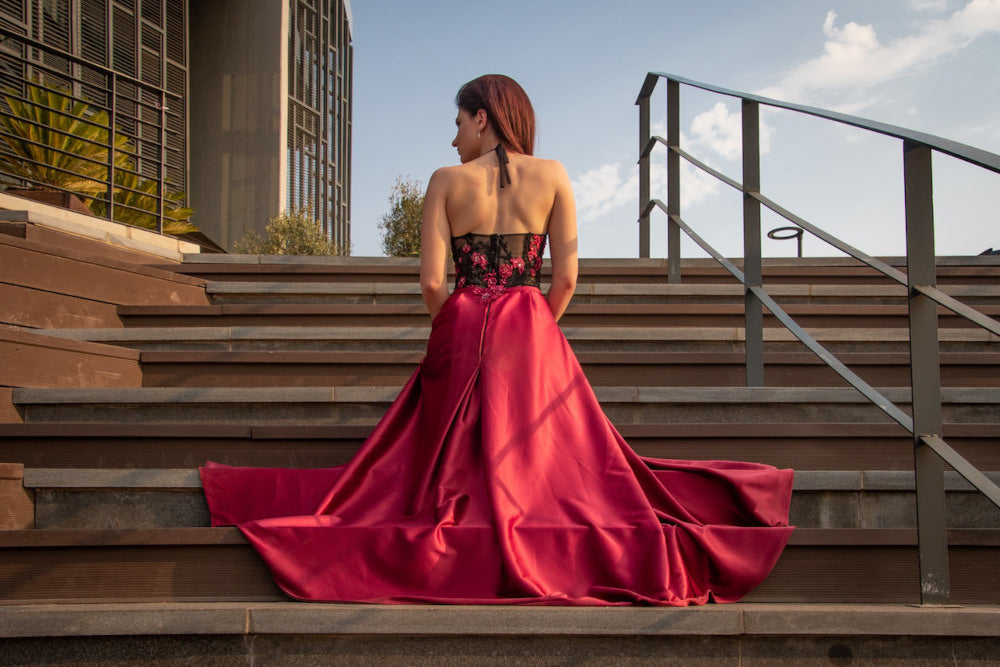 How To Dress For A Memorable Visit To The Bolshoi Theater
The Bolshoi Theater is a cultural symbol of Russia. It is one of the oldest in the country and the most prestigious theaters in the world for ballet and opera performances.
Its repertoire includes all the masterpieces of the Russian musical theater of the 19th and 20th centuries, Western classics, and specially commissioned works created for its stage. The building commemorates the grandeur of the Neoclassical period with a monumental colonnade topped by four bronze horses pulling the chariot of the patron saint of music. The golden crimson interior recreates the original Imperial décor.
Аlthough today there is no strict dress code anymore, such a spectacular atmosphere cannot help but make you dress up elegantly and beautifully to visit the theater. The decision of what to wear to the Bolshoi Theatre will highly depend on which stage you are visiting and whether you're watching a matinee or an evening performance. Here are some guidelines:
Panaprium is proud to be 100% independent, free of any influence, and not sponsored. We carefully handpick products from brands we trust. Thank you so much for buying something through our link, as we may earn a commission that supports us.
Dress Code
The Bolshoi Theater is known for its grandeur and the formality of its setting, so dressing well is a sign of respect for the venue and the art form.
Stick to dressier outfits for performances on the main stage. For men, this typically means wearing a suit or dress slacks with a dress shirt and tie, while women often wear dresses or skirts with blouses or other elegant options.
Casual dress is allowed. It can perfectly suit one of the afternoon performances adapted for children or plays on one of the small stages. Make sure that your child fits the age requirements. At the age of 5, your children have the right to attend Bolshoi Theatre matinees. From the age of 10, they can attend evening performances.

Men and women in shorts and sweatpants will not be allowed.


Little Black Dress
You can never go wrong with a black dress. It has a timeless style and elegance and is often associated with formal attire. A black dress will complement special occasions or gala performances at the main stage, where attendees opt for more formal attire, such as evening gowns or tuxedos.
Find beautiful classic black dresses here.
Fancy Jumpsuit
Jumpsuits are comfortable and versatile and come in many different styles. You can find casual or elegant designs to suit the specific performance you plan to attend.

Consider the fabric of the jumpsuit. Fabrics like satin or chiffon can add a touch of elegance and formality, while denim or cotton may be too casual.

Make sure the jumpsuit fits you well and flatters your body shape. A well-fitted jumpsuit can look more polished and appropriate for a theatre visit. Here are some of the best affordable and sustainable jumpsuits made under high social and environmental standards.

Midi Dress
Craft a stylish and romantic outfit with a midi dress with a pleated skirt. Select a style that aligns with the formal atmosphere of the Bolshoi Theatre. Avoid overly casual or bohemian styles and opt for something that feels dressy and refined.

For evening performances and plays on the main stage, choose a midi dress with a pleated skirt that exudes elegance and sophistication. Opt for refined materials like satin, chiffon, or lace to add a touch of luxury.




Create a more relaxed appearance with a midi pleated skirt, a tailored blouse, or a button-up shirt. Tucking in the top can create a more polished and semi-formal look.

Choose footwear with a little elevation, like heeled ankle boots, mules, or block heels. This combination will add a touch of sophistication to your outfit.
Turtleneck
Create an elegant and sophisticated look with a turtleneck. Choose a well-fitted turtleneck and pair it with a skirt or tailored pants.

Complete the outfit with heels and a clutch or a small evening bag.
Blazer
Blazers are the favorite layering pieces to many because they easily transition from casual to formal settings. Blazers pair well with a wide range of other clothing items, such as jeans, dress pants, skirts, and dresses. This versatility allows you to create different looks with minimal effort.
Create an elegant look with these stylish and recycled blazers.

Pair your blazer with a dress or skirt for an elegant and formal look. Otherwise, wear a classic blouse or a turtleneck underneath the blazer for a semi-casual outfit.



Camisole
If attending a matinee or an afternoon performance, you may prefer a more laid-back and casual look. Wear a camisole with dressy pants and comfortable heels. Opt for a camisole made from rayon, satin, or lace rather than a casual cotton one.

If you need an extra layer, this combination will look beautiful with a blazer or a trench coat on top.

Wide-leg Pants

Wide-leg pants are a stylish and comfortable choice for attending a performance, and they can be dressed up or down depending on the occasion and your personal style.

Opt for wide-leg pants that fall just above the ground, and add height with heels. Pair your wide-leg pants with a dressy top or blouse. A tucked-in blouse made from luxurious fabric can create an elegant look.
Check out our selection of the best sustainable wide-leg pants made under high standards.

Pantyhose For An Elegant Touch
Hosiery can add elegance to your outfit. For example, a French seam can add a sensual flair to any look. Sheer or semi-opaque hosiery can create a polished and sophisticated appearance, especially when paired with formal attire like dresses, skirts, or eveningwear.
See our list of the best eco-friendly hosiery manufacturers that are both economical and sustainable.

Avoid patterns that mimic tattoos or fishnets. 
Jeans With A Shirt
The combination of jeans and a classic button-up shirt strikes a balance between casual and semi-formal. This combination is suitable for a matinee or an afternoon play at the Bolshoi Theater.
Buy sustainable and ethical button-up shirts here.
Opt for well-fitted dark-colored jeans, as they appear more formal than light-colored. Avoid distressed, ripped, or baggy jeans.

Dress up this outfit and add some accessories that complement the overall look, such as subtle jewelry, a polished belt, or a classic wristwatch. Keep the accessories in harmony with your overall outfit.
Chino Pants
A more formal alternative to jeans can be chino pants. Consider chino pants in classic or neutral colors like black, navy, gray, or beige to create a more formal look.

Pair your chino pants with a dressy top or blouse. Choose an elegant top with a flattering cut from luxurious fabric and details like lace or ruffles.
Vest With A Classic Button-Up

During evening and gala performances, men typically wear two-piece or three-piece suits in a solid color like navy, charcoal gray, or black. 
If you are looking for an alternative to wearing a full suit while maintaining a formal and sophisticated appearance, try wearing a vest with a tie and a classic button-up shirt.

Ensure that your vest, tie, and shirt complement each other in terms of color and style. Opt for classic colors such as black, navy, charcoal gray, or deep burgundy for your vest, tie, and shirt. These colors convey formality and timelessness.
Classic Accessories
Add some elegant accessories to enhance your overall look and embrace the formal or semi-formal atmosphere of the venue.

Cufflinks are a classic accessory that can add elegance and sophistication to a man's attire. Also, a neatly folded pocket square adds a touch of elegance to a jacket or blazer. It can be color-coordinated with the tie or provide a subtle contrast.

Women can add gloves, hair accessories, or a brooch to really stand out and make a statement.
Coat Or A Trench Coat
Consider wearing a dark-colored overcoat or topcoat over your formal attire for a more traditional and refined look. Buy affordable and sustainable winter coats made under high social and environmental standards here.
During the mid-season, you can wear a trench coat instead. A mid-length that falls just above or at the knee is a classic choice.
Was this article helpful to you? Please tell us what you liked or didn't like in the comments below.
About the Author: Iana Jekova