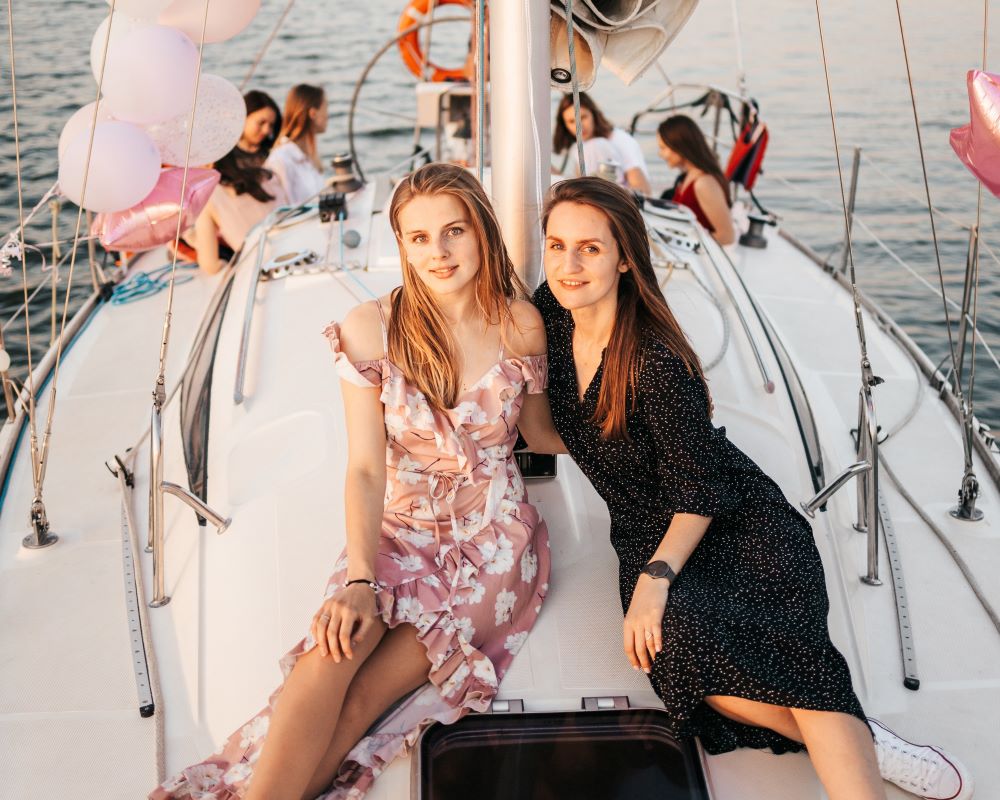 What to Wear to a Boat Party: the Best 15+ Outfits You'll Love
A boat party, with its unique blend of sea, sun, and socializing, offers the perfect opportunity to showcase your style while enjoying the open water.
Whether you are sailing on a tranquil lake, cruising along the coast, or dancing the night away on a luxurious yacht, the choice of your outfit can make a significant impact on your overall experience.
To help you navigate the waters of fashion, we have put together essential outfit items, with cool tips and suggestions. Our styling guide ensures that you not only look chic but are also prepared for the elements and activities that come with a boat party.
From nautical stripes to beachy accessories, these outfit elements will help you make a splash in style while keeping comfort and functionality in mind. So, get ready to sail into the world of fashion and elegance, and make a memorable entrance at your next boat party.
Panaprium is proud to be 100% independent, free of any influence, and not sponsored. We carefully handpick products from brands we trust. Thank you so much for buying something through our link, as we may earn a commission that supports us.
Nautical Striped Dress
Choose a knee-length nautical striped dress with a flattering fit. The classic blue and white stripes evoke a maritime feel, making it the perfect choice for a boat party.
Opt for a breathable and lightweight fabric that will keep you comfortable throughout the day. Check out the 15 best affordable dresses for broad shoulders. 
Wide-Brimmed Sunhat
A wide-brimmed sun hat not only adds a touch of elegance to your outfit but also serves a practical purpose by providing ample shade for your face and protecting you from the sun's harsh rays. Opt for one with a durable construction and a comfortable fit.
Cool Sandals or Wedges
Opt for stylish and comfy sandals or wedges for your next boat trip. Espadrille wedges are a stylish choice that offers both fashion and functionality. The braided jute sole provides a beachy look, and the wedge heel adds a touch of glamour.
Check out the 15 best affordable and sustainable vegan sandals. And here are over 10 best affordable, vegan, and sustainable espadrilles for you. 
Cat-Eye Sunglasses
Cat-eye sunglasses are a chic accessory that can instantly elevate your look. Choose a pair with UV protection to shield your eyes from the sun and make a bold fashion statement.
Discover the 10 best affordable and sustainable sunglasses from Australia. 
Straw Tote Bag
A spacious straw tote bag not only complements your outfit but also offers practicality for a day on the water.
Look for one with durable handles and secure closure to carry your essentials, including sunscreen, sunglasses, and a cover-up. Speaking of tote bags, ensure to have a look at the 10 best tote bags made from recycled materials. 
Marine-Inspired Bracelet
Enhance your maritime look with a marine-inspired bracelet or bangle. Opt for designs that feature seashell or anchor motifs, adding a subtle touch of the sea to your wrist.
For more inspiration, check out these affordable and sustainable bracelet brands. 
Flowy Cover-Up
A lightweight and flowy cover-up is essential for when the sun sets or the breeze picks up. Look for a cover-up that matches the color palette of your dress and can be easily thrown on when needed.
Speaking of cover-ups, do not forget to have a look at these amazing sustainable sarongs we are sure you will love. 
High-Waisted Bikini
A high-waisted bikini provides a trendy and retro vibe with additional coverage. Look for one with flattering patterns or solid colors to suit your style. Here are the 13 best affordable and sustainable bikinis in 2023. 
Waterproof Watch
A waterproof watch ensures you can keep track of time, even if you decide to take a dip. Choose a design that is water-resistant and complements your outfit's aesthetic.
White Button-Down Shirt
A white linen button-down shirt is versatile and can be worn over your dress for extra warmth or tied around your waist as a fashion statement.
The breathable fabric keeps you cool and comfortable. For the best eco-friendly options, check out the 20 best affordable hemp shirts, tops, and Tees. 
Distressed Denim Shorts
If you prefer a more casual look, opt for distressed denim shorts. They add a relaxed, beachy vibe to your outfit and are ideal for ease of movement.
Make sure to check out our extensive selection of the best affordable and sustainable denim shorts. 
Striped Tee or Blouse
A white and blue striped T-shirt or blouse is perfect for a fun boat party if you are opting for a casual look. Pair the Tee with denim shorts, or a dark blue skirt for a cute maritime-inspired look. Discover the 15 best organic cotton T-shirts made in Canada. 
Cute Scarf
Tie a nautical-themed scarf around your neck or on your tote bag for an extra pop of maritime style. Look for scarves with anchors, sailboats, or marine-inspired prints.
Beachy Hair Accessories
Accent your hairstyle with beachy hair accessories like seashells or pearl clips. These details add a touch of whimsy and can help keep your hair in place in the wind.
We have put together for you the best affordable and sustainable hair accessories for the cutest looks. 
Flowy Summer Dress
A flowy summer dress is a perfect choice for a boat party. The flowy element adds a summery breezy touch to it. Opt for breathable and comfortable fabrics to enjoy the party to the max.
For more inspiration and the most amazing pieces, check out our wide selection of cute and cheap summer dresses. 
Delicate Anklet
A delicate anklet adds a subtle and charming touch to your overall look. Look for one with a beachy or maritime-inspired design, such as tiny seashell charms.
Canvas Sneakers
For more physical activities on the boat or if you anticipate some walking, comfortable canvas sneakers are a practical footwear choice.
Look for a slip-resistant pair to ensure your safety on the boat's deck. For an eco-conscious purchase, check out the 12 best brands for sustainable sneakers in Europe.  
Remember to adapt your outfit to the specific boat party's theme, location, and weather conditions. Safety and comfort should always be your priority, while style and fashion are a bonus.
Was this article helpful to you? Please tell us what you liked or didn't like in the comments below.
About the Author: Gohar Davtyan