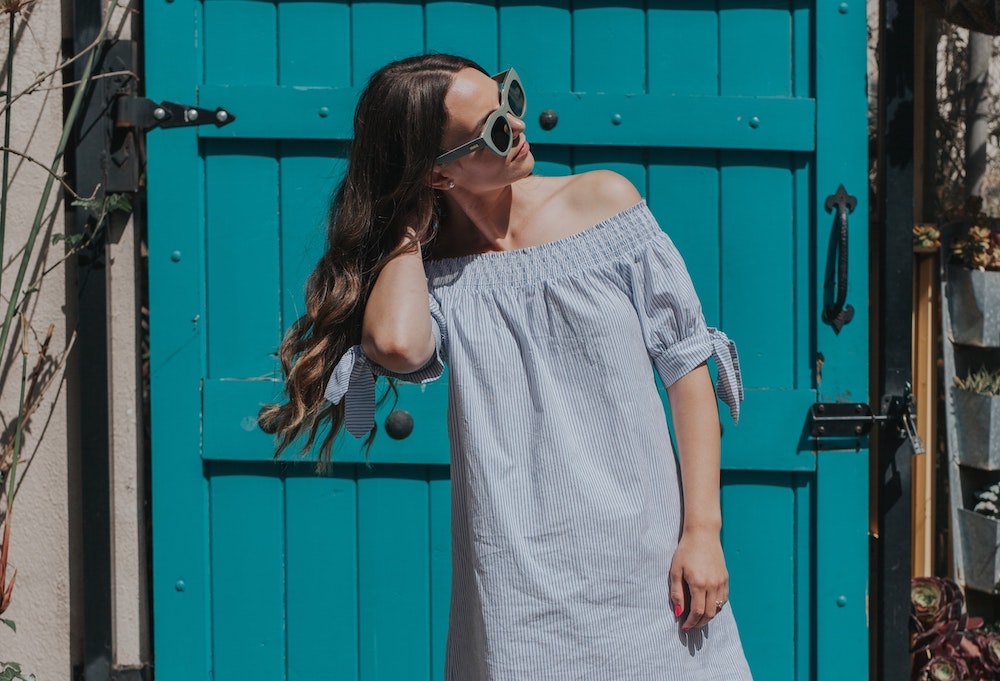 25 of the Best Sustainable Fashion Influencers
Sustainable fashion influencers are content creators who support slow fashion and ethical clothing production on social media. Through their beautiful photos, educational videos, and inspiring outfits, these fashion influencers are raising awareness while looking amazing. 
However, being a sustainable fashion influencer is about more than wearing cute outfits. These socially conscious content creators play a huge role in combating the culture around fast fashion and arbitrary fashion cycles. 
Sustainable fashion influencers are rising in popularity as more people become aware of the dangers of fast fashion. 
Many sustainable fashion influencers inform their followers about issues such as greenwashing, unethical production, and harmful fashion production. They are pushing the needle forward for a more sustainable, ethical world. 
We've rounded up the best sustainable fashion influencers advocating for a more sustainable world through personal style. The people behind these accounts are inspiring people worldwide about how to live a more eco-friendly life. 
So, get ready to hit that "follow" button. Here are over 25 of the best sustainable fashion influencers to follow on Instagram and TikTok.
Panaprium is proud to be 100% independent, free of any influence, and not sponsored. We carefully handpick products from brands we trust. Thank you so much for buying something through our link, as we may earn a commission that supports us.
If you love sustainable style with a twist of avant-garde, check out Izzy Manuel. Her Instagram feed is a rainbow of bright colors and sustainable innovation. 
Izzy's outfits are just as eclectic and adventurous as her poses. Her looks feature many thrifted, upcycled, handmade, and vintage pieces. She always encourages her followers to shop their closets each season instead of buying a new piece of fast fashion for a dopamine hit. 
Izzy promotes slow fashion and buying secondhand while remaining transparent about how difficult living a 100% sustainable lifestyle can be. Her take on consciously consuming fashion is nuanced and full of great insights. 
Heidi Kaluza of The Rogue Essentials infuses fun and positivity into her sustainable fashion content. A former fast fashion influencer, Heidi now uses her platform to promote mindful consumption. 
The Rogue Essentials is an excellent account to follow on Instagram and TikTok. Heidi calls out and analyzes systemic problems in the fashion industry while remaining positive and inclusive. 
She's a great follow if you're looking for simple, actionable ways to be more conscious of your fashion consumption. Of course, it doesn't hurt that her sustainable outfits are super cute and chic, too.
Aja Barber is a stylist, writer, and sustainability consultant changing the game with her advocacy work. Aja's sustainable fashion practices bring attention to how intersectional feminism, wealth inequality, and colonialism all affect the fashion industry and how we consume. 
Aja's Instagram feed is full of incredible educational resources and information about fast fashion and sustainability. In addition, she posts regular #GetDressedWithMe reels featuring her favorite ethical fashion brands and repeat outfits. 
Aja's work extends beyond social media. Her book, "Consumed: The Need for Collective Change" is an in-depth exploration of what we can do as individuals to combat destructive consumer practices.
Aditi Mayer is a blogger and influencer exploring the intersections of sustainability, style, and social justice. She's a significant influencer who is decolonizing the sustainability movement, which is primarily dominated by white influencers.
Aditi's work highlights many sustainable South Asian labels and other diverse designers. She believes that sustainable fashion is a vehicle for self-expression and appreciating craftsmanship.
Aditi's Instagram and TikTok feature a wellspring of gorgeous sustainable outfits, as well as information about labor rights and environmental justice. She's an excellent follow if you want to learn more about de-influencing and the slow fashion ecosystem.
 A major critique of the sustainable fashion world is its lack of size representation. Marielle Elizabeth is a fashion influencer disrupting the status quo and making sustainability more size-inclusive. 
Her Instagram and TikTok highlight plus-size looks from ethical and sustainable indie brands. Her style is edgy and feminine. She wears what feels good rather than what other's think a plus-size body should wear. She encourages her followers to do the same.
Marielle is a great influencer to follow because her work is all about cultivating a personal sustainable style that makes you feel comfortable and confident.
In addition, Marielle shares other content like brutally honest beauty reviews, makeup tutorials, and body-positive messages for her followers. 
Kathleen Elie is a breath of fresh air in the sustainable influencer landscape. Her Instagram account, ConsciousNChic, is a perfect combination of sustainability and positivity. Kathleen's content focuses on self-love, self-care, and conscious consumption. 
Kathleen's posts feature style, hair, and skincare inspiration. Her content is full of sustainable and ethically made products that are easy to incorporate into everyday routines. 
ConsciousNChic is an excellent resource for tips on how to shop your closet, invest in long-lasting pieces, and thrift effectively. In addition, Kathleen shares content that reminds all of us to stop, slow down, and take time for ourselves.   
If you like your sustainable fashion with a kick of vintage and color, Sally from Call Me Flower Child is the gal for you. Her Instagram and TikTok accounts are full of unique, sustainable looks that prove loving the planet doesn't have to be all beige. 
Call Me Flower Child promotes a mindful closet. Sally is always digging into her own wardrobe to upcycle and restyle pieces she has owned for years. She also shares tips on how to be more deliberate when it comes to buying new or thrifted clothes. 
It doesn't hurt that Sally's Instagram feed is full of nature hikes, plants, and fun home decor. Her love of nature goes hand-in-hand with her advocacy for slow fashion and a zero-waste lifestyle.
Noe Ben Moshe shares vegan fashion and conscious living tips on her Instagram and blog, Style with a Smile. Noa's style is chic, understated, and quintessentially Parisian– all while promoting sustainable brands. 
If sustainable professional looks are your thing, Style With A Smile is a must-follow on Instagram. Noe collaborates with upscale eco-friendly brands that are 100% vegan and ethically made. 
Noe also shares insights into the fashion industry and what we can do to improve it. She reveals how we can still enjoy beautiful clothing without harming the planet and other living things.  
Pumulo is a ray of sunshine in the world of sustainable fashion influencers. Her content is full of color, whimsy, and fun hipster fashion. Pumulo is a self-proclaimed sustainable fashion enthusiast, but she also includes a lot of content about slow living and secondhand home decor. 
A simple scroll through her feed will lift your spirits. Pumulo is very candid about her imperfect approach to living sustainably. She shares things like sustainable home habits while acknowledging that not everything is 100% sustainable in our society.
Pumulo's vintage-inspired, breezy style is bound to bring a smile to your face. Her joy-filled #MugDanceMonday posts are enough of a reason to give her Instagram account a follow. 
Venetia La Manna is an outspoken sustainable influencer who infuses humor into her advocacy work. She candidly talks about her favorite sustainable looks alongside posts that discuss more serious things like the clothing waste crisis and the unethical treatment of garment workers.
As a former fast fashion consumer and influencer, Venetia brings a perspective to the sustainable fashion space that is nonjudgmental and understanding. She wants to bring in more people to the sustainable fashion movement, not push them away. 
Venetia does not shy away from calling out fast fashion retailers who participate in greenwashing. She posts in-depth explorations about certain fast fashion brands that are cuttingly critical while being humorous. 
Kate Caric of Sustainable Outfits is a fashion influencer who is unlearning consumerism and advocating for more mindful fashion production. Her Instagram account is an excellent place to learn how to get involved in sustainable fashion.
Her platform is a huge resource for information about a variety of topics. For example, she breaks down the unethical treatment of factory workers and how fast fashion companies try to greenwash their products. 
Kate also tackles current topics in the sustainable fashion world, such as thrift gentrification. Her takes are thoughtful and nuanced, making these intimidating topics pretty accessible. 
Lyndsey of A Small Closet is a slow fashion influencer based in Portland, Oregon. She focuses on cultivating a capsule wardrobe that is vegan, ethical, and high-quality. 
A big part of her styling approach involves secondhand finds and mindful purchases of new pieces. Her GRWM and outfit of the day posts are full of styling tips and effortlessly cool fashion inspiration. 
Lyndsey also shares how she incorporates sustainability and slow living into other aspects of her life besides fashion. You can find home renovation updates, personal stories, and photos of her adorable pets sprinkled amidst her capsule wardrobe content. 
Jazmine Rogers from That Curly Top is the original sustainable baddie. Her over-the-top, colorful outfits prove sustainable fashion is an art form. 
Jazmine's approach to sustainable fashion is intersectional. As a Black and Mexican creator, Jazmine focuses on making space for BIPOC and diverse designers and creators in the white-dominated fashion industry. 
Jazmine's Instagram and TikTok feeds are full of light-hearted DIYs and restylings of thrifted pieces. So follow That Curly Top for vibrant, sustainable fashion inspiration if you love all things kitsch and vintage. 
 Lily Fulop is a designer, author, and artist based in Chicago, Illinois. Her approach to sustainable fashion focuses on upcycling and repairing pre-loved clothing to give it a new life. 
Lily's Instagram, Mindful Mending, features her whimsical patchwork repairs on things like jeans, tees, and other thrifted pieces. Instead of throwing away her "old" clothes, she adds pizazz with crochet smiley faces, hand-sewn textiles, and other cute patches. 
In addition, Lily shares other people's handsewn mending work on her account, creating a wonderful community of mindful menders. If you can't get enough of Lily's meaningful, positive work, check out her book "Wear, Repair, Repurpose."
Candice M Tay is a sustainable fashion influencer known for her minimalist style and slow living vlogs. She shares her journey of living a slow, low-waste lifestyle with her young child while exuding an amazing sense of style.
Candice's feed is full of chic, timeless pieces from her capsule wardrobe. Her content shows there's no need to buy new fast fashion every few months. Instead, she shares innovative ways to make wardrobe staples work for each season.
If you love muted color palettes, simple silhouettes, and minimalist style, follow Candice on Instagram. You'll be tempted to start building your own capsule wardrobe in no time. 
Abby On The Internet is the sustainable rocker chick we all aspire to be one day. Her effortlessly chic style brings slow fashion to the forefront. 
Her outfits of the day feature vintage tees, thrifted bags, sustainable designer pieces, and so much more. In addition, Abby takes her followers on a journey from the thrift store to her closet, revealing exactly how she styles unassuming pieces in unexpected ways.
Abby takes slow fashion to the next level by making a lot of her own clothes. She documents her sewing journey whenever she makes a new piece. Her Instagram and TikTok are inspiring follows for this very reason. 
Michelle Chavez is the woman behind Michelle For Good. She's a sustainable fashion influencer focusing on the people behind the clothes we consume. 
Her Instagram feed is an accessible place to learn about the detrimental effects the fashion industry has on the health of garment workers worldwide. In addition, Michelle is a vocal advocate for fair trade and living wages that are often lacking in the fast fashion industry.
On top of being an influencer, Michelle is also a fashion entrepreneur. She co-founded The Tote Project, which sells fair trade bags to help survivors of human trafficking. This inspiring project is one example of how Michelle is changing the fashion world. 
Sophie of Saint Thrifty is your gal if you're looking for grunge-inspired secondhand fashion. Sophie's personal style is minimalist, moody, and oh-so-chic. 
Her Instagram is all about reframing how we think about consumption. Turns out, we don't need a new pair of tights every season just because advertisers say we do. 
Sophie shows simple ways to incorporate affordable slow-fashion options into your wardrobe. Saint Thrifty's feed strikes the perfect balance of thrifting and eco-friendly brands, giving you the best of both sustainable worlds. 
Lily Fang of Imperfect Idealist shares realistic, sustainable fashion and lifestyle advice on Instagram and TikTok. She works to raise awareness about fast fashion without making anyone feel bad for buying it out of financial necessity.
She knows that many sustainable fashion brands can be expensive. So, she shares affordable alternatives to fast fashion and never shames people for their spending limitations. 
Lily's feed is also sprinkled with simple tips for living more sustainably. For example, she documents how she mends clothes, joins Buy Nothing groups in her neighborhood, and sustainably cares for her wardrobe. 
Jam of Just Peachhhy is a self-proclaimed "sustainable-ish" digital creator. They share sustainable plus-sized fashion inspiration featuring ethical brands and thrifted finds. 
Jam doesn't want anyone to feel that sustainable fashion is out of reach and out of budget. Mindful consumption is key if you have to buy from fast fashion brands. Their outfits feature fast fashion pieces mixed with thrifted and high-end sustainable items.  
They are a huge supporter of shopping your own closet. There are so many ways to restyle favorite pieces, and Jam's looks are a fountain of inspiration. 
Dominique Drakeford highlights sustainable fashion and wellness in a non-traditional way. Her work and personal style highlight how important it is to live our lives in an ethical, mindful way. 
Dominique teaches all of us that sustainable style is a revolutionary act. Her Instagram always highlights sustainable Black-owned fashion brands disrupting the environmentally harmful supply chain that so many fast fashion companies participate in. 
In addition, Dominique is a co-founder of Sustainable Brooklyn, a collective that centers BIPOC communities in the sustainability movement. Her work brings intersectionality and under-represented voices to the forefront. 
Signe Hansen is a sustainable style coach and fashion influencer who is teaching people how to do more with less. Through her Use Less Instagram and YouTube, Signe shares helpful tips on how to build a complete capsule wardrobe. 
Signe's fashion motto is "reduce, reuse, relove." Sustainable fashion is all about shopping your closet for pieces you already own and thinking long-term when you do buy new clothing.
Signe's personal style is minimalist, refined, and streamlined. She constantly shares free tips on how to thrift and upcycle. Plus, her styling advice will make you look like a professional, minimalist queen.   
Sydney Grace believes getting dressed is an act of self-care. Their Instagram feed features sustainable fashion for plus sizes that is fun, adventurous, and inclusive.
Sydney does an excellent job highlighting sustainable fashion brands that offer size-inclusive options while maintaining quality and style.
They create content on the basis that there should be no gatekeeping in sustainable fashion and beauty. Sydney shares all of her tips, tricks, and recommendations without hesitation.
Sydney also shares affordable home decor hacks and beauty routine recommendations that are good for your wallet and the planet. All of their content is about slowing down and being comfortable in your own skin. 
Brooke Bowlin believes that sustainability should be accessible to everyone. Her Instagram, Secondhand Sustainability, provides practical tips, educational resources, and so much more about sustainable fashion. 
Brooke's content focuses on how everyone can take steps to have a more sustainable wardrobe, regardless of budget. From mending old favorites to unfollowing accounts that tempt us to spend, Brooke's advice is solid and practical. 
Secondhand Sustainability is an excellent follow for people in all stages of their sustainable fashion journey. Whether you're just starting out or a veteran thrifter, Brooke is bound to have some gems of advice that will change your outlook. 
Danielle Alavardo of Sustainably Kind Living is a sustainable entrepreneur who gives the best tips on living a more eco-friendly life when raising a family.
Many think the hustle, bustle, and cost of raising kids make sustainable shopping impossible. However, Danielle is here to change that preconceived notion.  
In addition to de-influencing things like hauls and short-lived trends, Danielle highlights affordable, sustainable brands that are easy to incorporate into any capsule wardrobe. For example, she shares more responsible shopping alternatives to Amazon.
Danielle provides accessible information about fast fashion and why we should all strive for less. Her words of encouragement are just what we need to stop, think, and empty that online shopping cart of things we don't need.
Get Inspired
Sustainable fashion influencers are fantastic sources of inspiration for those who want to adopt a more mindful approach to fashion. 
These incredible influencers prove that sustainable style doesn't have to be expensive and inaccessible. We can make small changes in our everyday lives to advocate for sustainable, ethical fashion that doesn't continue the harmful cycle of waste.
Get inspired to make these changes by giving some of these fantastic sustainable fashion influencers a follow. It may seem like a small thing to do, but every successful journey begins with a simple step. 
Was this article helpful to you? Please tell us what you liked or didn't like in the comments below.
About the Author: Liz Flynn