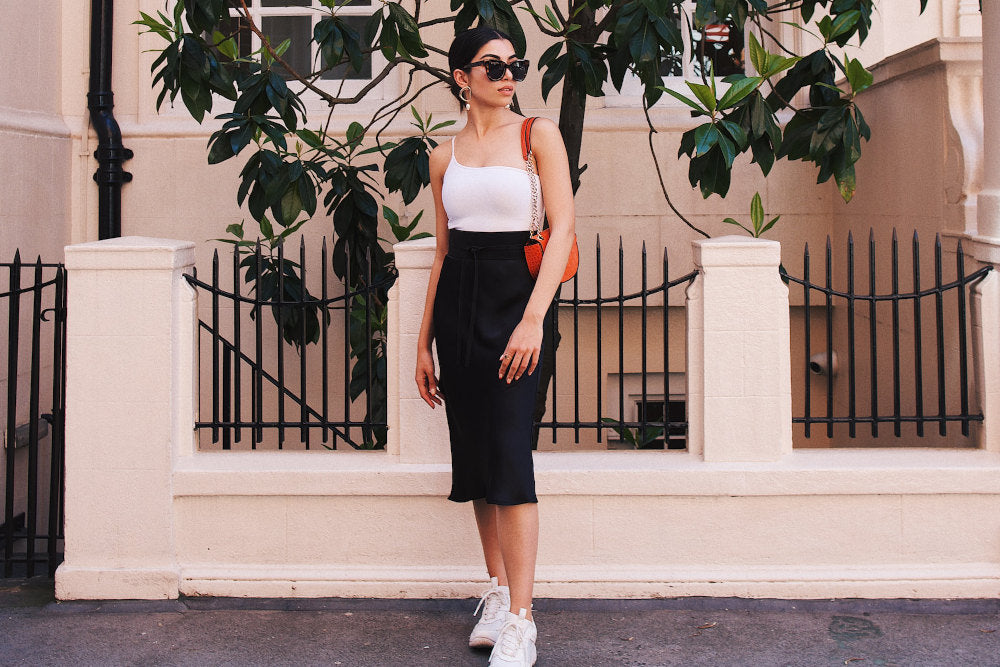 How To Choose Your Best Outfit When Visiting Rome
It can be hard to choose your best outfit when visiting another city, especially when it comes to Rome. Rome is fascinating and romantic. It is one of the most beloved cities for film sets, and its ancient art, world-famous churches, and romantic cityscapes, will make you fall in love. Dressing stylishly and adequately will make your stay in Rome much more pleasant, and wearing your best outfit will make you live Rome and its lifestyle like being on a movie set. 
Rome is a truly unique city. It has it all - ancient imperial monuments, the seat of the Pope, splendid Baroque fountains, Renaissance architecture, and finally, Dolce Vita style. The location of Fellini's iconic film "La Dolce Vita" is still the hub of this lifestyle, and to fully experience it, you must know what to wear.
It doesn't matter how much time you have available during your stay in Rome - the right outfit will make you feel confident and pretty while taking a stroll down the elegant Via del Babbuino and Via Conditti and marveling at the windows of the luxury boutiques. Knowing what to wear while taking a quick coffee in one of the lovely outdoor cafés in one of the many picturesque squares and enjoying a slow lunch in one of the restaurants with a panoramic terrace overlooking the city will make you feel better about yourself and lift your spirit. 
Follow our recommendations to look at your best in Rome and choose the best outfit for every place you visit in the city.
Panaprium is proud to be 100% independent, free of any influence, and not sponsored. We carefully handpick products from brands we trust. Thank you so much for buying something through our link, as we may earn a commission that supports us.
1. Experience Rome in full Dolce Vita style
Dive into a life full of beauty, pleasures, and mundane events. Rome will give you countless experiences – music, love, good food, history, and art. If you want to experience the Roman Dolce Vita lifestyle, then make sure to pack your little black sack dress in your luggage.
Those tube dress styles that the actress Anita Ekberg used to wear with such ease in the cult movie "La Dolce Vita" were inspired by Balenciaga. Still common today, a sack dress, sleeveless or asymmetrical, will make you feel fashionable and carefree for your dining out.
A little black dress is a timeless clothing, check out our selection for the best affordable and sustainable black dresses made under high standards.
2. Dress in layers
Another favored Roman advice that you will hear is to dress in layers. "A cipolla" - as the locals express themselves, which means like an onion. It may sound weird to you, but it will be an absolute lifesaver during your stay in Rome.
Getting on and off buses and metros or simply walking from one sightseeing to another can put you through critical temperature differences. Dress in layers will save you from many embarrassing sweat moments.
Use our ultimate list of different fashion styles for beautiful outfit ideas.
3. Wear comfortable walking shoes
Wearing comfortable shoes while visiting Rome is vital. Your favorite sneakers or trendy loafers are the best shoes to wear in Rome. They are comfortable for long walks and suitable to wear all year.
Wear white sneakers with cuffed or cropped straight-leg or mom jeans and a cropped sweater vest over a crisp white shirt. In addition, style black thick-soiled loafers with an all-black mini dress or pleated skirt for pretty appeal. 
Wearing quality shoes and suitable footwear can prevent you from experiencing foot pain. Streets and sidewalks are not good in Rome, and those romantic tiny cobblestoned streets can become a nightmare if you wear inappropriate shoes.
Sandals during the summer are popular as well. Remember to choose sandals with well-cushioned soil to prevent hurting your toes on uneven streets. Check out our list of affordable, vegan, and sustainable sandals.
4. Wear well-fitted outfit
It is crucial to be aware of different cultures when traveling. Choose tailored clothing if you want to feel interconnected with the locals and fit perfectly in the Roman lifestyle. Italians, with some exceptions, are not used to extra-loose and ripped clothing. Tailored clothing will make you look elegant for every occasion.
Follow our best tips to buy quality clothes, especially when shopping online.
5. Get used to tights
Yes, get used to tights. You will see them in any color or fantasy, and Italians love them. Combine tights with your favorite dress or skirt. They will keep you warm during the chilly evenings while adding a feminine look to your outfit.
For an extra trendy and personalized look, choose statement tights. Just remember to wear them in a combination of solid colors. The worst thing you can do is wear an equally busy dress with strong statement tights. The tights are enough to show off your accent and personality, don't mix it up further.
6. Four essential accessories you must have
Sunglasses, a scarf, a hat, and sunscreen – no suitcase with a destination to Rome shall miss these four accessories. Rome is famous for its sunny and clear days, even during the winter. For this reason, sunglasses are an absolute must when visiting Rome.
Use a hat and sunscreen on your uncovered skin to prevent burning during the summer.
And last but not least, scarves are essential in Italian fashion. Wearing a scarf is very Italian and allows you to add a touch of individuality to every look. During summer, a large soft scarf can be very helpful in cool air-conditioned places.
7. Wear monochrome jumpsuit with pockets
Made of soft and smooth fabrics, the monochrome jumpsuits are a valid alternative to dresses. You can wear them on both casual and elegant occasions. Long or short, jumpsuits are super versatile and comfortable, the perfect outfit choice for your Roman walks.
Here is our list of 15 Best Organic Cotton Jumpsuits To Wear In 2023.
8. Choose natural fabrics during the hot season
Rome experiences hot summers. Plus, the weather in spring and autumn is also warmer than the average temperatures in other countries. If you plan to visit Rome during the hot season, your best clothing choice is natural fibers, such as linen, cotton, or bamboo.
Slack shirts and pants from linen are easy to wear. They let the skin breathe and give a feeling of freshness. Combine them with soft sandals or espadrilles, and you are good to go.
Read more about the advantages of linen for clothing here.
9. Visit the Roman parks in the right outfit
A romantic walk in the gardens and villas of noble families? Yes, Rome offers you all. If you plan to take a city escape in the green and elegant Villa Borghese, keep in mind that it extends for over 80 hectares. You can rent a rickshaw or visit it on foot, and in both cases, comfortable sneakers and leggings will be your best outfit to spend a great day out.
Check out our selection of the best affordable and organic bamboo leggings sustainably and ethically made under high standards.
10. Dresses - the more the merrier
When deciding what to wear in Rome, dresses are one of the best items of clothing to put in your suitcase. You can style your favorite dress with everything, which makes them essential clothing in your travel wardrobe. Light and airy dresses made of natural fibers are great during the hot season. They give you the sensation of freshness and will look great on their own.
Yet, for cold days, it's a good idea to layer the dress with tights or leggings, a cardigan, and a top coat.
11. What to wear when visiting the Roman churches
Rome has more than 900 churches, not counting the Vatican City. Undoubtedly, whatever your spiritual inclinations, most churches are a must-see in Rome because of their historical importance, architecture, and art.
To be able to visit them unconcerned, you will need to follow a dress code that applies to all of them. The rules when visiting churches are simple: cover your shoulders and knees, wear shoes or sandals, not flip-flops.
Men need to take off their hats when entering the church. If you are visiting Rome during the summer and plan to wear your favorite tank top, remember to take a light scarf or jacket in your bag.
Denim jackets are very suitable for these occasions. Churches have surprisingly cool interiors, so denim jackets will keep you warm during your visit and will perfectly fit most of your outfits.
Check out our list of 20 Best Affordable Denim Jackets Every Woman Needs.
12. Don't be afraid of bright colors
Bright and vibrant colors are a great idea when visiting Rome. Rome has about three times more sun duration than the northern half of Europe, which makes wearing bright colors a form of expression of happiness and feeling good.
Italians love mixing bright colors, and you will be surprised how masterly well they do it.
Orange and electric blue colors, yellow, very peri, and lime green perfectly mixed with plain colors will make you feel chic and authentic.
13. Your ultimate bag choice
Your ultimate bag choice for Rome is an urban backpack. Backpacks evenly distribute the weight of the bag across both shoulders. So they are a lifesaver if you plan to spend a whole day visiting the city.
In addition, you can put everything you need inside a backpack - a bottle of water and a light jacket or scarf, thus allowing your hands to be free and ready to take lots of photos.
Small tip - consider wearing your backpack in front when entering the metro or visiting crowded places, pickpocketing is common in Rome. An anti-theft backpack can be a great idea and save you from many troubles.
Wear a small cross-body bag or wallet purse for your evening outing and dining out.
15 Best Affordable, Ethical, Vegan Leather Backpacks
14. Boots in Rome? Why not!
Whether wearing a short stretch knit dress or a flowy white maxi, ankle boots perfectly complement your look. Short boots, like ankle boots and Chelsea boots, are perfect for wearing with dresses throughout every season.
Ankle boots are one of the most versatile types of boots for women. You can find a variety of models – combat boots, lace-up heeled boots, western boots, socks boots, etc., and you can play with lots of styles and combinations.
Get an inspiration from our 18 Best Affordable Vegan Leather Boots In 2023.
Men are not left behind, either. Ankle boots are an absolute must-have for any man and go very well with many men's outfits. Wear your ankle boots with jeans or pants. For a polished look, the hem of your pants will sit just above your ankle boots. 
Ankle boots for both men and women offer style and comfort. They are a favorite choice when visiting Rome because you can wear them during sightseeing and dressy dinners. As a major plus, they are compact, which makes them easy to pack in your suitcase.
15. Jeans or chino pants for both men and women
Jeans are one of the most common choices when it comes to travel outfits, and Rome is no exception. Because they are so comfortable and you can style them with everything, jeans have become the most worn garment ever.
Another valuable alternative is chino pants. Slim-fit chino pants are softer than jeans and thus more comfortable. Wear your favorite monochrome cotton chino pants with white sneakers.
If you want to add color and interesting motifs to your look, go for plaid chino pants. Plaid chino pants give you a series of experimental aesthetics, but if you choose to wear them, remember to keep everything else minimal.
16. Men's suspenders – a must back in fashion
Suspenders made a triumph back among the favorite fashion accessories, and every man can create a unique and personal style with them. They are both high-class accessories and a sign of anti-conformism.
Today you can combine them with shirts, white t-shirts, and purely sporty looks.
Classic, elegant, vintage, or colorful men's suspenders are beautiful and perfect if you want to include a top accessory in your suitcase.
17. Wear total white
Italy experiences hot summers, and if you stay in Rome during this period, you better pack white tops and bottoms. We all know that white is the most appropriate color for summer temperatures because it keeps the body cool.
Head-to-toe white looks are super trendy and easy to achieve and will give you a polished, fresh, rejuvenating, and ultra-sophisticated look.
18. Capri pants for men and culottes for women
Capri pants for men and culottes for women are ideal for visiting Rome during the summer. Capri pants with lots of pockets are a favorite choice by men. The most effective models have pockets along the side seams, but you'll find some clever designs for front and back pockets to hold everything you need during your trips.
Women can style pleated culottes as they style a midi skirt or pick more structured crop trousers for a sharp silhouette.
19. Coats will refine your overall look in winter
Mild winters are typical for Rome. Generally, there are about two months of cold and windy weather – January and February. Temperatures rarely go beyond 0 degrees, so if you plan to stay during this period, consider taking a coat or a padded jacket.
If you travel to Rome for the rest of the year, you can pack a blazer or a mid-season jacket.
Choose something that goes well with the rest of your clothing, so you don't travel with more than two jackets in your luggage.
Visit our selection of affordable and sustainable winter coats for inspiration.
Keep in mind your personal style should always be about you, so feel free to bend or adjust these recommendations based on your tastes and preferences. Remember to balance your identifiable personal style with the general clothing rules of the city you visit. This will assure a positive impact on your your self-esteem and confidence.
Was this article helpful to you? Please tell us what you liked or didn't like in the comments below.
About the Author: Iana Jekova