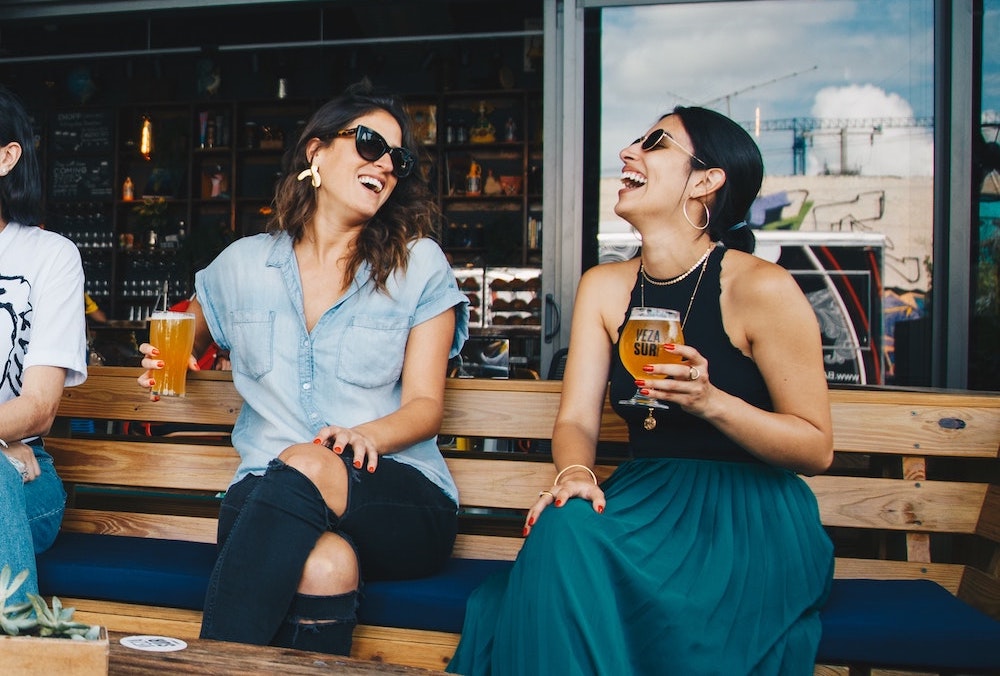 15 Best Outfit Ideas for a Brewery Date
A brewery is a fun, laid-back place to grab a drink and go on a date with someone. Of course, you want to plan the perfect outfit and look your best for your brewery date. 
Your brewery date outfit should capture a casual vibe while being cute and totally "you." Flattering jeans, comfy dresses, and graphic tees are excellent options for a brewery date outfit. 
We recommend dressing a little nicer if you're meeting someone for a first date, but formal attire is unnecessary. For example, you can wear a billowing blouse or a flirty mini-dress if you want to dress to impress. 
The most important thing about planning the best brewery date outfit is to have fun. Don't be afraid to express yourself through clothing, whether it's an artistic graphic tee or an adorable floral pattern. 
Here are some of the best brewery date outfit ideas that are sure to impress that special someone. 
Panaprium is proud to be 100% independent, free of any influence, and not sponsored. We carefully handpick products from brands we trust. Thank you so much for buying something through our link, as we may earn a commission that supports us.
Cute Jeans 
Denim jeans are a classic brewery date outfit idea. Jeans are comfortable, casual, and easy to wear. In addition, jeans look great on every body type, so you'll feel confident while wearing your favorite pair. 
Jeans match with pretty much anything. Throw on a pair of high-waisted jeans with a cute crop top or tank. Distressed jeans with a cardigan, boyfriend jeans with a sweater, or black denim jeans with a blouse are also excellent brewery outfit options. 
Explore our ultimate list of sustainable denim brands to find your perfect pair. 
Floral Dresses
A floral print dress is the best option if you want to wear something feminine and fun to your brewery date. Throwing on your favorite dress guarantees you'll feel flirty and confident, which is the energy you want to convey. 
Floral dresses come in a ton of different silhouettes and styles, from maxis to minis. If your brewery date is during the evening, wear a low-cut minidress for a dramatic and flirtatious look. 
Midi and maxi dresses work well for daytime brewery dates, especially during the summer. 
Check out these cute, sustainable summer dresses to get ready for your date. 
Feminine Tank Tops
A feminine tank top makes an excellent brewery date outfit because it looks casual yet flirtatious. You can wow your date while looking effortlessly relaxed and chic. 
Wear a loose-fitting cropped tank with a fun skirt or high-waisted jeans. A flirty tank top with ruffles or a fun pattern is also a great option. Whatever style you choose, bring a light cardigan in case it gets cold. 
Cotton is one of the best tank top fabrics because it's breathable, comfortable, and sustainable. Explore some of our favorites here. 
High-Waisted Shorts
Breweries are a popular date destination during the summer. So, a pair of high-waisted shorts is a must if you want to keep cool and look sexy. 
High-waisted denim shorts look amazing with a tucked-in tank top, crop top, or classic white t-shirt. You can wear a tight-fitting shirt to show off a bit, or French tuck a looser tee to balance out the amount of leg showing. 
Shop our favorite sustainable and affordable denim shorts. 
Crop Tops
Crop tops are a fun brewery date outfit because they are versatile and comfortable. You can find a cute crop top to match any style preference and size. 
If you want a minimalist look for your brewery date, wear a cotton crop tee in a solid color or subtle pattern. Off-the-shoulder or loose-fitting crop tops with ruffles are excellent options for a more feminine, flirty vibe. 
Wear your crop top with some high-waisted shorts or denim jeans, and you're good to go!
Take a look at our selection of affordable crop tops for outfit inspiration. 
Denim Jackets
A denim jacket is a versatile wardrobe staple that works well for a brewery date. In addition, incorporating a denim jacket into your outfit is a great way to plan for the cooler weather of outdoor evening dates. 
A well-fitting, high-quality denim jacket goes with just about anything. So a denim jacket will match whether you wear a cute sundress or a casual romper. You can even do a denim-on-denim look with jeans or shorts if you feel daring. 
In addition, denim jackets come in more colors than the standard blue. You can choose a denim jacket in black, white, or any earth-tone color for a unique twist. 
Explore the best high-quality denim jackets here. 
Fun Skirts
The dress code for a brewery date is pretty relaxed. However, if you want to up the ante, a fun skirt is an easy way to elevate your look while remaining casual. 
For a date at a brewery, you can wear anything from a slinky mini skirt to a flowy maxi. Wear a skin-tight midi skirt with a loose blouse, or create a vintage look with a denim skirt, sneakers, and a boxy graphic tee. 
Most breweries have bench or stool seating, so plan your skirt length accordingly. The most important part is feeling comfortable and confident while wearing a skirt to your brewery date. 
Here's our selection of the best cotton skirts you'll love. 
Comfy Graphic Tees
A comfy graphic tee is an easy way to look relaxed, casual, and effortlessly cool for your date. A graphic tee featuring artwork you love is also an opportunity to show off your personality. 
The world is your oyster when picking the perfect graphic tee. Do you want to show off your love of music? Pick a vintage band tee. Do you love art and supporting small businesses? Wear a cotton shirt featuring artwork from your favorite indie artist. 
Plus, graphic t-shirts are easy to mix and match with bottoms like skirts, jeans, or shorts. So have fun, and let your personality shine through!
Here's a selection of our favorite sustainable graphic tees. 
Summery Rompers
Most breweries feature open-air seating and a fun atmosphere. That's why a cute, summery romper makes the perfect brewery date outfit. 
Rompers are casual enough to fit in at a brewery but dressy enough to impress a date. Plus, they're a comfortable way to show off your legs without worrying about hopping in and out of a bench or stool seat. 
Choose a romper in a fun pattern or neutral color and accessorize it with a cute cardigan, comfy sandals, and chic sunglasses. A denim jacket is best if your brewery date is in the evening. Make sure your romper fits comfortably when sitting down but isn't too loose and shapeless. 
Explore our selection of cotton rompers to get started. 
Breezy Blouses
Even though a brewery is a casual date option, you may want to dress up to impress your date. A breezy, beautiful blouse makes a perfect date outfit because it's elegant but informal. 
Pair a puff-sleeve blouse with high-waisted shorts, or wear a wrap blouse with black denim jeans for an elegant-yet-casual look. You can also wear a babydoll blouse or boho-style top if your style is more earthy and relaxed. 
For inspiration, peruse our favorite sustainable blouses that are high-quality and ethically made. 
Flirty Mini-Dresses
A brewery date is perfect for tantalizing that special someone with a super cute and flirtatious outfit. A mini-dress is excellent for showing off while looking feminine and classy. 
The options for flirty mini-dresses are endless. From a ruffled boho dress to a short-but-sweet babydoll, you'll find a flirty mini-dress that matches your style.
Pair your dress with platform sandals, wedges, or your favorite sneakers to complete this casual but cute look.  
Here's our selection of ethically-made, affordable dresses that are sure to impress your date. 
Cozy Layers
If your date is during colder weather, warm up with cozy layers. Since your brewery date will likely be outside or in a wide-open warehouse, it's best to plan an outfit with jeans, boots, and a cute jacket. 
Layer your favorite jeans and t-shirt with a vegan leather or denim jacket, scarf, ankle boots, and a beanie. You can also wear a sweater as your base layer if you're afraid of feeling too chilly. 
It's best to wear layers during a brewery date because you can easily take off layers if you're sitting inside or bundle up if the two of you are outside. 
Explore our selection of feminine winter outfits that work great for layering. 
Sunglasses
Brewery dates often take place in the afternoon, so make sure you have a pair of sunglasses handy. If you and your date decide to sit outside with your drinks, sunglasses can help you look cool, calm, and collected. 
Nothing is worse than squinting into the sun while trying to make out your date's face. With sunglasses, you don't have to worry about looking unattractive when the sun gets too bright. 
Here's our selection of the best sustainable sunglasses that won't break the bank. 
Ankle Boots
Formal shoes like stiletto heels look out of place at a brewery. So, ankle boots are an excellent footwear option to fit the vibe but still look elegant. 
Ankle boots with a flat sole or chunky heel look great with any brewery outfit. Wear a kitten heel boot with some skinny jeans and a sweater, or throw on a pair of lace-ups with your favorite floral dress. 
Check out our favorite sustainable boot brands if you're searching for a new pair of affordable ankle boots. 
Your Favorite Sneakers
You can absolutely wear your favorite pair of sneakers to a date at a brewery. In fact, sneakers are one of the best shoes you can wear because a brewery is such a casual atmosphere. 
Plus, you may be standing at the bar during your date. The comfier your feet are, the better.  
Cuffed jeans and sneakers are a classic outfit combo, as well as high-waisted shorts and simple canvas tennis shoes. You can even wear sneakers with a midi skirt or dress for an edgier, vintage-inspired look.  
Shop the best ethical shoe companies to find your new favorite, sustainable sneakers. 
Was this article helpful to you? Please tell us what you liked or didn't like in the comments below.
About the Author: Liz Flynn