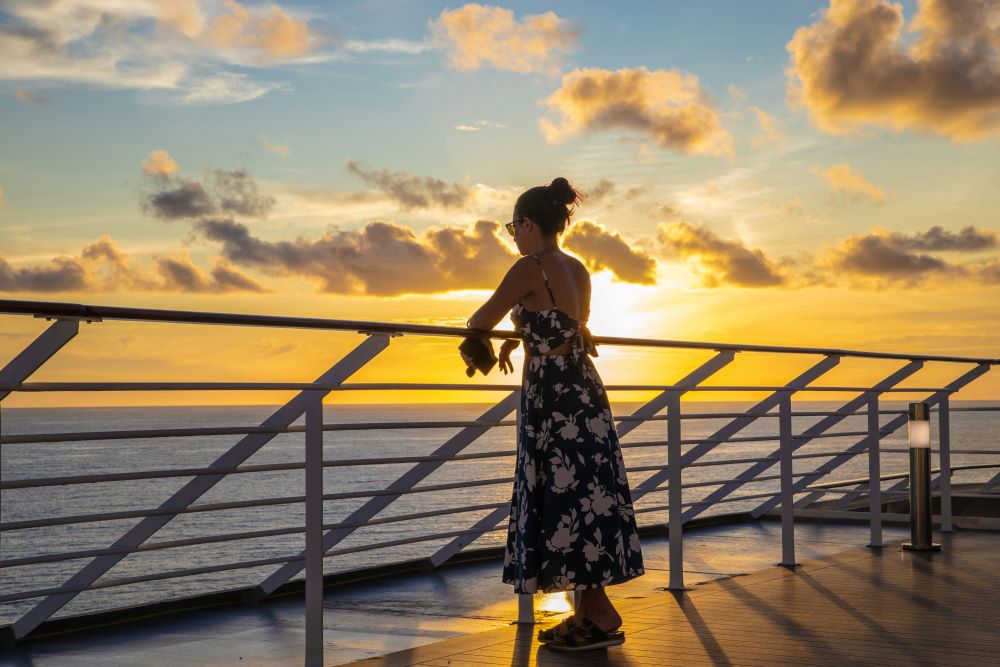 15 Best Outfits You'll Love Wearing on a Cruise in August
Preparing your cruise wardrobe for an August getaway is an exciting endeavor, but it also requires some thoughtful consideration of the climate, the destination, and the activities you will be partaking in.
As you embark on your cruise adventure, it is essential to pack a versatile collection of clothing items that will keep you comfortable and stylish throughout your voyage.
In this guide, we will provide you with a list of 15 outfit items to wear on your August cruise, each accompanied by cute pairing suggestions and useful tips to help you make the best choices.
Additionally, we will point out five items to avoid to ensure that you are well-prepared for the warm weather and leisurely ambiance of your cruise vacation. So, let's get started with the ultimate guide for your cruise attire in the sunny month of August.
Panaprium is proud to be 100% independent, free of any influence, and not sponsored. We carefully handpick products from brands we trust. Thank you so much for buying something through our link, as we may earn a commission that supports us.
Cute Shorts
Opt for comfortable shorts made of lightweight materials like cotton or linen. These shorts are ideal for on-board activities and excursions. Check out the 15 best organic cotton shorts for both women and men.
Lightweight Tops
Bring a variety of lightweight, breathable tops, including cotton T-shirts or flowy blouses. These versatile pieces are essential for mixing and matching with your shorts, skirts, and pants. Here is our selection of the 15 best affordable blouses for broad shoulders.
Swimsuits
Ensure you pack at least a couple of swimsuits as you will likely be spending time by the pool or at the beach.
Whether you prefer one-pieces, bikinis, or tankinis, be sure to pack swimwear that makes you feel confident and comfortable. Discover the 15 best recycled bikinis and swimsuits you will love.
Lightweight Dresses
Select lightweight dresses made from breathable fabrics like cotton or linen. These dresses are perfect for casual days on the ship, as well as evening dinners and exploring the vibrant port cities you may visit. Check out our wide selection of cute and cheap summer dresses.
Cover-Ups
Do not forget a stylish cover-up for when you are not in the water. Cover-ups, like sarongs, kaftans, or lightweight beach dresses, serve a dual purpose. Here are the 10 best affordable and sustainable sarongs you will love.
Comfy Sandals
Comfortable sandals or flip-flops are necessary for warm-weather cruising. Look for sandals that provide good arch support and cushioning, as you will likely be doing a fair amount of walking. Discover the 15 best affordable, vegan, and sustainable sandals.
Sunglasses
Protect your eyes from the sun with a good pair of sunglasses. Opt for sunglasses that provide UV protection to shield your eyes from the sun's harmful rays.
Choose a style that suits your face shape and complements your outfits. Here are the 15 best affordable and sustainable sunglasses.
Wide-brimmed Sun Hat
A wide-brimmed hat not only shields you from the sun's intense rays but adds a fashionable touch to your outfits. It is a practical accessory for staying cool and protecting your face and neck from sunburn while lounging by the pool or strolling through port cities.
Lightweight Jackets or Cardigans
Evenings can get cooler on the open sea, so a light jacket or cardigan is handy for staying warm without overheating. Look for lightweight and breathable options that you can easily layer over your evening attire or daytime outfits when needed.
Choose a cardigan from our list of the 15 best ethical brands for organic cotton cardigans.
Casual Shoes
Bring a pair of comfortable walking shoes for excursions and on-board activities. Sneakers or comfortable walking shoes with good grip are a good choice. These will ensure you have the support you need for exploring destinations and participating in active shore excursions.
Evening Wear
Include a few dressier outfits for formal nights or evening entertainment on the ship. This might include cocktail dresses, button-down shirts, slacks, or a more formal dress. Here are the 12 best American-made cocktail dresses for any party.
Pack Beach Essentials
Do not forget beach essentials like beach bags, beach towels, and a beach hat. These items complete your beach or poolside look and are practical for carrying sunscreen, books, and other essentials while spending time by the water.
Activewear
If you plan on working out in the ship's gym, participating in sports, or going on active shore excursions, it is important to pack activewear. Check out the 20 best sustainable activewear brands from Australia.
Comfy Sleepwear
Do not overlook the importance of comfortable sleepwear for a good night's rest. Lightweight pajamas or nightgowns are ideal for warm nights, ensuring that you can relax and sleep comfortably in your cruise cabin. Discover the 12 best affordable organic bamboo pajamas in 2023.
Accessories
Bring versatile accessories like scarves, belts, and jewelry to change up your outfits. These can add a pop of color, texture, and style to your looks, allowing you to create various outfits with a few key pieces.
Scarves can be used as shawls or wraps on cooler evenings, and belts can cinch dresses to change their silhouette. For more inspiration, check out the 15 best fair-trade jewelry brands you need to know. 
Outfit Items to Avoid!
Heavy Clothing
Leave heavy coats, sweaters, and winter boots at home. They will not be necessary in warm, tropical climates.
Dark and Heavy Fabrics
Avoid dark-colored and heavy fabrics like wool or flannel that can trap heat. Light, breathable materials are more comfortable.
Uncomfortable Shoes
Steer clear of shoes that may cause blisters or discomfort, especially if you plan on walking or being on your feet for extended periods.
Formal Attire Overload
While you should have some formal wear, do not overpack formal clothing for casual cruises. Most cruises have a few formal nights, but you do not need formal attire for every day.
Too Many Electronics
Do not bring excessive electronic devices. Enjoy the cruise experience and unplug a bit. A smartphone and a camera may be all you need to capture memories.
Was this article helpful to you? Please tell us what you liked or didn't like in the comments below.
About the Author: Gohar Davtyan