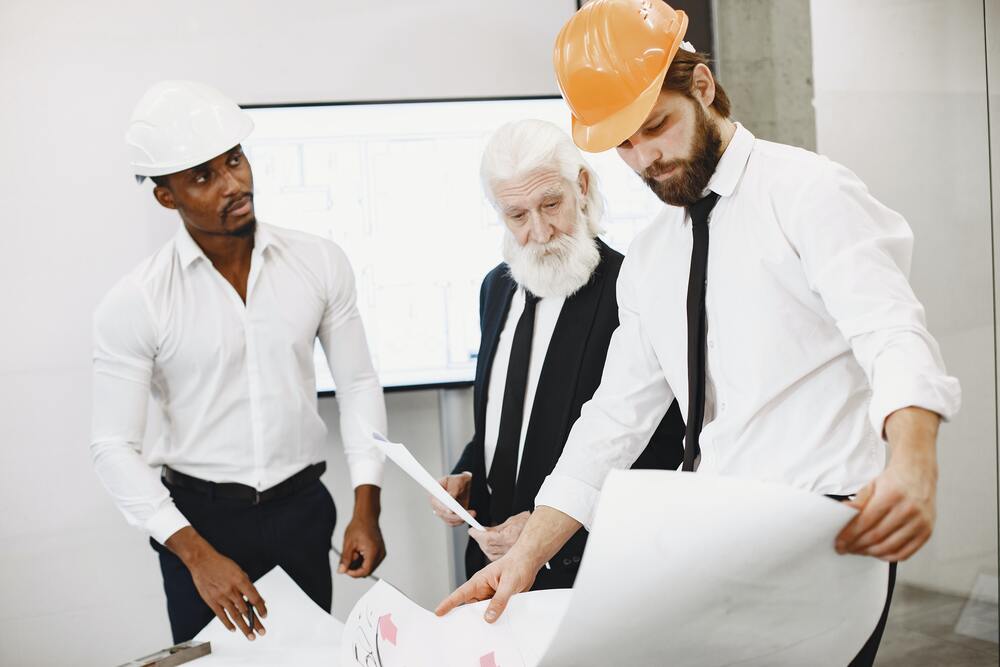 What do Architects Wear to Work? 19+ Great Ideas
How you dress is, more often than not, how you will be perceived at work as an architect. To give a good and favorable impression of yourself, you need to be appropriately dressed and well-groomed.
Architects are employed to design functional and aesthetically pleasing buildings; therefore, your clothes and sense of style should reflect that. Every office is different and has its own unwritten rule of informal or formal dress code. Here are some attires that architects wear on a business day, both casual and formal.
Panaprium is proud to be 100% independent, free of any influence, and not sponsored. We carefully handpick products from brands we trust. Thank you so much for buying something through our link, as we may earn a commission that supports us.
The black-and-white look
You can wear black and white as a simple classic look that would work any day of the week. White, black, and little grey tones can mix and match in many ways. It can be a pair of black dress pants and a white top with statement heels.
As an architect, you already have so many details to resolve and do not need to add to the list by thinking about a fancy outfit to wear. To avoid decision fatigue, go for black considering it is viewed as dependable and solid
Business casual
If you are feeling adventurous, you can go for a business casual look. It can include jeans, a flannel shirt, dress shoes, and no tie.
For ladies, you can go for modest tops, a midi dress or skirt that reaches the knee or just below, pantsuits, and jackets.
Patterned shirt and khaki
For guys, you can wear a patterned shirt to bring fun to your outfit. You can pair it with a nice watch. Khaki pants also cut it an informal setup too.
A go-to dress
For girls, have a dress you would typically reach out for and throw on a blazer. Just make sure you are not showing too much, as it might give the wrong impression about yourself.
Check out our selection of the best affordable and sustainable black dresses made under high standards.
A hard hat
Especially when going on a site visit, a pair of jeans with a shirt, not forgetting a hard hat, would go a long way. This is particularly important during summer when it is sunny.
Check out our top affordable and sustainable hats and beanies here.
Suits
Although many architects are opting for smart casual attires for everyday work, there are instances where a suit comes in handy. You can wear a statement suit during client presentations, speeches at a workshop or seminar, or when going for interviews.
Check out our 20 best affordable & sustainable suits for women & men.
Safety vests
Sporting a safety vest makes you more visible to machine operators, which can help reduce accidents. In addition to boosting visibility, safety vests offer some protection against potential hazards.
Bow ties
Back in the day when architects worked with paper and ink, the typical formal tie posed a significant disadvantage as it could fall and smudge the ink destroying hours of hard work. The bow tie is a solution for traditional neckwear for men. For some, it is just a fashion choice.
Turtlenecks
Some architects wear turtlenecks. The main benefit of turtlenecks is that they keep you warm in the cold. It can keep you warm and cozy without slowing you down. It is essential during times of transition.
Here are the best ethically made and affordable turtlenecks.
Boots
They are the most appropriate shoes for site visits on a construction site. Boots protect your feet against job-related injuries, broken glasses, burns, and other debris. They also enhance traction and stability on uneven terrain, minimizing the risk of falls, slips, and accidents.
Eye-wear
Safety is the first priority when dressing up for a site visit as an architect. A hard hat and safety goggles are standard for an architectural site inspection. At the same time, for formal wear, some round-rimmed glasses might be appropriate and helps with the whole image building, contrary to having colored frames or fancy-rimmed glasses.
Blazers
Both male and female architects wear blazers as part of their work outfits. Female architects wear them on top of a typical dress or pants to create a business casual look, while male architects can wear blazers with their dress pants or jeans and white shirts to have the same look.
Here is our selection of the best affordable and sustainable blazers.
Shoes
Men can go for a black or brown pair of polished dress shoes, while ladies can go for closed-toe shoes on a normal day at the office. Leave sneakers for the weekend or the company's adventure day if any are provided.
Hair
This is a significant factor for the architects as this is s first impression type of introduction and generates confidence and trust between the client and the architect. Men can have bald or short hair well kept while ladies can go for a simple hairstyle, preferably tied for those with long hair and also neat and kempt.
Make-up and accessories
Your best bet here is to have minimal amounts of make-up and accessories like a leather, gold, or silver watch. You can also throw in a ring and bracelet to elevate whichever attire you wear on any particular day.
Trench coat
A nice coat can go well with many attires,  be it a suit, a simple dress, a khaki, or even a dress. Coats (especially trench coats )can elevate any formal look to make it elegant and fabulous.
Check out our selection of the best affordable and sustainable trench coats here.
Wrapping it up
 In conclusion, what an architect wears to work offers some insight into what they may be like to work with and should be dealt with, consideration being a trivial aspect of the job itself.
Coco Chanel said, "Fashion is architecture; it is a matter of proportions." Dressing like an architect means dressing mindfully by mastering all the small details at once. Fashion trends keep changing, and it applies to the architecture world too. Architects' dressing style is diverse but also depends on the work environment.
Always remember that the first impression is key when it comes to business, especially in architecture.
Was this article helpful to you? Please tell us what you liked or didn't like in the comments below.
About the Author: Dinushka Breaker Gunasekara