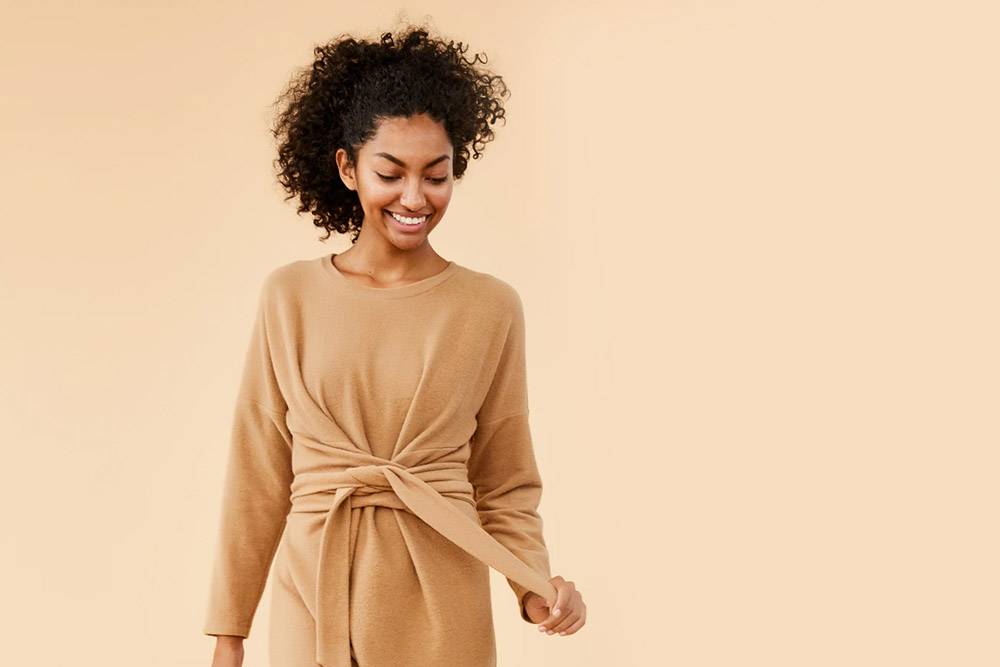 Amour Vert is a sustainable clothing brand that makes stylish, cute, and classic basics for women in the United States with a comfortable and flattering fit.

The eco-friendly brand creates stylish clothes in limited quantities to contribute to a more eco-friendly future. Its garments are elegant, chic, and better for the planet.

Amour Vert is committed to making fashion thoughtful, versatile, and sustainable. You'll want to keep its timeless pieces in your wardrobe forever.

The eco-friendly label has been planting trees in North America since it first opened its doors with its partner American Forest. It promotes sustainable practices and positive environmental impacts.

Amour Vert is an American clothing company based in San Francisco, California. It makes sustainable womenswear and accessories and offers a beautiful collection of basics, denim, loungewear, knitwear, and outerwear.
Panaprium is proud to be 100% independent, free of any influence, and not sponsored. We carefully handpick products from brands we trust. Thank you so much for buying something through our link, as we may earn a commission that supports us.

Sustainability Rating: 5/10
Rating FAQ

Category: Clothing, bags, shoes, accessories, jewelry

For: Women

Type: Basics, denim, loungewear, knitwear, outerwear

Style: Casual, classic

Quality: High

Price: $$

Sizes: XS-XL, 0-12 (US), 4-16 (UK), 32-44 (EU), 4-16 (AU)

Fabrics: Cotton, linen, lyocell, modal, acetate, viscose, cupro, polyester, spandex, acrylic, polyurethane, rubber, leather, wool, silk

100% Organic: No

100% Vegan: No

Ethical & Fair: Yes

Recycling: Yes

Producing country: United States, China

Certifications: FSC



Sustainability Practices
Amour Vert is dedicated to addressing the environmental impact of everything it designs before going into production. It strives to use pioneering new fabrics and adjust its business practices.

Amour Vert has a resale marketplace called ReAmour, where you can browse, buy, and sell high-quality pre-loved styles at affordable prices. The pieces will ship directly to you from another Amour Vert customer upon purchase.

Amour Vert also makes its packaging with 100% recycled materials and printed with soy-based inks. It uses compostable protective bags to get its clothes to your doorstep.

Amour Vert uses a medium proportion of sustainable materials, such as organic cotton and linen, or recycled materials, such as recycled polyester.

Some of its clothes contain semi-synthetic fibers or man-made regenerated cellulosic fabrics such as Tencel lyocell, modal, viscose, and cupro.

Tencel Lyocell is an environmentally friendly fiber made with wood pulp from FSC certified sustainable forests.

Amour Vert also uses some highly polluting synthetic petroleum-based fibers such as polyester, spandex, and acrylic.

Amour Vert is committed to making its clothes locally in San Francisco, California. Currently, all of its products are made in the USA, except its sweaters in China.

Amour Vert carefully selects its factories and chooses partners who align with its ethical values and meet its sustainability standards.

Amour Vert doesn't have a code of conduct that applies to all its suppliers and subcontractors. It doesn't publish a list of all its manufacturing and processing facilities on its corporate website.

Amour Vert doesn't present any certification that would ensure social and labor standards, ethical and sustainable production.

It doesn't disclose if any audits are conducted to ensure good working conditions, decent living wages, health, safety, and other important rights for workers in its supply chain.

Amour Vert doesn't use any exotic animal skin, or hair, fur, angora. But it uses leather, wool, and silk to manufacture some of its clothing.

These animal-derived materials are cruel and unethical. They also harm the environment by producing greenhouse gases and wastes. More sustainable alternatives exist.
Sustainability Goals
Amour Vert doesn't measure its energy or water usage, greenhouse gas emissions, chemical release, pollution, or waste across its supply chain.

It doesn't have any clear sustainability goals, science-based targets, or timeline to improve in the future either.

Buy Here
Discover Amour Vert's sustainable collections at amourvert.com.
Reviews And Experiences With Amour Vert
Have you had (good) experiences with shopping at or the products of Amour Vert? Then leave us your rating below.