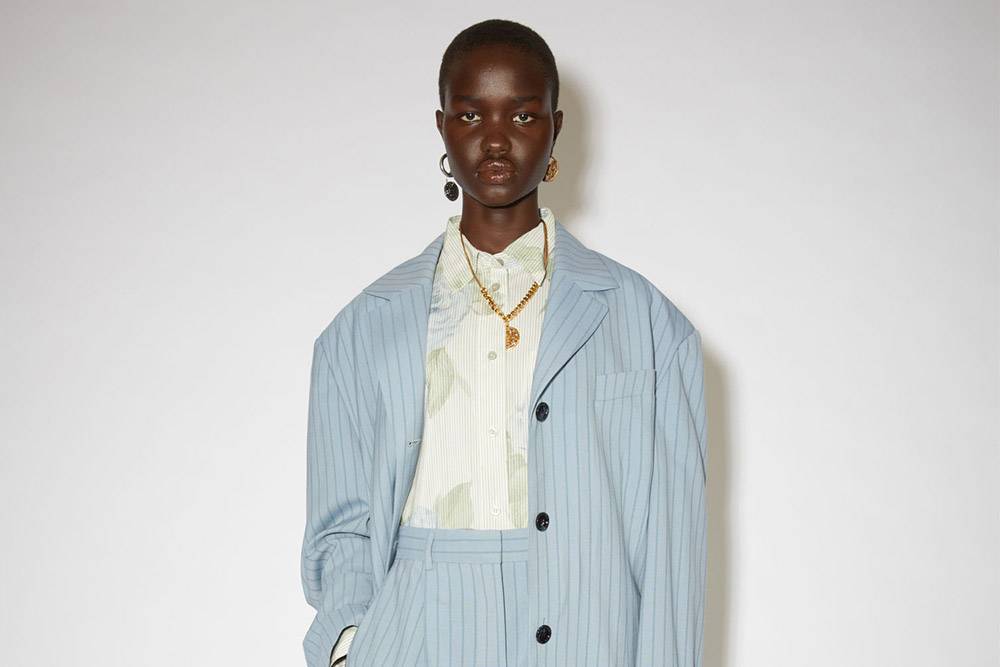 Acne Studios is a Swedish luxury fashion house that designs womenswear, menswear, shoes, and accessories.

Acne Studios celebrates Scandinavian cool since 1996 and means Ambition to Create Novel Expression. Its collections, lead by founder and Creative Director Jonny Johansson, have a dedicated global following.

Acne Studios pays attention to detail and emphasizes tailoring and an eclectic use of materials and custom-developed fabrics.

The Swedish clothing brand believes that its responsibility is to create desirable items that its consumers value and can enjoy for a long time.

It develops a sustainability strategy to be proud of its products, how they look, and their quality.
Panaprium is proud to be 100% independent, free of any influence, and not sponsored. We carefully handpick products from brands we trust. Thank you so much for buying something through our link, as we may earn a commission that supports us.

Sustainability Rating: 6/10
Rating FAQ

Category: Clothing, bags, shoes, accessories, jewelry

For: Women, men, children

Type: Basics, dresses, denim, knitwear, outerwear, loungewear, boots, sneakers, flats

Style: Chic, classic

Quality: High

Price: $$$

Sizes: 2XS-XL, 0-14 (US), 2-18 (UK), 30-46 (EU), 2-18 (AU)

Fabrics: Cotton, linen, lyocell, viscose, modal, acetate, polyester, nylon, spandex, acrylic, polyethylene, polypropylene, polyurethane, rubber, leather, wool, silk, down

100% Organic: No

100% Vegan: No

Ethical & Fair: Yes

Recycling: Yes

Producing country: Bulgaria, China, India, Romania, Tunisia, Turkey, Vietnam, Albania, France, Italy, Republic of Korea, Lithuania, Morocco, Poland, Portugal

Certifications: RDS, RWS, LWG, GRS, FSC

Sustainability Practices
Acne Studios designs high-quality products made for long term usage with carefully considered materials and techniques.

It aims to be a responsible employer that considers the ethical and environmental impact of its operational activities.

Acne Studios uses a small proportion of sustainable materials such as organic cotton, linen fabrics, and recycled fabrics such as recycled polyester and nylon.

The brand also uses semi-synthetic regenerated fibers such as lyocell, modal, viscose, and acetate made from renewable materials.

However, Acne Studios also uses polluting fabrics to produce many of its clothes, including synthetic petroleum-based fibers such as polyethylene, polypropylene, polyurethane, and acrylic.

Acne Studios publishes a list of all its manufacturing and processing facilities on its corporate website. It cooperates with transparent and responsible sourcing partners to promote fair working conditions in its supply chain.

The luxury fashion house is a member of the Fair Wear Foundation (FWF) that monitors and improves labor conditions at its factories. It undergoes a Brand Performance Check every year.

Acne Studios doesn't use any exotic animal skin, or hair, fur, angora. But it uses leather, wool, silk, and down feathers to manufacture many of its clothing pieces.

These animal-derived materials are cruel and unethical and harm the environment by producing greenhouse gases and wastes. More sustainable alternatives exist.

Sustainability Goals
Acne Studios aims to reduce its greenhouse gas emissions and energy consumption in all its operations.

It has been a member of STICA from the start, an organization that supports Scandinavian brands to set science-based targets and reduce their climate impact.

Acne Studios has sustainability goals in line with the Paris agreement to keep climate change well below 2 degrees. It aims to reduce its climate emissions by 30% by 2030 and reach zero emissions by 2050.

The brand works to minimize its climate impact, including raw materials, production processes, and operations, such as logistics and travel.

It will start measuring its climate impact in the coming year, including production processes. It plans an evaluation of the energy sources that its material suppliers use during production to set priorities.

Buy Here
Discover Acne Studios' sustainable collections at acnestudios.com.


Reviews And Experiences With Acne Studios
Have you had (good) experiences with shopping at or the products of Acne Studios? Then leave us your rating below.