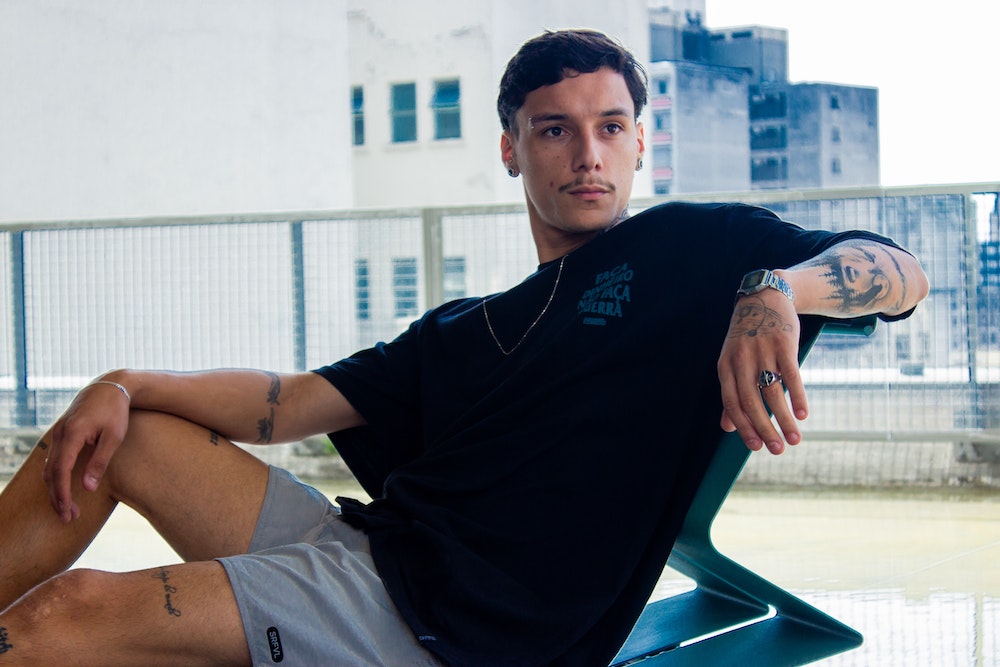 Early 2000s Fashion for Guys: How To Wear in 2023
 The early 2000s was a time of bold fashion choices and experimental styles for both men and women. 
From baggy jeans and oversized t-shirts to vibrant colors and statement accessories, this era left an indelible mark on the fashion landscape. 
Let's explore 15 styles that encapsulate the essence of early 2000s fashion for guys, that will still look cool in 2023.
Panaprium is proud to be 100% independent, free of any influence, and not sponsored. We carefully handpick products from brands we trust. Thank you so much for buying something through our link, as we may earn a commission that supports us.
Denim
Denim was king in the early 2000s with guys embracing baggy jeans with wide-leg cuts and low-rise waistlines. 
Wear baggy jeans adorned with elaborate embroidery and oversized pockets for a nostalgic throwback.
Check out our tips for styling casual for men. 
Streetwear
Streetwear exploded onto the scene during this era and it's bigger than ever in 2023. Guys were seen sporting graphic tees, hoodies, and tracksuits.
Represent the urban culture of the time by rocking streetwear now.
Find out more about the 20 best streetwear brands here. 
Hip Hop
The influence of hip-hop culture on fashion cannot be overstated. Baggy pants, oversized jerseys, and basketball sneakers became iconic elements of early 2000s street style. 
Artists like Jay-Z and 50 Cent set the trends with their distinctively urban looks that are super easy to pull off today.
Take a look at our blog on the 10 best ultimate streetwear outfits that break dancers wear.
Edgy Accessories
Accessories were crucial to completing an early 2000s outfit.  
Choose a chunky silver chain, a dog tag, and an oversized belt. Fitted caps, trucker hats, and bandanas also add an edgy flair.
Ever wondered if straight guys wear earrings, then look no further.
Colorful Experiments
The early 2000s were all about embracing vibrant colors. Guys confidently rocked neon hues, often paired with contrasting shades. 
Color-blocking and bold patterns inject energy into every ensemble.
Sporty Vibes
Sportswear in the 2000s was not limited to the gym; it became a fashion statement, then and now.
Hoodies, sports shorts, track jackets, and athletic sneakers will help you nail a sporty aesthetic look.
Learn more about the 10 best practical outfits UFC fighters wear. 
Celebrity Style Icons
Musicians and actors heavily influenced early 2000s fashion for guys. 
From Justin Timberlake's iconic denim-on-denim look to Eminem's baggy attire, these style icons shaped the wardrobes of countless young men. Take a peak back at your fave celebs' fashion for inspiration for today.
Find out more about the best ethical clothing menswear brands. 
Pop Punk
Pop punk music was major in the early 2000s, and with it came a distinct fashion sense. 
Embrace band t-shirts, skinny jeans, studded belts, and punk-inspired hairstyles for a rebellious style.
Find the perfect vegan belt for you, by checking our ultimate list. 
Retro Revival
The early 2000s also saw a resurgence of retro fashion. 
Channel the 70s with flared pants and psychedelic prints, or the 80s with neon colors and tracksuits. Shop in thrift or vintage clothing stores and you'll access a treasure trove of unique finds.
Want to shop more vintage, then here is our selection of the 10 best affordable online vintage stores.
Baggy Silhouettes
Oversized clothing defined the early 2000s aesthetic and it is very in right now too. Baggy jeans, cargo pants, and long, loose-fitting shirts are must-haves. 
This relaxed style will help you prioritize comfort without sacrificing individuality - in this case, size really does matter.
Find out about outfits for guys that women like.
Layering
Layering was key to achieving an on-point early 2000s look. 
Layer graphic tees over long-sleeved shirts and pair them with open button-downs. Or wear a hoodie under a denim jacket for an effortlessly cool vibe.
Check out the 12 best affordable menswear brands made in Canada.
Sneakerhead Culture
The early 2000s marked the rise of sneakerhead culture in celebrities and sportsmen alike. 
In 2023, sneakers are more than just footwear; they are a status symbol.
Take a look at the 10 best ethical sneaker brands in New Zealand and Australia.
Logomania
Logos were splashed all over clothing and accessories during this era. Designer brands were sought after, and their logos were proudly showcased on belts, bags, and hats. 
Experiment with any logos that take your fancy to look on-trend today.
Take a peek at our blog about Korean Casual Outfit Ideas For Men.
Tacky Tracksuits
Tracksuits were not just for athletes in the early 2000s; they became a fashion staple. 
Velour tracksuits, in particular, gained popularity, often in bold colors with matching jackets and pants. This trend seamlessly blends comfort and style.
Check out the 20 best sustainable sportswear brands in Europe for more athleisure inspiration. 
Iconic Hairstyles
Hairstyles played a significant role in early 2000s fashion for guys. Curtains, frosted tips, spiky hair, and buzz cuts were some of the iconic choices. 
You can experiment with a style that suits your personality.
Avoid making any fashion mistakes by checking out this blog.
Was this article helpful to you? Please tell us what you liked or didn't like in the comments below.
About the Author: Catriona Jean