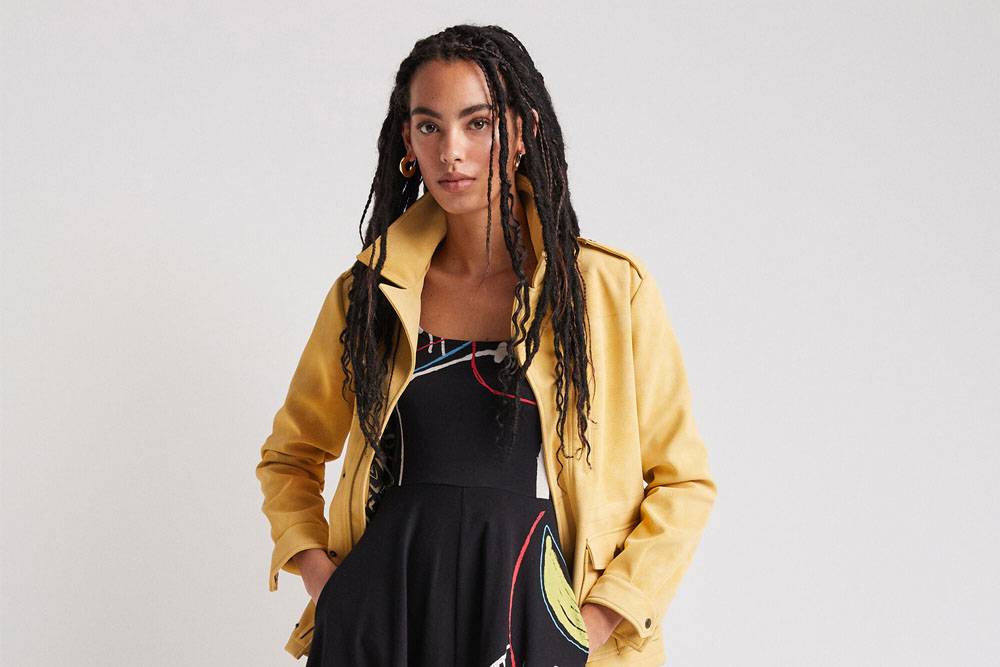 Desigual is a Spanish clothing brand founded in 1984 in Ibiza, Spain, by Thomas Meyer and Christian Meyer. The fashion company works with Spanish and international designers and artists to create women's, men's, and kids' clothing.

Desigual makes affordable and fashionable clothing, accessories, and shoes for the whole family. The apparel brand is well-known for its brilliant colors, bright prints, creative designs, and colorful patchwork.

Desigual has a presence in 107 countries with over 2,700 employees in stores, factories, logistics, and more. It also operates an online store available in more than 150 markets.

Desigual is accelerating its sustainability and corporate social responsibility (CSR) plan. It has introduced sustainable fibers and launched new collections featuring garments made from responsible fabrics.

Desigual is a fashion brand and clothing retailer headquartered in Barcelona, Catalonia, Spain. It makes apparel, footwear, and accessories and offers a collection of basics, denim, knitwear, activewear, loungewear, and outerwear.


Panaprium is proud to be 100% independent, free of any influence, and not sponsored. We carefully handpick products from brands we trust. Thank you so much for buying something through our link, as we may earn a commission that supports us.

Sustainability Rating: 5/10
Rating FAQ

Category: Clothing, accessories, shoes, bags

For: Women, men, children

Type: Basics, denim, knitwear, sportswear, loungewear, outerwear

Style: Casual

Quality: Medium

Price: $$

Sizes: XS-XL, 2-12 (US), 4-14 (UK), 34-42 (EU), 4-14 (AU)

Fabrics: Cotton, linen, lyocell, modal, viscose, cupro, acetate, polyester, nylon, spandex, acrylic, polyurethane, rubber, leather, wool, down

100% Organic: No

100% Vegan: No

Ethical & Fair: Yes

Recycling: Yes

Producing country: Bulgaria, Cambodia, China, India, Indonesia, Morocco, Myanmar, Portugal, Spain, Tunisia, Turkey, Vietnam

Certifications: ISO 14001



Sustainability Practices
Desigual is an eco-responsible and conscientious brand that helps you do good and feel good. It strives to work with a sustainable fashion production model and stands for authenticity, equality, diversity, and freedom.

Desigual has a certified environmental management system and analyze, control, and develop projects that reduce its environmental impact. It's committed to reducing its footprint and carbon emissions.

Desigual launched the "Love the World" collection to follow its social and environmental commitments. However, the majority of its business remains detrimental to the planet.

Desigual wants to grow in a sustainable and sustained way, minimizing its impact on people and the environment. It aims to source more sustainable fibers, including organic cotton and recycled materials.

Desigual only uses a small proportion of organic materials such as organic cotton or recycled materials such as recycled cotton, recycled polyester, and regenerated nylon.

Only very few of its collections are dedicated to sustainable fashion. Most of the fabrics it uses are either natural without relevant certifications, such as cotton or linen, or synthetic petroleum-based fibers such as polyester, nylon, acrylic, and more.

Desigual also uses a small amount of semi-synthetic fibers or regenerated cellulosic fabrics such as Tencel lyocell, modal, acetate, cupro, and viscose.

Tencel is an eco-friendly fiber made with wood pulp from FSC-certified sustainable forests. But only a tiny proportion of the materials used by Desigual are environmentally friendly and sustainable.

Desigual publishes a list of all its manufacturers and many of its processing facilities on its corporate website. It aims to create value in every worker of its suppliers and manufacturers.

The 2021 Fashion Transparency Index gave Desigual a score of only 21% based on how much the group discloses about its social and environmental policies, practices, and impacts.

Desigual manufactures its clothes in Turkey and many other East Asian countries where human rights and labor law violations still happen every day.

The Spanish clothing retailer doesn't show any labor certification standard that would ensure good working conditions, decent living wages, health, safety, and other important rights for workers in its supply chain.

Desigual has a code of conduct that applies to all its suppliers and subcontractors based on the regulations set by the International Labor Organization (ILO), the ETI Base Code (Ethical Trading Initiative), and the UN Principles on Business and Human Rights.

Desigual assesses compliance with its Code of Conduct by informal visits or third-party audits with or without notice. It uses assessments and improvement tools to better the working conditions in its factories.

Desigual doesn't use any exotic animal skin, hair, fur, or angora. But it uses leather, wool, and down feathers to manufacture many of its clothing pieces.

These animal-derived materials are cruel and unethical. They also harm the environment by producing greenhouse gases and wastes. More sustainable alternatives exist.



Sustainability Goals
Desigual has committed to reducing its environmental impact following Science-Based Targets since 2021. It aims to reduce its footprint by 25% by 2025 compared to 2019 and become a carbon-neutral company by 2050.

Desigual also plans to include 50% sustainable fibers in its collections by 2023. One of its objectives is to use 100% more sustainable cotton by 2025.

Desigual recently joined the international initiatives the Sustainable Apparel Coalition (SAC), The Fashion Pact, Sedex, and the Better Cotton Initiative (BCI).

Desigual is still working on improving the traceability of its manufacturers and supply chain and reducing its waste generation and its consumption of energy, water, and chemicals.



Buy Here
Discover Desigual's sustainable collections at Desigual.com.
Reviews And Experiences With Desigual
Have you had (good) experiences with shopping at or the products of Desigual? Then leave us your rating below.