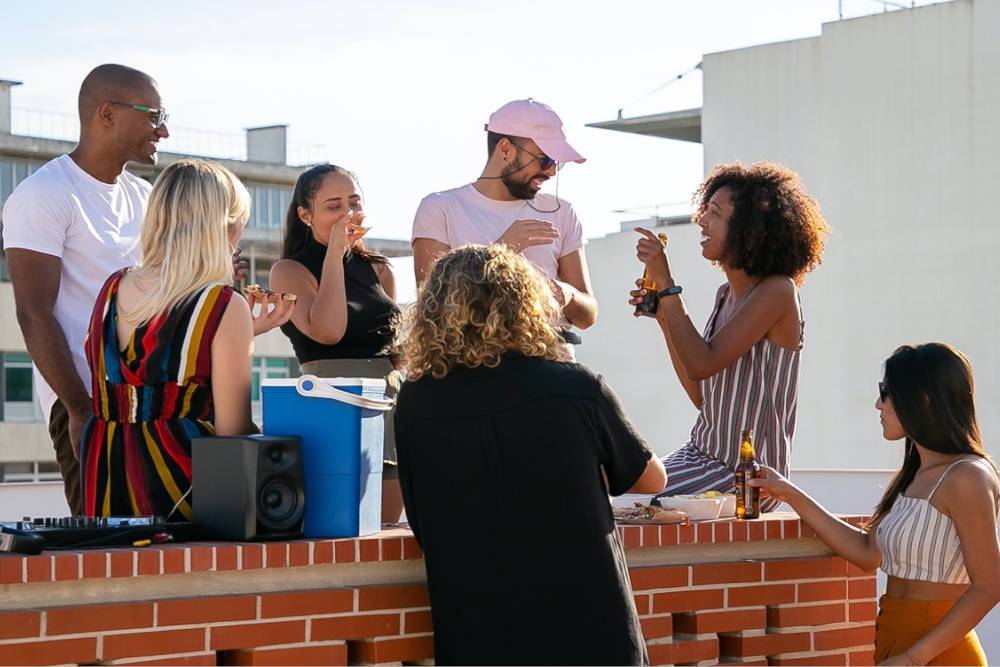 How to Dress Fashionably for Your Class Reunion
Deciding what to wear for a class reunion can be an overwhelming experience. Factors such as weather, where the event is, and what time the reunion will take place can affect what you wear.

A class reunion can be a highly anticipated event. You will want to look put together and stylish to your fellow peers. Whether you want to look professional or laid-back, there are many options to help you feel comfortable in your skin.

Here are some outfit ideas for your upcoming class reunion that will help you to look and feel fabulous.  


Panaprium is proud to be 100% independent, free of any influence, and not sponsored. We carefully handpick products from brands we trust. Thank you so much for buying something through our link, as we may earn a commission that supports us.

1. Black Outfits


A little black dress is a classic piece to wear for any event. The color black is naturally slimming and complimentary to the wearer. Additionally, black slacks paired with black dress shoes can be simple yet flattering. You can look elegant and classic with simple black outfits and add trendy jewelry or heels to accentuate the look.

Our selection of black dresses.
 
 

2. Business Casual


If you want to look professional and modern, consider wearing business casual. A tailored blazer with sleek pants and a skirt is a smart choice for a reunion. Men can don a sport coat with slacks for a more refined style.


3. Jumpsuits


Jumpsuits are one of the hottest trends right now. Jumpsuits can elongate your figure and show off your natural curves, showcasing your waistline for a professional and businesslike outfit. This garment can be adaptable for all seasons in a darker shade for winter or a fun brighter color during the summer months.

Our selection of jumpsuits.


4. Monochrome


A monochrome outfit is a full-dress combination that uses only variations of the same color. Nudes or brightly colored monochrome outfits are tasteful and chic. Petite women can wear this outfit to unite the figure and make you appear taller.


5. Dark Denim


Dark denim paired with an elegant blouse, blazer, or sports coat is a refined, yet casual look for casual settings. Pair with cute flats or dress shoes for a trendy and laid-back attire.

Our selection of sustainable denim.


6. Block heels


At a reunion gathering, you will likely be mingling throughout the night. Skip the stilettos and wear a pair of neutral-colored block heels for comfort. These heels are flattering, elongating your sexy leg line.

Our selection of heels.


7. Blouses


Blouses are feminine, classic, and comfortable. Ranging from casual to dressy, a blouse pairs perfectly with dark denim or dress pants. Blouses are versatile, perfect for any season, and easy to match. This simple garment is ideal for layering, creating a look you can wear throughout fall and well into winter.

Our selection of sustainable and feminine blouses.


8. Layers


Your class reunion may likely be around the holidays meaning colder weather. Layering your outfits can still be stylish and fun despite the chill. Add a long camel coat or wool scarf to a neutral-colored dress to can stay warm and fashionable throughout the night.


9. Suits


Whether wool or linen, suits are an elegant choice for formal settings. Every man should have a stylish suit in his wardrobe. Suits compliment your figure and are extremely attractive to the wearer.

Our selection of suits.


10. Blazers


From boxy to classic tweed, blazers are perfect for colder months. A tailored blazer is a statement piece that elevates your attire. Blazers can compliment your silhouette and provide a modern ensemble.

Our selection of blazers.


11. Formal Dresses


Perfect for a cocktail party reunion, formal dresses are for special occasions. Celebrate your evening with a beautiful formal dress that is comfortable and flattering. Dresses are affordable and charming, instantly elevating an outfit.

Our selection of formal dresses.


12. Chinos


Lightweight and comfortable, chinos come in a variety of styles. Perfect for an outdoor summer event, chinos are business casual and versatile.

Our selection of affordable chinos.


13. Button-ups


Comfortable and attractive, button-ups are complimentary for men and women. Button-ups are ideal for a summer reunion. Solid-colored button-ups pair nicely with maxi skirts or black trousers. Add a sports cat for an effortlessly professional outfit.

Our selection of ethical button-ups.


14. Comfortable Clothing


While at a class reunion, you may feel stressed or nervous. It's important to wear lightweight and comfortable clothes as you will be mingling throughout the night. Pick a pair of comfortable shoes that are walkable and stylish while interacting with old friends and peers.




15. Handbags


A handbag is stylish and convenient. Walking around the event, you may need to fix your makeup or have someplace to store your phone. A simple way to style is to carry a handbag for the night.

Our selection of handbags.


16. Brightly Colored Clothing


Looking for something fun and flirty? Experiment by adding bright colors to your ensemble. Pastels are perfect for springy weather and bold hues are fun during summer months.


17. Trench Coat


A wardrobe staple that will never go out of style is the beige trench coat. The neutral garment is versatile and comfortable with timeless elegance. A trench coat is perfect for poor weather with a flattering cut for every wearer.

Our selection of trench coats.


18. Midi Dresses or Skirts


A midi dress indicates any length from two inches below the knees to just above the ankles. Business casual midi dresses come in a variety of shapes and sizes. Both modest and sophisticated, a midi dress or midi skirt is perfect for formal reunion attire.

Our selection of midi skirts.


19. Wide-leg pants


Fun and comfortable, wide-leg pants are trending. Appropriate for business casual wear, wide-leg can accentuate a woman's curves giving the illusion of an hourglass figure. Slightly casual, but stylish, wide-leg pants are perfect for the more informal class reunion.

Our selection of wide-leg pants and jeans.


20. Accessories


Last, but certainly not least is accessories. Accessories can make or break your outfit. Whether jewelry, handbag, or hairpiece, accessories are a must. You can refine a simple garment by pairing it with a fashionable accessory. Men can opt for a simple chain bracelet or elegant wristwatch for a sleek uniform.

Our selection of accessories.
Was this article helpful to you? Please tell us what you liked or didn't like in the comments below.
About the Author: Katelyn Kruszewski