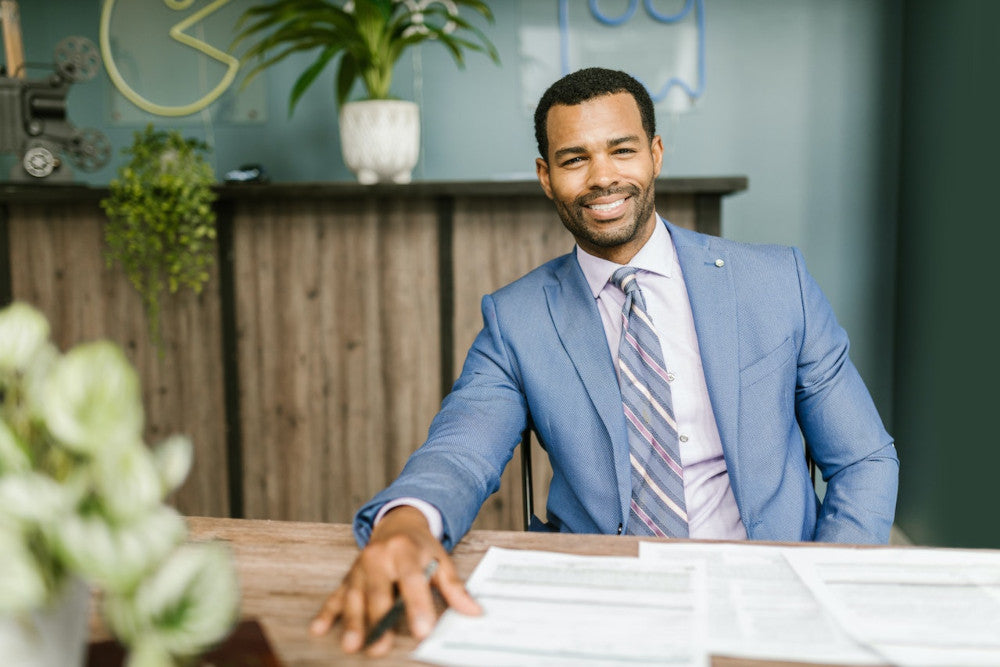 10 Best Professional Outfits Successful Bank Tellers Wear
Bank tellers wear professional outfits in a conservative style, like a white button shirt paired with dark slacks, or a suit and tie. Some banks provide a uniform for bank tellers that might feature shirts in a certain color, or all-black pants and dress shirts. If a bank does not require a strict uniform for tellers, the institution usually issues a professional dress code instead.
A bank teller or bank clerk often runs the counter and interacts with customers inside a bank. The teller provides services like cashing checks, helping customers apply for an account, or notarizing a document. Tellers serve as the face of the bank for most customers and always present themselves in a traditional, reliable manner including professional attire because of this.
Panaprium is proud to be 100% independent, free of any influence, and not sponsored. We carefully handpick products from brands we trust. Thank you so much for buying something through our link, as we may earn a commission that supports us.
Professional Style
Most banks require tellers or clerks to wear professional clothing. A professional dress code includes outfits like a matching suit and tie, a sheath dress and a blazer, or a pantsuit and blouse. 
Unlike an average office job that typically accepts business casual attire, banks often stick to a more old-fashioned, traditional style. This is because customers put a lot of trust in a bank when they deposit money with the institution, and many banks take every step possible to look reliable and trustworthy.
If you need help telling the difference between business casual and professional dress, take a look at the definitive list of 34 types of dress codes for work here.
Conservative Cuts
As part of a professional dress code, bank tellers typically stick to clothes in a conservative cut. This means buttoned-up shirts for men and no low-cut or short garments for women. Both men and women typically wear clothing that does not look skin-tight, too. That said, trendier bank tellers often rock a tailored or fitted suit or shirt instead of a baggy, "dad-style" cut!
If you need inspiration for your conservatively cut, professional bank teller outfits, take a look at the 20 best affordable and sustainable work clothing brands.
Neutral Colors
Another hallmark of professional dress is a neutral color palette. Bank clerks often dress in solid shades of navy blue, black, grey, or beige. Crisp white shirts or blouses also present a perfect neutral appearance. In fact, many banks will include appropriate colors for clothing in the official dress code. This is an easy way for all of the bank tellers to look like a unified team without actually wearing an assigned uniform.
Of course, if you wear a white dress shirt to work every day, it will get stained pretty quickly! You can learn ten super easy ways to whiten whites without using bleach here.
Uniform or Dress Code
Because bank tellers have such a serious job handling large amounts of cash or updating a customer's finances, banks usually require a fairly strict professional dress code.  Sometimes a bank will even issue all tellers a matching polo shirt or jacket with the bank logo embroidered on it. More often, though, the bank will simply list appropriate garments like suits and ties in particular colors.
Do you worry that you might struggle to look professional in this dress code because of your size? Take a look at these twenty easy tips to dress professionally when overweight.
Button-Up Shirt
The most popular item that bank tellers wear with almost every outfit is a button-up shirt. You can style a crisp white dress shirt with anything from a suit and tie to a pencil skirt and heels. For a more modern look, find button-up shirts in a more fitted, tapered cut that outlines your shape without actually clinging to you.
Take a look at the fifteen best ethical button-up shirts for a dressy look here.
Dress Pants
For both male and female bank tellers, several good pairs of dress pants or slacks in neutral colors form an essential part of the work wardrobe.  You can pair dress pants with a button-up shirt and a tie, or with a dress shirt and blazer in a stricter dress code. You can also wear a matched suit with dress pants and a matching suit jacket.
Take a look at the twenty best affordable and sustainable suits for men and women here.
Comfortable Shoes
Bank tellers commonly wear professional but sturdy and comfortable shoes on the job. This is because they may have to stand for hours at a time behind a bank counter. Look for shoe styles like dress shoes, loafers, pumps, or flats that have padded insoles and provide good support.
Of course, you also want ethical shoes that come from an eco-friendly source! Consider looking for professional footwear made by one of the thirty best ethical and vegan shoe companies.
Tie
For male bank tellers, a tie adds the finishing touch to a professional outfit. Sometimes you can style a tie and a button-up shirt with no jacket, but more often you will wear a suit and tie for your bank job. If the bank does not specify what colors you can wear in the official dress code, look for ties in solid neutral colors, or in unobtrusive patterns like small checks or stripes. A bank clerk job is not the time to wear your favorite Snoopy tie!
Another great way to look professional but a bit more laid back is to wear a cardigan over your shirt and tie. You can find the twenty best affordable and sustainable cardigans to consider here.
Sheath Dress
For ladies, one easy way to look super chic and professional as a bank teller is to wear a sheath dress paired with tights and flats, or with a blazer and dressy shoes like pumps or heels. Adding a blazer to a sheath dress or A-line dress makes you look put-together and prepared to handle any complex financial issue.
You can find the twenty best ethical and sustainable blazers that you'll love here.
Limit Accessories
Finally, one of the unspoken rules of the bank teller outfit is to wear limited accessories. Actually, some institutions may include this in a dress code, too! But more often, you learn from working around other professionals what kind of jewelry and accessories look right in the work place. Avoid wearing giant earrings, super long nails, or displaying your tattoos. Instead, wear unobtrusive earrings and a nice watch instead of jangling bracelets. 
If you need help finding just the right jewelry for your professional style, take a look at the ten best jewelry brands using recycled materials.
Was this article helpful to you? Please tell us what you liked or didn't like in the comments below.
About the Author: Hannah Cobb