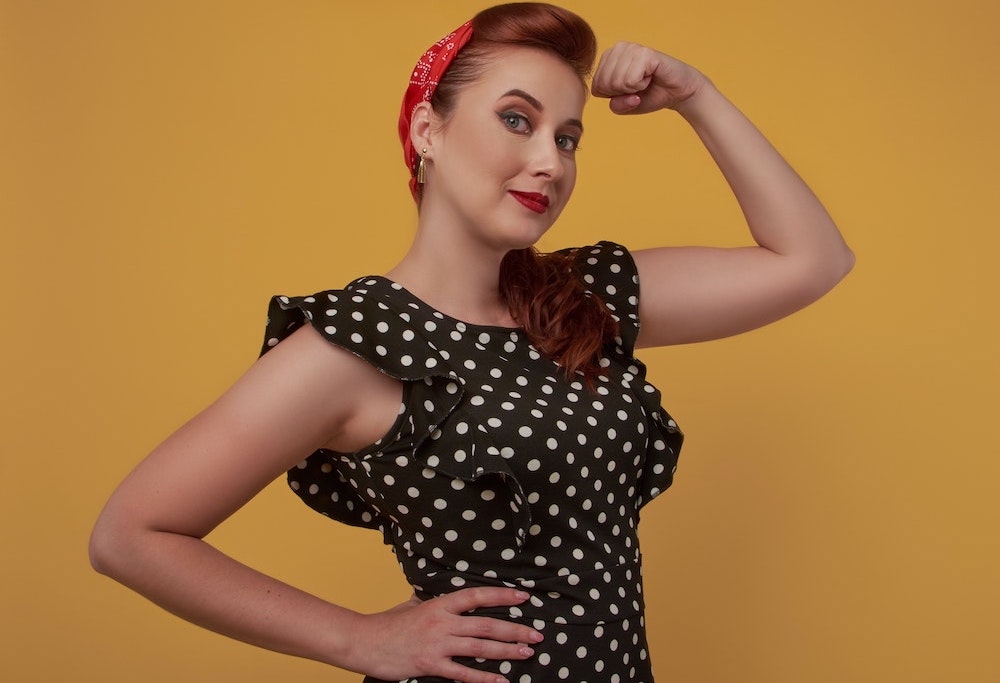 20 Ways to Achieve Ultimate Pin-Up Fashion Style
Pin-up fashion celebrates the glamorous styles of the 1940s and 1950s. It's a trendy fashion style characterized by flirty silhouettes, bold prints, and a dash of playful charm.  
Dressing in the modern-day pin-up fashion style will make you feel confident, feminine, and sexy. It's a fun-loving style that can give you a deeper appreciation for all things vintage. 
From feminine A-line skirts to fun wiggle dresses that hug your curves in all the right places, we've got the ultimate guide to rocking pin-up fashion.   
So, grab your red lipstick and dive into the 20 ways you can achieve retro-chic pin-up fashion style. 
Panaprium is proud to be 100% independent, free of any influence, and not sponsored. We carefully handpick products from brands we trust. Thank you so much for buying something through our link, as we may earn a commission that supports us.
A Vintage Wiggle Dress
A body-hugging wiggle dress is essential for any pin-up wardrobe. A wiggle dress is a specially tailored dress with a narrow hem. The tight fit of a wiggle dress causes the wearer to "wiggle" as they walk, hence the nickname. 
Wiggle dresses are a sexy way to embrace the pin-up style. Wear a knee-length wiggle dress with kitten heels, sheer black stockings, and a cute cardigan for the ultimate retro look. 
Explore our selection of bodycon dresses that hug you in all the right places. 
Sweetheart Necklines
A sweetheart neckline is a popular look for pin-up fashion style. It's cute, elegant, and just the right amount of sexy. 
Combine a sweetheart neckline top with a full A-line skirt for a classic and feminine pin-up ensemble. 
You can find plenty of vintage pieces that have sweetheart necklines by shopping at top designer retail sites or online thrift stores. 
A Polka Dot Dress
Nothing says "retro" like a good old-fashioned polka dot dress. If you're just dipping your pedicured toe into the world of pin-up fashion, this outfit is a great place to start. 
From voluminous halter dresses to sexy wiggle dresses, you're bound to find the perfect polka dot dress that makes you feel comfortable, confident, and cool. 
Choose classic pin-up color combinations like black-and-white, or infuse a modern twist with pastels and jewel tones. 
Shop our selection of the best ethically-made and affordable dress brands. 
High-Waisted Shorts and a Crop Top
High-waisted shorts with a cute crop top create a classic silhouette and retro feel.
A pair of high-waisted sailor shorts looks incredible with a striped boatneck tee. You can also wear a sweetheart neckline blouse with your favorite pair of dark denim shorts. Wear open-toe heels for some extra oomph.
Check out our selection of cute crop tops for more outfit ideas. 
Off-the-Shoulder Blouses
Show a little skin with a cute off-the-shoulder blouse for a summer pin-up look. 
Focus on off-the-shoulder blouses with vintage-inspired ruffles and patterns, such as gingham, polka dots, and stripes. 
Pair your top with high-waisted sailor shorts, an A-line skirt, or your favorite pair of skinny jeans. 
Explore our favorite sustainable blouse brands to find your next perfect fit. 
Bustiers
Pin-up fashion style is popular because it is simultaneously cute and seductive. A scintillating bustier is a perfect way to infuse a more grown-up feel to your pin-up look. 
Wear a structured bustier with a cinched pencil skirt or high-waisted pants for an edgy pin-up look à la the Pink Ladies in "Grease." If you want a softer look, pair a satin bustier with a voluminous A-line skirt. 
Many of our favorite corset brands make high-quality bustiers that work perfectly for a pin-up look. 
Capri Pants
Capri pants create the perfect retro silhouette that defines the pin-up fashion style. Plus, they're extremely comfortable and easy to wear. 
Craft a chic and summery look with high-waisted capris and an off-the-shoulder blouse. You can embrace your edgy side by pairing capris with a halter or tight black off-the-shoulder top. 
Check out our selection of casual chinos made in the USA for the best capri pants. 
Retro Tea-Length Dresses
A vintage tea-length dress is an easy way to look like an effortlessly chic pin-up girl. 
From frothy tulle to full cotton skirts, endless options capture the pin-up fashion style. Look for tea-length dresses with halter tops, sweetheart necklines, and cute patterns. Cherries, polka dots, and florals are popular pin-up patterns. 
Check out these 15 Modcloth alternatives to find retro looks that are eco-friendly and cost-effective. 
A Chic Head Scarf
Whether folded into a headband or worn over your head, a scarf is an easy way to spice it up and add a new area of interest to your look. 
Pin-ups often use classic bandanas, thrifted kerchiefs, and satin scarves in their hair. You can fold one into a casual headband or wrap one around your hair before you cruise in your 1950s convertible. 
Shop our favorite sustainable headbands and bandanas to find the perfect retro look. 
Retro Pencil Skirts
Retro pencil skirts are a must-have for any pin-up wardrobe. It creates a retro silhouette that is glamorous, chic, and feminine. 
Channel your inner Dita von Teese by wearing a skin-tight pencil skirt with a bustier or halter top. Wear a tied button-up or a simple cardigan with your favorite high-waisted skirt for a more reserved pin-up look. 
Don't miss our selection of sustainable pencil skirts. 
Vintage Bathing Suit
Wear an adorable vintage bathing suit if you're ready to hit the beach this summer but don't want to sacrifice your pin-up style. 
Various styles of vintage-inspired swimsuits look great and use sustainable materials. Soak in the sun while wearing high-waisted bottoms with a bikini top or a classic polka dot one-piece suit. 
Find your next vintage-inspired swimsuit with our ultimate list of the best sustainable swimwear brands. 
A-Line Skirts
An A-line skirt creates a classic pin-up silhouette. A well-tailored, high-quality A-line skirt is a versatile piece you can easily mix and match with other vintage staples. 
Create a preppy pin-up look by wearing an A-line skirt with a buttoned-up cardigan or simple t-shirt. If you want a more flirty and feminine vibe, wear a ruffled off-the-shoulder blouse or bustier with your skirt. 
Explore our selection of organic cotton skirts. 
A Halter Dress or Top
A halter dress or top is a simple way to look sexy without trying too hard. This vintage cut is a mainstay in pin-up fashion style. 
Halter tops and dresses became incredibly popular in the 50s and 60s. Lean into a mid-century pin-up vibe with a full-skirt halter dress or a halter top with a sweetheart neckline. 
If you're looking for the perfect halter dress to add to your closet, you can't go wrong with a little black dress. 
High-Waisted Pants and a Button-Up
You don't always need a dress and heels to look like a pin-up girl. A pair of high-waisted pants and a classic button-up fit right into the pin-up fashion style. 
Tie a comfy button-up shirt at the waist to create a retro look that works perfectly with a pair of high-waisted cigarette pants or dark-wash denim skinny jeans. 
Explore these dressy button-up shirts that you can easily tie into a vintage crop top. 
Cigarette Pants and a Cardigan
Tailored cigarette pants and a chic cardigan are an easy way to incorporate the pin-up fashion style into your everyday outfit rotation. 
"Cigarette pants" are high-waisted, slim-fit pants that create a retro-chic silhouette. They're flattering, versatile, and easy to wear with just about anything.
Pair your favorite pair of high-waisted pants with an unbuttoned cardigan and matching shirt, or embrace a wholesome 1950s vibe by wearing your cardigan tucked in and buttoned up all the way. 
Shop our selection of organic cotton cardigans that are high-quality and timeless. 
Add a Belt
A cinched waist is a signature element of the pin-up fashion style. Add a belt to emphasize your curves, whether it's an A-line skirt or a vintage polka dot dress. 
A belt around your natural waistline looks great with high-waisted shorts, skirts, and dresses. You can go with delicate faux leather, stretchy elastic, or a retro style with a bold buckle. 
Check out our selection of vegan leather belts. 
Black Stockings
Sheer black stockings are a must-have for any pin-up. Stockings give your outfit a true vintage flair and always look attractive. 
You can wear stockings with pretty much any pin-up outfit, including wiggle dresses, tea-length skirts, and vintage shorts. 
Black is the classic pin-up color for sheer stockings, but feel free to get creative and wear other colors for a modern twist. 
Explore our selection of tights for options that are vintage-inspired and eco-friendly. 
Peep-Toe Heels
Peep-toe heels perfectly complement the vintage aesthetic of pin-up fashion. They're feminine, comfortable, and effortlessly elegant. 
Wear peep-toe heels with a tea-length dress or cigarette pants for a classic pin-up vibe. Peep-toe heels also look great with high-waisted shorts because they lengthen the leg and create a sexy but cute feel. 
Achieve the vintage pin-up look with sustainable heels that won't break the bank. 
Glam Makeup
Finish off your pin-up look with retro-chic makeup. 
Create a vintage 40s look with wing-tipped eyeliner, natural blush, and bold red lipstick. Pencil in your eyebrows to create a natural arched look, and add neutral-toned eyeshadow if you wish. 
For the best look possible, stick with cruelty-free makeup brands. 
Retro Hairstyles 
There are endless possibilities when it comes to pin-up hairstyles. From long wavy hair to short bob cuts, you can easily find a pin-up hairstyle that works for you. 
Finish off your pin-up look with pin curls, victory rolls, or bombshell waves. If you really want to commit to the pin-up fashion style, rock short baby bangs like Betty Page. 
For a more casual retro look, tie a kerchief headband with a bow around your curls. You'll be turning heads in no time.  
Was this article helpful to you? Please tell us what you liked or didn't like in the comments below.
About the Author: Liz Flynn