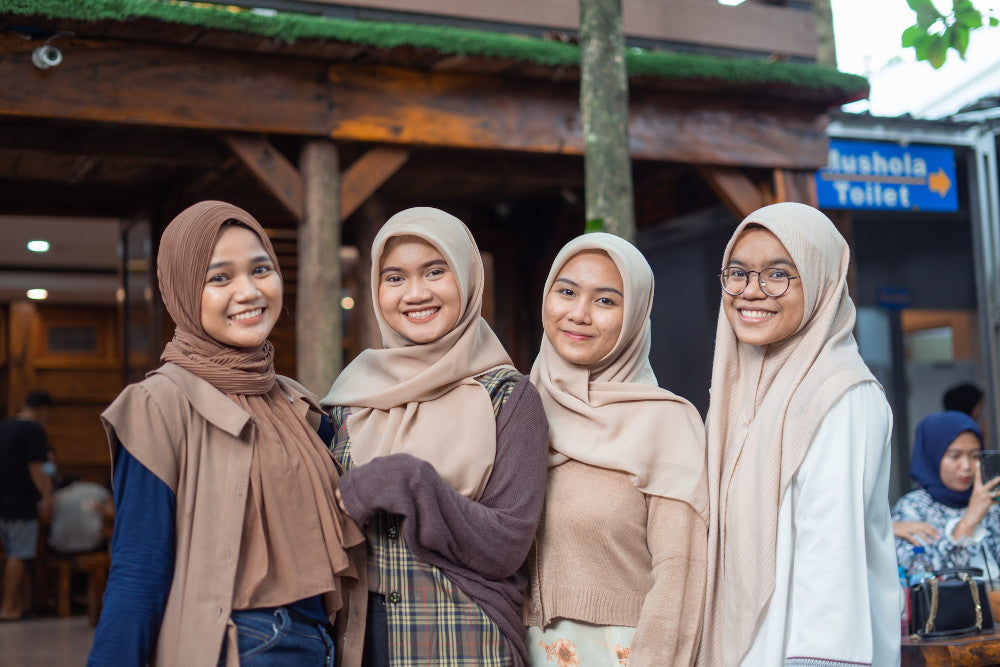 Best Breathable and Comfortable Outfits to Wear in Egypt
The best outfits to help you fit in when you visit Egypt feature conservative styles and breathable fabrics. Long, loose garments like blouses or maxi dresses for women and trousers and a button-down for men work well. Breathable fabrics like organic cotton or linen will keep you cool in long sleeves and skirts.
Egypt is a Muslim country, so it is respectful to wear modest clothing such as pants instead of shorts, and high-necked blouses rather than crop tops or anything showing cleavage. At hotels and tourist beaches, you can safely show more skin, but on the streets of a city like Cairo, you should dress in a conservative style. 
For much of the year, Egypt is also extremely hot, so dress for the weather! Wear cooling fabrics but bring a jacket and a scarf for chilly evenings.
Panaprium is proud to be 100% independent, free of any influence, and not sponsored. We carefully handpick products from brands we trust. Thank you so much for buying something through our link, as we may earn a commission that supports us.
Breathable Clothing
When you pack for your trip to Egypt, look for clothes made out of cooling, breathable fabrics. Types of cloth like organic cotton and linen have unique fibers that allow airflow. This will help keep you cool even under the burning sun of Egypt. If possible, avoid synthetic fabric like rayon or polyester, as these plastic-based fabrics will rap heat against your skin.
You can find all kinds of cloth made out of organic cotton, like soft jersey knit for long-sleeved tee and maxi dresses, or printed cotton for cute blouses.
You can find out more about the benefits of organic cotton here!
Loose and Long Styles
Because Egypt is primarily a Muslim country, you should dress in a conservative style to show respect no matter what religious beliefs you hold. For women, this means wearing long sleeves, long skirts or pants, and tops that cover the whole torso rather than revealing cleavage or the midriff. Avoid tank tops or spaghetti strap dresses, though you can wear sleeveless dresses so long as you bring a jacket or scarf to drape over your shoulders when necessary.
Men and women should avoid close-fitting clothing such as clingy tops or muscle shirts. Loosely cut clothing will help you feel cooler, anyway!
For men, go with trousers, khakis, or slacks instead of shorts. While t-shirts work well for touristy activities like visiting the pyramids, in a city you should wear a button-down or a nicer shirt with trousers. You can find 15 great khakis and chinos to consider here.
No See-Through or Cropped Clothing
One thing to avoid as you plan your trip to Egypt is clothing that has transparent fabric, cut-out shapes, or cropped tops. Instead, go with solid but breathable fabrics in loose shapes that do not reveal your skin.
The exception to this rule is that some larger cities like Cairo do have vibrant nightlife. If you visit a club or restaurant in the evening, you may find it more acceptable to wear slightly more revealing clothing.
You can find more ideas for versatile travel clothing here!
Solid Colors or Cheerful Patterns
Try to pack clothes in solid colors or cheerful patterns as you prepare for your trip to Egypt. In general, you don't want to wear a lot of white because you will get sand, dirt, and street grime all over you in short order. Black will make you hot in the sun, too.
But even more importantly, avoid wearing anything in a camo pattern or a military-green color. Egypt has a reputation as a tourist-friendly location, but it has had (and continues to have) political and military struggles that make looking like a soldier a bad idea.
Instead, focus on florals, solid pastels, or neutrals like grey and navy blue.  If you need to freshen up your collection of non-military-looking tops, check out this list of the 20 best affordable hemp shirts.
Trousers and Button-Down
For men, one of the best outfits to wear as a tourist in Egypt is a basic button-down and trousers or slacks. This versatile outfit can work out in the hot sun when paired with a hat and sunglasses. It can also look at a sit-down restaurant or on a shopping trip on the streets of Cairo.
You can wear jeans as well, but you may find that loose trousers provide a cooler experience. In Egypt, men do not typically wear shorts, so stick with long pants instead! If you need to bulk up your button-downs before your trip, take a look at this list of the 15 best ethical button-up shirts. 
Linen Pants and Blouse
For women, one of the coolest and most comfortable practical outfits to pack for your trip to Egypt is a pair of loose linen pants and a cute, conservative blouse. You can certainly wear a t-shirt or a long-sleeved t-shirt on expeditions out into the desert, but you may find a cotton or linen blouse more comfortable even on these occasions.
You can find a fun selection of ethical, sustainable blouses here.
Sun Hat
A wide-brimmed sun hat is an absolute must for men and women on a trip to Egypt. Summer temps often reach 100℉ or higher. The strong sunlight can cause all kinds of negative reactions  in people who do not often experience it, such as headaches, sunstroke, or dehydration.
Plus, some tourist locations such as the pyramids at Giza do not have much shade or anywhere you can go to get out of the sun. You can stick with a plain wide-brimmed straw hat, or look into a unique piece like these beautiful Tiempo De Zafra hats made from recycled materials.
Sunglasses
Another necessity for your trip to Egypt is a good pair of sunglasses. You need sunglasses year-round, even in winter! The bright sunlight may feel blinding otherwise.
If you don't already own a couple of pairs of sunglasses, check out this list of the best sustainable sunglasses, so you can feel good about your purchase!
Sun Umbrella
A good sun umbrella can provide shade in the desert as you tour ancient sites like King Tut's tomb or the Temple at Karnak. A sun umbrella uses a special fabric that can typically protect you from at least 90% of UV rays!
Though Egypt is arid most of the year, if you plan to visit coastal regions of Egypt like Alexandria in the winter, you should bring a regular rain umbrella! Or you could pack a light rain jacket like these stylish and eco-friendly options.
Sunscreen
It probably goes without saying, but you should absolutely wear a protective layer of sunscreen any time you go outside in Egypt. This can prevent serious sunburn, though you should also wear covers like a light linen shirt over your shoulders and a hat on your head any time you plan to stay outside for an hour or more.
One of the best protective, cooling items you can bring with you to wear on a trek into the desert is a jacket or long-sleeved shirt made of linen. You can find out all about the benefits of linen fabric here!
Walking Shoes
If you do a lot of traveling you probably already know the importance of comfortable, walkable footwear when you visit another country.  Bring a pair of padded, practical hiking boots or walking shoes for any tourist excursions into the desert. Even in cities, you should wear flat, closed-toe shoes most of the time to avoid getting injured in the busy streets.
If you want to go out in the evening, you could dress up with a pair of stylish heels, though! You can find 13 options for affordable vegan heels here.
Long-Sleeved Shirts
While you can wear t-shirts while out and about at tourist locations, you will often feel more comfortable in long-sleeved tees or blouses with long sleeves. This gives you a more conservative appearance, and the long sleeves will protect you from the sun, wind, and blowing sand as well!
If you want to wear a sleeveless, long, sun dress or a maxi dress, just make sure to bring a loose linen shirt or jacket, or at least a pashmina, to wrap over your shoulders when necessary.
Do you worry that you have broad shoulders, and often don't look good in a jacket? You can check out the 15 best affordable jackets for broad shoulders here!
Jacket
The bright sun and high temperatures during the day require cooling clothing, but in the evening, Egypt's arid weather makes for chilly, plunging temperatures. You should pack a jacket and a pashmina or wrap to keep warm if you plan to go out to experience the nightlife in any of Egypt's cities!
A practical jacket like a hiking jacket could make the best choice for day trips out into the desert, but in the city, you could also wear a warm, stylish blazer or sport coat with an outfit like a maxi dress, or trousers and a cute blouse. You can find 20 ethical and sustainable blazers to look at here!
Maxi Skirts
One of the most practical outfits for women to wear on a trip to Egypt is a long maxi skirt made out of breathable material such as cotton jersey knit paired with a loose, long top with a high neck and long sleeves. This outfit provides breathability, allows you freedom of movement, and protects you from the sun! Plus, it fits in with the conservative style that is considered appropriate in Egypt.
You can find 15 affordable and sustainable long maxi skirts to shop here.
Long Dress
A maxi dress makes the perfect outfit to wear out in the evening in a city like Cairo or Alexandria. You can also wear a more casual maxi dress like a knit beach-style dress with a long skirt on your tourist excursions, especially if you pair it with a loose button-down made out of cotton or linen.
You can dress up your long maxi dress with accessories like a belt, a scarf, or a blazer or jacket, too! Because they offer such practicality and comfort, you may want ot bring two or three maxi dresses with you on your trip. You can find perfect options in this list of the 15 best affordable and sustainable maxi dresses.
Trousers or Harem Pants
For women especially, always wear long pants instead of shorts or short skirts. In some settings, knee-length skirts can feel appropriate, and you can also wear jeans in casual environments. But in general, long, loose trousers or harem-style pants will work better. As always, try to find pants in a breathable material like organic cotton or linen to keep you cool.
For example, these Lagenlook trousers give you an idea of cool, breezy pants for women to wear in Egypt!
Head Scarf
Unlike some Muslim countries, women do not have to wear a head covering in all public places while visiting Egypt. That said, you should always carry a headscarf, pashmina, or wrap with you. 
You can use a scarf to quickly dress up an outfit to look nicer or wrap it over your hair if you receive an invitation to visit someone's home. You will also need to cover your head if you visit a mosque anywhere in the county. As always, you will find a breathable fabric more comfortable. Take a look at this article to find out why linen is so popular for this reason!
Simple Accessories
When you travel, it's a good idea to keep your accessories simple and not too expensive. Pricey jewelry, brand-name watches, and thousand-dollar purses can attract thieves. While Egypt is a relatively safe place, you will get pickpocketed in Cairo just as often as you will in Paris or any other big city!
Try adding pops of color with a scarf, a less expensive watch, or an anti-theft purse or bag. As a pro tip, make sure you keep plenty of small change in local currency in your bag, too. Egypt has a tipping culture and you should always offer a small tip to anyone who helps you, like a hotel employee who carries your bag, or a driver or tour guide.
If you need to find the perfect bag for your trip, take a look at this list of 10 affordable purses made from recycled materials.
Swimsuit and Cover Up
If your hotel has a pool or you plan to visit Egypt's beautiful public beaches, you can safely wear a swimsuit. You can even wear a bikini without drawing much attention, though you should bring a swimsuit cover-up with you just in case.
You can find 80 affordable, sustainable swimwear brands to peruse here.
Rucksack Vs Suitcase
As you travel around Egypt you will find it easier to use a carry-on or a rucksack than a wheeled suitcase. The squishy rucksack can shove into train or bus compartments, and you can easily heft it over your shoulder as you walk.
If you plan to stay a long time, you may also need traditional luggage. But for a short trip, select more mobile and compact luggage like an over-the-shoulder bag or a backpack. You can find 14 vegan, eco-friendly backpacks to consider here.
Was this article helpful to you? Please tell us what you liked or didn't like in the comments below.
About the Author: Hannah Cobb