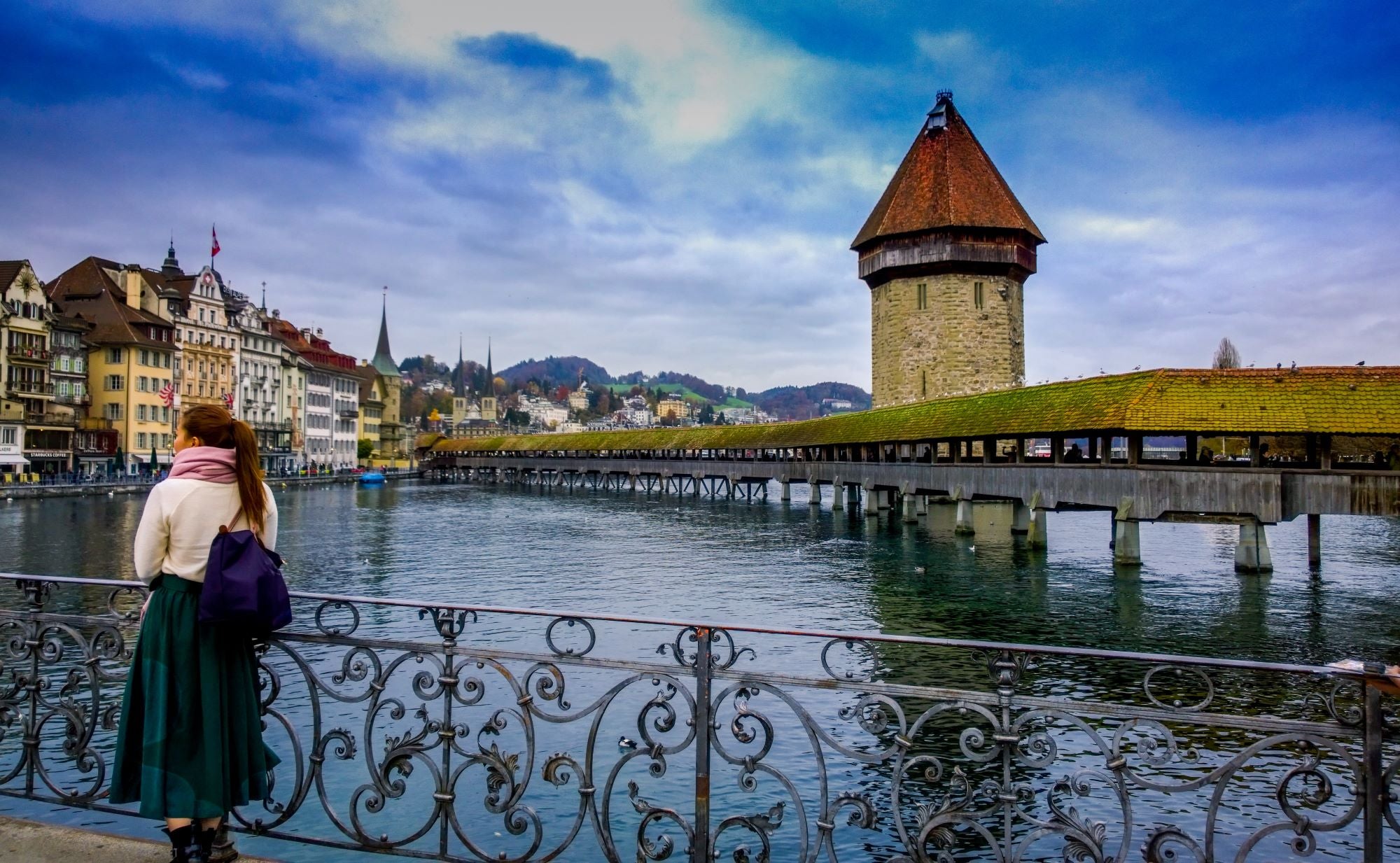 20 Outstanding Outfits and Accessories for an Epic Swiss Trip
Switzerland is a breathtaking, picture-perfect mountainous country in central Europe. Famous for its banks, chocolate, cheese, and undoubtedly natural alpine beauty, it is a highlight for many tourists.
Even though it is a landlocked country, Switzerland has a lot to offer to all tastes, be it for skiing enthusiasts, hiking fans, or cheese and chocolate lovers.
The scenery is breathtaking with alpine valleys, beautiful mountain peaks, and splendid lakes.
Major cities in Switzerland offer a perfect combination of medieval town centers, boutique shops, and beautiful architecture.
Our article will help you pack the right items for an unforgettable trip. Depending on the time of the year you decide to visit Switzerland, you need to pack the proper outfits to make your journey comfortable, beautiful, and unforgettable.
Discover the ultimate guide of outfits and accessories you should pack when embarking on your journey to Switzerland.
Panaprium is proud to be 100% independent, free of any influence, and not sponsored. We carefully handpick products from brands we trust. Thank you so much for buying something through our link, as we may earn a commission that supports us.
1. Earmuffs
If you plan to travel to Switzerland in late autumn or winter, make sure to pack earmuffs to keep yourself warm and enjoy your trip to the max. It can get quite cold during the winter months.
A pair of cute earmuffs will make you look fashionable and protect your ears against the winter cold. Even if you are not a ski enthusiast, you can still take a cable car to one of the famous peaks in Switzerland and enjoy the magnificent beauty of the mountains.
Do not forget to check out our collection of affordable and sustainable hats and beanies.
2. Yoga Pants
Yoga pants are perfect. They are practical for hiking and just wandering around in the stunning old city centers of Bern or Lucerne. There is so much to see in these stunning cities that one could easily spend hours strolling around.
Yoga pants are so versatile that you can wear them on your hike, on a picnic in a park, or at spectacular Geneva Lake. Yoga pants are a great option, if you want to rent a bike and ride around.
Follow our guidelines on how to choose the right yoga pants.
3. Dress and Denim Jacket
A perfect outfit if you are in the mood for train travel. The Rhaetian Railway in the Albula/Bernina Landscapes is one of the world's most spectacular routes and is in the UNESCO World Heritage listing.
Pack a comfortable light dress and a denim jacket to experience this beauty, and have great pictures taken of yourself. Pairing a denim jacket with a dress is practical as well, as you can take it off if it gets too hot.
Check out the 20 best affordable denim jackets every woman needs.
4. Backpack
A backpack is a must, if you go hiking in the beautiful mountains. You can choose a beautiful, hand-made backpack, that complements your outfit or color-matches it.
A backpack can be very useful, as you can take water, snacks, and some clothes for layering.
Even if you opt for a city trip, a backpack can be a great accessory to your outfit and help you stand out. There are many options ranging from artsy designs to colorful patterns. 
Here are the 14 affordable, vegan, and eco-friendly backpacks you must check out.
5. Swimwear
Packing a swimsuit for your trip to Switzerland is a must. If you visit in the summer, you can enjoy the refreshing waters of countless alpine lakes. There is nothing better than plunging into these splendid lakes after a long and tiresome hike.
However, do pack a swimsuit even if you visit in the winter, as there are amazing spas and saunas that one should not miss while traveling in Switzerland. You can get amazing pictures of yourself with breathtaking mountains in the background.
Make sure to check out the 20 best beachwear clothing brands for 2023.
6. Long-sleeve dress
A long-sleeve dress is perfect for spring or autumn weather. Feel free to pair it with a designy jacket and comfortable trainers for the ultimate city trip. Or layer it with a long knitted cardigan when visiting during colder months.
Walking in cities is a great way to discover hidden gems and experience the local lifestyle. Whether in the capital - Bern or Zurich, there is plenty to enjoy in the old centers: cute cafés, museums and galleries, boutique shops, and much more. So, pack a long-sleeve dress for a comfortable and enjoyable city trip.
Discover our selection of affordable dresses for special occasions.
7. Gloves
Make sure to pack a pair of well-fitting gloves, especially if you are visiting Switzerland in winter or plan to ski there. It is crucial to stay warm and take care of your health.
There are several options to choose from. Go for soft materials that do not make your hands sweat and protect your skin.
You can choose a warm and cute pair that will look amazing in the Christmas-inspired pictures you will be taking if you visit during the holiday season.
Our selection of the best sustainable fingerless gloves for winter.
8. Casual Tee
Locals in Switzerland usually dress casually. Pack a couple of casual T-shirts. T-shirts are versatile and can be combined in countless ways to create fashionable and cool outfits.
You can pair them with jeans, skirts, yoga pants, etc. You can pack a casual loose T-shirt to guarantee the ultimate comfort while wandering in Swiss cities and towns.
Here are the 20 best American-made T-shirts for both men and women.
9. Baseball Cap
It is essential to have a baseball cap if you want to hike in the breathtaking Alps. Switzerland offers a great number of hiking trails.
Pack a baseball cap to protect yourself while hiking or climbing for hours. A cap will come in handy if you want to enjoy the afternoon sun in the cities as well.
10. Skiing Pants
Switzerland is home to some of the best and most famous ski resorts in the world. There are millions of people visiting Switzerland every year just to ski.
Bringing the right outfit and gear can, on the one hand, guarantee your safety and make your trip more enjoyable on the other.
You can pair them with cute earmuffs or a soft hat and create a great outfit for photoshoots that will bring back sweet memories once the trip is over.
Our selection of affordable and sustainable ski wear brands.
11. Comfortable Hiking Shoes
If you are adventurous, you will not want to miss the scenic hiking trails that Switzerland offers visitors. Comfortable hiking shoes are a must. Even if you go on just one short hike, it is totally worth it, and the experience will be rewarding.
Pack a pair of nice comfortable hiking shoes. They will go well with your leggings, hiking pants, or jeans. You can color-match them with your backpack and cap for an ultimate fashionable look.
Discover our selection of affordable vegan hiking boots.
12. Blazer
Pack a beautiful and colorful blazer for your trip to Switzerland. Blazers are perfect if your trip is in the spring or autumn months.
It is so versatile that you can bring it with you in the summer as well. It tends to get chilly, especially in the evenings after sunset. A nice blazer will be very useful in this case.
It can also help you create a smart instead of a casual look. Pair a blazer with jeans or dresses for beautiful and chic outfits.
Discover our amazing selection of recycled blazers for an ultimate elegant look. 
13. Jeans
Jeans are so versatile. You can pair them with anything. Pack a pair or two for your trip to Switzerland.
You can create perfect day-trip outfits by combining them with cute T-shirts, warm and fluffy sweaters, colorful blazers, etc. The combinations are endless.
If you prefer lighter color shades, pair them with white or off-white sneakers and have a trendy outfit for a great day trip.
Check out the 15 best affordable and sustainable Australian-made jeans.
14. Soft Socks
Imagine a fireplace and a cup of hot chocolate in a cozy little hut in the middle of nowhere in the Alps. It resembles a cute movie scene filled with Christmas joy, right? This is a perfect way to enjoy the winter holidays.
Pack a pair of soft and warm socks for a dreamy experience like this if you visit Switzerland in the winter. Soft socks are perfect for an enjoyable day with a partner or a friend in a hut. They are cute and comfy. Soft socks can help you relax and enjoy the festive mood to the max.
Discover the 20 super easy ways to recycle or reuse old socks
15. Midi Dress and Trainers
A midi dress paired with trainers is one of the best outfits for a great afternoon in a beer garden. There are loads of great beer gardens in Switzerland. You can enjoy the sunshine while sipping on a beer, cocktail, or even just a coffee.
Choose a pair of comfortable and breathable trainers and a nicely fitting dress. You can go for a monochrome dress and light-colored trainers. A floral midi dress with artsy trainers is another option for an ultimate summery feeling.
Make sure to check out our selection of the 15 best affordable and sustainable denim dresses.
16. Waterproof Jacket
If you are into active tourism and want to experience the beauty of Switzerland by hiking, pack a waterproof jacket. It might rain even during the summer months, and the last thing you want is to get wet or catch a cold.
You can wear colorful waterproof jackets that best express your style and personality. If you aim for a trendier look, color-match them with your hat, cap, or shoes.
Check out our selection of the 10 best affordable and sustainable waterproof jackets.
17. Long Scarf and Hat
For your trip to Switzerland, ensure to pack a long scarf. A cute, long scarf will help you stay warm. You can pair it with a nice, soft hat to comfortably enjoy your holidays.
It is usually chilly in the mountains, and you want to stay warm while looking good. Pack a nice set of a color-matched scarf and a hat. For ultimate comfort, choose organic fabrics that do not make your head or neck itchy.
Our collection of cute and affordable feminine winter outfits.
18. Ankle boots 
Ankle boots are perfect for spring and autumn months. They are absolutely versatile and go well with dresses, skirts, pants, etc.
Wear ankle boots with high heels to create a feminine look for a day out with a partner or friends. You can wear these to galleries, museums, wine tasting, etc.
Go for ankle boots without heels, if you plan on walking and moving a lot. Whichever you choose, you can create amazing outfits for an unforgettable day trip.
Here are the 20 best affordable and sustainable boot brands.
19. Warm Sweater
A warm sweater is a must if you are going to be outdoors a lot or are visiting Switzerland in winter. Pack a sweater that is soft and made of organic or recycled materials.
You can pair your warm sweater with jeans, long skirts, or thermal pants. For a more feminine and chic outfit combine the sweater with a beautiful, elegant dress and boots.
Make a conscious choice by checking out our selection of the 15 best organic cotton jumpers and sweaters.
20. Winter Coat 
Enjoy the alpine beauty in winter in a beautiful, elegant winter coat. A warm winter coat is perfect if your trip to Switzerland falls in the winter, or you are going there specifically for Christmas celebrations.
Enjoy a cup of delicious, world-famous mulled wine and the festive holiday spirit in your warm coat. Choose a coat made of recycled or eco-friendly materials for a perfect wintery trip.
Discover the 20 best affordable and sustainable winter coats.
These are our guidelines on which accessories and outfits to pack and take to Switzerland for an enjoyable and unforgettable trip.
Was this article helpful to you? Please tell us what you liked or didn't like in the comments below.
About the Author: Gohar Davtyan