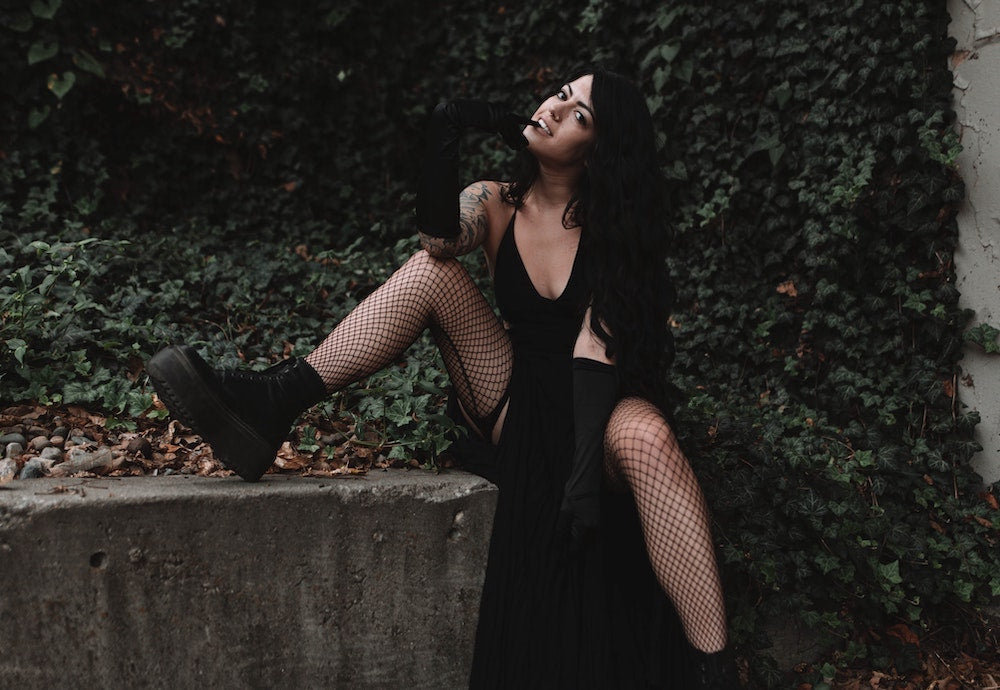 15 Expert Tips to Dress Emo Like a Pro
Emo is a music and fashion style that hit its stride in the early 2000s. If you were an emo kid back in the day, you no doubt have fond memories of the emotional songs, all-black attire, and ridiculously edgy MySpace photos. 
Thankfully, emo style is back with a vengeance. 
Whether you're an elder emo or just starting out on your emo kid journey, you're probably looking for ways to freshen up some aspects of the classic emo style. 
The modern-day emo style is more sleek, refined, and elevated than its DIY predecessor. While the classic black color palette remains, the modern emo style incorporates elements of skater, punk, and goth aesthetics. 
As an added plus, embracing our inner emo without supporting fast fashion nowadays is much easier. An essential part of building your emo wardrobe is collecting ethically made, sustainable emo pieces that are built to last. 
Whether revisiting your emo era or trying out emo for the first time, we have the best tips and tricks for perfecting your own emo style. 
Panaprium is proud to be 100% independent, free of any influence, and not sponsored. We carefully handpick products from brands we trust. Thank you so much for buying something through our link, as we may earn a commission that supports us.
A Dark Color Palette
One thing that hasn't changed about emo style over the years is the dark color palette. Emo is all about expressing your moody feelings through fashion, so all-black outfits are a must. 
Black t-shirts, jeans, and hoodies are the foundations of any emo wardrobe. Don't be afraid to layer white, gray, and other dark and neutral shades into your look for some variety.
Add points of interest with stand-out accents like black glitter, dark metallics, or a vegan leather handbag. 
Band T-Shirts
Music is at the heart of emo subculture. Therefore, no emo wardrobe is complete without a few band t-shirts. 
Whether it's a band tee featuring a now-defunct early 2000s emo band or an homage to mainstays like My Chemical Romance, you need at least one in your closet. Time to dust off your old band tees from high school!
Pair your favorite band shirt with some cargo pants, Converse, and a plaid overshirt for a classic emo look. If you want something more subtle and streamlined, wide-leg pants and platform sandals will do the trick. 
Shopping on second-hand clothing apps is a sustainable option for sourcing new-to-you band shirts. 
Oversized Hoodies
Emo style incorporates elements of punk and skate culture. So, an oversized hoodie is a go-to essential for any emo kid.
Although any emo kid worth their salt needs at least one black hoodie, don't be afraid to play with color. A hoodie in a dark jewel tone or light neutral color will elevate your emo outfit and make you stand out from the crowd. 
If black is your thing, choose a plain black hoodie for a minimalist look or one featuring your favorite emo band or underground artist. There are plenty of affordable and sustainable hoodies to choose from these days. 
Black Skirts
A black skirt is a versatile staple that can be dressed up or down, depending on your mood. When it comes to emo style, layer a black skirt with casual tees, edgy footwear, and bold accessories. 
You can achieve a sleek, minimalist emo vibe with a plain black midi skirt and a tucked-in band tee. On the other hand, you can't go wrong with a distressed black denim or zipper mini skirt if you want an emo outfit with more punk and goth influences. 
Check out a few of our favorite ethical punk clothing brands to find the perfect black skirt. 
Checkers & Plaid 
Plaid and checkered patterns are excellent motifs if you love emo's skate and grunge influences.
Wear a plaid flannel with Converse high-tops, a baggy tee, and wide-leg jeans for the ultimate casual look. Black-and-white checkers look great on a baggy hoodie or accessories like belts, shoes, and socks. 
You can find plenty of checkers and plaid when you shop our favorite grunge clothing brands. 
Vegan Leather Jackets
A black leather jacket is timeless and matches any outfit. It can bring structure to any casual emo outfit, from cargo pants to black midi dresses. Throw it on during a cloudy day or a night out. 
Invest in a leather jacket with a comfortable fit, classic cut, and high-quality materials. Ethically-made vegan leather jackets are the best choice because they are eco-conscious and just as durable as classic leather outerwear.    
Explore our selection of top-notch vegan leather jackets.
Cargo Pants
If you think super-skinny jeans are better left in the early aughts, have no fear. Cargo pants are an excellent, modern alternative that is just as moody and way more comfortable.  
Cargo pants are a trendy option that gives the throwback emo look a fresh aesthetic. A ton of different styles and cuts are available, from minimalist sweatpants to more edgy styles with patches, zippers, and pant chains. As long as it's black, you're doing it right. 
Check out our favorite affordable and sustainable cargo pants. 
Baby Tees
A vintage baby tee is synonymous with modern-day emo style. Not to be confused with a classic crop top, a baby tee is a shrunken t-shirt that strikes the perfect balance of cute and comfortable. 
Of course, baby tees in black and white are best. However, other dark and muted colors work as well. You can also go with an ironic graphic shirt or an actual vintage baby tee from the 90s for a more alternative emo vibe. 
The best way to find the perfect emo baby tee is to scour online thrift stores for upcycled and vintage pieces. 
Grommet Belts
Emo fans everywhere can rejoice because the grommet belt is back in style with a popular vengeance. This classic belt style makes incorporating a punk element into your emo outfit easy. 
Wear a grommet belt with your favorite pair of high-waisted black jeans, or layer it over a black velvet skirt. The silver hardware on this style of belt creates a pop of color and point of interest in any all-black ensemble. 
Shop our favorite vegan leather belt brands here. 
Fishnet Tights
Fishnet tights are an excellent way to add a sexy edge to a casual emo outfit. Whether you wear them under high-waisted shorts or with a slinky black dress, fishnets will elevate your look. 
In true emo fashion, don't be afraid to embrace any rips or tears in your tights. A trusty pair of well-worn, high-quality fishnets can go a long way. 
Check out our selection of eco-friendly tights for shopping inspiration.
Heavy Eye Makeup
Dressing emo is about more than what you wear. Any emo look isn't complete without dark, heavy eye makeup. Think winged eyeliner, lots of mascara, and a heavy hand on the under-eye liner.   
You can't go wrong with a smoky eye and dark lipstick to elevate your emo makeup. Black glitter eyeshadow and natural foundation can be incorporated to create an emo-glam look. 
Don't fear smudging or "ruining" your heavy eye makeup. The messier, the better. 
Black Skinny Jeans
Every elder emo has vivid memories of when skinny jeans were the height of fashion. A good pair of distressed and torn black skinny jeans are still quintessentially emo. 
Black skinny jeans are easy to accessorize with your favorite black cardigan, band t-shirt, or crop top. Play with volume in your outfit by wearing an oversized black hoodie or flowy mesh top. 
Check out our selection of the best organic cotton jeans to complete your look. 
Fingerless Gloves
Fingerless gloves are a definite throwback to the emo style of the early 2000s. Embrace the look with a modern twist by pairing your fingerless gloves with a black tube top, cargo pants, and leather platform boots. 
Fingerless gloves come in a variety of styles, from wrist to elbow-length. If you want an edgy, punk-influenced vibe, go with mesh or vegan leather gloves. Knit gray, black, or brown cotton gloves create a softer feel.  
If you're unsure where to start, explore our selection of fingerless gloves.
Sneakers
Every true emo kid knows that casual sneakers are necessary to make an outfit complete. Go with the classics: Converse high-tops, Vans slip-ons, and Doc Martens boots if you feel fancy. 
While we may not write song lyrics in Sharpie on the sides of our shoes anymore, having at least one pair of worn-in, comfy sneakers is still essential. Make sure to go with a classic black-and-white color palette when choosing your sneakers. 
For your Chelsea or lace-up boots, choose a pair made with vegan leather. It is more sustainable, and the material is usually easier to break in than traditional leather. 
Pins & Patches
No emo outfit is complete without a carefully curated selection of pins and patches. Show your allegiance to your favorite bands and TV shows by wearing some on your outerwear and accessories. 
Popular emo pins and patches often make alternative pop culture references that only fellow emo kids know about. Plus, these accessories can add a pop of color to any emocore outfit. Don't be afraid to add a bunch of this classic emo flair to your tote bag, leather jacket, or button-up shirt. 
If you feel creative, you can even create your own DIY patches and pins. 
Was this article helpful to you? Please tell us what you liked or didn't like in the comments below.
About the Author: Liz Flynn