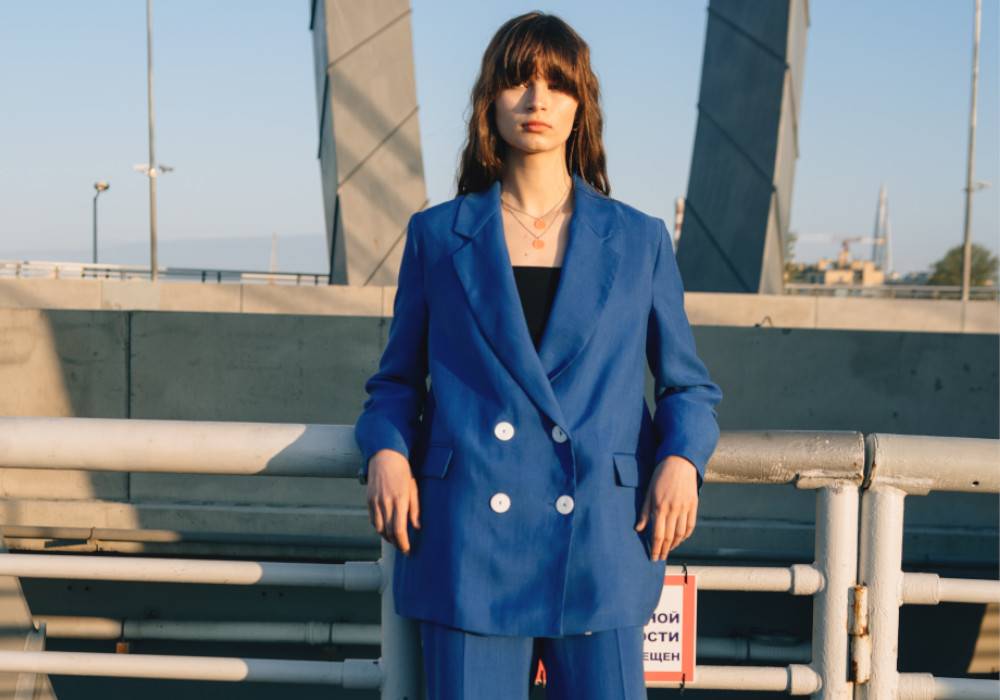 6 Best Sustainable Hemp Blazers For Women And Men
Here is our selection of the best sustainable brands that make recycled blazers for women and men. They are high-quality, ethically made, and budget-friendly to help you craft elegant, fashionable, and sustainable outfits.

Many ethical brands offer durable, versatile, and comfortable blazers that make dressing well and sustainably easy. They use eco-friendly fabrics such as recycled cotton to design the perfect blazer for every occasion.

This collection of stylish and recycled blazers includes a variety of styles such as V-neck, oversized, long sleeves, padded shoulders, double-breasted, and more.

Panaprium is proud to be 100% independent, free of any influence, and not sponsored. We carefully handpick products from brands we trust. Thank you so much for buying something through our link, as we may earn a commission that supports us.


Category: Basics, denim, outerwear, activewear, knitwear, loungewear, swimwear, underwear, shoes, accessories
For: Women, men, children
From: NYC, New York, United States
Values: Organic, vintage, artisan craft
Prices: $10-$80

Etsy is an American e-commerce website focused on handmade or vintage fashion items, homeware, and craft supplies. It offers a wide range of hemp blazers that are perfect for a business casual or formal look.

Many independent sellers list comfy, eco-friendly, cute, and cheap blazers on Etsy. The marketplace is active and widely recognized as the most trusted vintage store.

SHOP ETSY




Category: Basics, knitwear, outerwear, swimwear
For: Women
From: New York City, United States
Values: Organic, recycled, luxury, give back, made in the USA
Prices: $60-$670

Mara Hoffman is a premium designer brand that offers sustainable hemp blazers made from certified organic and recycled fabrics and other eco-friendly materials.

Mara Hoffman is well-known for its eco-friendly, casual, and chic fashion pieces made from pre and post-consumer waste. The designer label aims to reduce its impact and generate awareness.

It offers stylish and unique alternatives manufactured responsibly by smaller artisan groups under fair conditions. Many of its business clothes are made in Los Angeles to foster a healthy local economy.

SHOP MARA HOFFMAN



Category: Basics, denim, loungewear, knitwear, outerwear, accessories
For: Women
From: New York City, United States
Values: Luxury, organic, recycled, give back
Prices: $290-$1,200

Another Tomorrow is a sustainable clothing brand making modern sustainable luxury for women. It makes high-end, high-quality blazers from hemp.

Another Tomorrow uses responsibly grown and ethically manufactured materials to create elevated, thoughtful design. It uses fashion as a pathway to activism, guided by a value system based on three pillars - human, animal, and environmental welfare.

SHOP ANOTHER TOMORROW



Category: Clothing, bags, accessories, shoes, jewelry
For: Women, men
From: London, United Kingdom
Values: Luxury, vintage
Prices: $10-$4,000

Farfetch is an online fashion retailer and clothing store selling high-end clothes, accessories, jewelry, and shoes for women, men, and children. It offers quality hemp blazers made of eco-friendly fabrics.

Farfetch partners with the best designer fashion and emerging brands and opens its doors to 100,000+ styles. It was founded in 2007 by Portuguese entrepreneur José Neves and is headquartered in London.

SHOP FARFETCH



Category: Basics, denim, underwear, loungewear, activewear, outerwear, sleepwear, shoes, bags, accessories
For: Women, men, children
From: Butzbach, Germany
Values: Organic, recycled
Prices: $20-$130

Hessnatur is a fashion brand making basics, underwear, loungewear, and athleisure that respect the environment and people, using sustainable and natural fabrics.

Hessnatur creates affordable and sustainable hemp blazers for women and men using only eco-friendly materials and processes. It designs a wide range of stylish apparel using hemp and organic cotton to protect your skin and the environment.

The brand is committed to sustainable fashion that respects natural resources, high-quality and timeless design. It makes sure to care for the people who make their clothes.

SHOP HESSNATUR



Category: Basics, knitwear, outerwear, bags, shoes, accessories, jewelry
For: Women, men, children
From: Milan, Italy
Values: Luxury, organic, recycled, give back
Prices: $400-$1,600

Armani is a luxury fashion house founded by designer Giorgio Armani. It creates chic and elegant ready-to-wear and haute couture, including hemp blazers.

Giorgio Armani uses creativity, artisanship, experience, and the finest materials to create luxury clothing for women, men, and kids. It stands the test of time and becomes the perfect expression of fusion between creativity, style, and innovation.

The Armani Group is committed to sustainability in many different areas, including its community, supply chain, and the environment. It believes that sustainability means making the right choices today for future generations.

SHOP ARMANI
Was this article helpful to you? Please tell us what you liked or didn't like in the comments below.