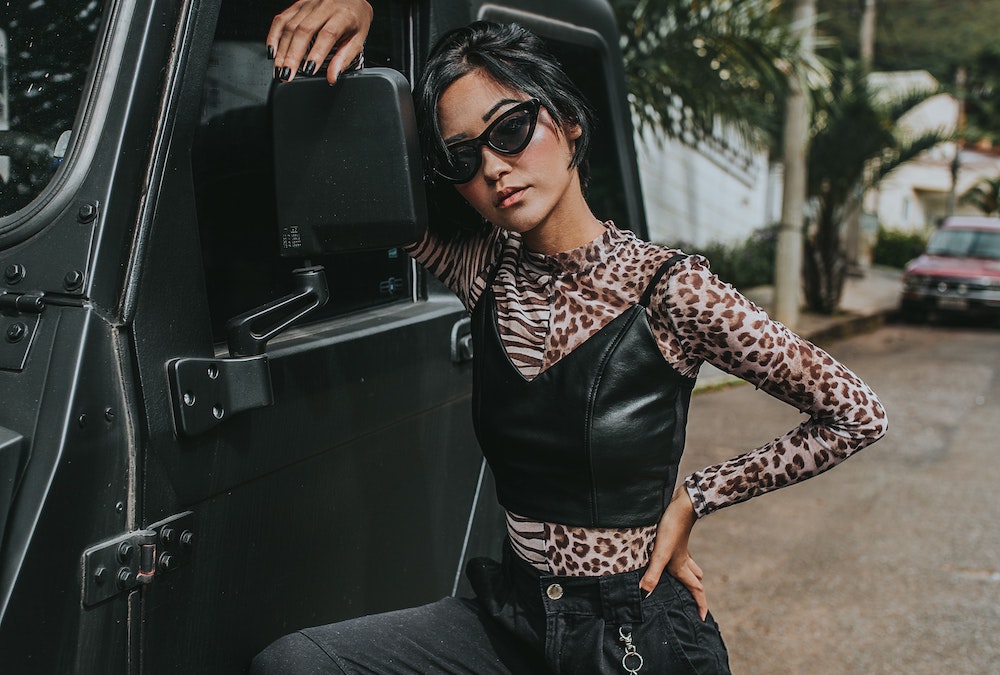 How to Embody the Gothic Fashion Style (20 Edgy Looks)
Although it may look intimidating, gothic fashion emphasizes inclusion and unique forms of self-expression. Gothic fashion style centers around black clothing, edgy styling, and plenty of heavy dark makeup. 
Goth is all about an appreciation for the darker things in life. It's a unique style influenced by cultural touchstones like Victorian mourning and 18th-century Gothic literature. 
Gothic fashion style as we know it today started in the 1980s with edgy musicians like Robert Smith of The Cure and Siouxsie and the Banshees. Goth fashion has since evolved into a fun, edgy, and fashion-forward way to celebrate this unique subculture. 
Whether you're new to gothic fashion or a veteran goth looking for some outfit inspiration, we have what you need. 
Here are 20 tips for incorporating gothic fashion style into your wardrobe.  
Panaprium is proud to be 100% independent, free of any influence, and not sponsored. We carefully handpick products from brands we trust. Thank you so much for buying something through our link, as we may earn a commission that supports us.
All-Black Everything
First things first. You need a lot of black clothing to embody a gothic fashion style. A solid collection of black wardrobe basics is the foundation of any goth-centric style.
Build up your gothic wardrobe with versatile tees, tanks, pants, and shoes that are all black. Wearing all-black automatically gives your outfit an edge, and it's a color that looks flattering on everybody.   
You'll find perfect black clothing options by shopping these ethical goth clothing brands. 
Vegan Leather Jackets
A vegan leather jacket is the perfect piece of outerwear for goths. 
You can easily pull your look together by throwing on a black faux leather jacket over a vintage band tee, black tulle dress, or velvet jumpsuit. Invest in a vegan leather jacket that is high-quality, well-tailored, and timeless. 
Check out our selection of the best vegan leather jackets. 
Tulle Skirts
Wear a fun tulle skirt to add a softer feel to your goth look. 
A voluminous tulle skirt adds an element of surprise to any all-black outfit, so don't be afraid to bring out your girly side. Wear a black tulle skirt with a black sequin top or faux leather jacket for an edgy, sexy look. 
Explore our favorite midi skirt brands for inspiration. 
Rugged Combat Boots
Combat boots are a mainstay of goth fashion. You can wear a pair of tough-looking combat boots with just about anything, from casual jeans to elaborate dresses. 
Invest in a high-quality pair of vegan leather combat boots. Combat boots are timeless, versatile, and effortlessly cool. 
Shop our selection of sustainably-made vegan leather boots that won't break the bank. 
Platform Shoes
Dress up your gothic outfit with a pair of sky-high platforms. 
You can wear platform boots, sandals, and lace-ups to create an edgy, intimidating silhouette. It's hard not to feel powerful and confident when you're wearing chunky heels and an all-black outfit. 
Plenty of sustainable boot brands and ethical shoe companies offer platform styles. 
Victorian-Inspired Elements
Goth fashion style draws a lot of inspiration from the Victorian era. Victorian mourning practices directly influence the goth love of corsets, lace, and all-black outfits. 
Dive into gothic fashion head-first by incorporating vintage elements into your outfit. The more ruffles, corsets, and velvet, the better. 
Check out these Victorian-inspired goth brands that are excellent, sustainable alternatives to Killstar.  
Fishnet Stockings
Wear fishnet stockings if you want to add texture to your goth outfit. 
Fishnet stockings look great with combat boots, ripped jeans, and a black leather jacket. They also work under a black velvet dress or high-waisted cut-off shorts. Go with classic black fishnets, or draw the eye to your legs with brightly-colored ones. 
Shop our selection of ethical hosiery for the best eco-friendly fishnets. 
Dark Imagery
Goth allows you to embrace your dark side. Incorporate dark imagery like skulls, coffins, and occult-themed motifs. 
Dark gothic imagery doesn't have to be all doom and gloom. Plenty of cute, girly patterns feature cartoon-rendered skulls, ghosts, and other goth-inspired imagery. 
Dark Floral Prints
Incorporating dark floral prints is a great way to add a more feminine feel to your gothic style. 
A black dress with dark red roses and bold greenery looks great with platform sandals, fishnets, and dark eye makeup. If you want a more ethereal vibe, wear dark florals on a sheer top or a flowy midi skirt. 
Plenty of our favorite boho clothing brands carry dark floral prints. 
Pastel Goth Elements
If you love the goth mentality but like dressing with a softer, more girly vibe, the pastel goth style might be for you. 
Pastel goth incorporates more feminine elements into a goth outfit. Add pops of pastel pink or purple into your all-black ensemble, or wear cute kawaii-inspired jewelry. Don't be afraid to pair "tougher" goth staples with fun, girly aesthetics. 
Peter Pan collars, bows, and delicate fabrics like tulle are also great pastel goth options. 
Check out these 15 Hot Topic alternatives for cute pastel goth options. 
Draped and Layered Fabrics
Gothic fashion style gives people the freedom to experiment with layering and draping different types of fabric. 
Don't be afraid to venture out from your usual silhouettes with oversized jumpers, voluminous skirts, and waist-cinching corsets. 
For more tips and tricks, check out our guide to wearing oversized clothes. 
Choker Necklaces
Choker necklaces are the stars of gothic fashion. They easily add a sexy edge to any outfit. 
From leather collars to retro 90s "tattoo" chokers, this necklace style is synonymous with gothic fashion style. They look great with any outfit, like black dresses, graphic goth tees, or a dark hoodie. 
Don't miss our favorite sustainable necklace brands. 
A Little Black Dress
A little black dress is a must-have for any goth fashionista. It's a versatile, timeless piece that looks great on all body types. 
A black dress opens up a world of possibilities when it comes to goth styling. Layer it with a corset, loose black cardigan, or a faux leather jacket. You can also accessorize with platform combat boots and fishnets for a more serious goth edge. 
Explore our favorite black dresses that are affordable and sustainable. 
Corsets
Corsets are a versatile cornerstone of goth fashion. They can be dressed up or down and come in different styles. 
Wear a black corset over a velvet mini dress or dark floral maxi for a dramatic, Victorian-inspired look. If you want an edgier, sexier vibe, try wearing a black lace-up corset over a body-hugging jumpsuit or shiny black leggings. 
Check out the best affordable corset brands for more outfit inspiration. 
Embrace Velvet and Lace
The Victorian era heavily influences Gothic fashion, so embrace velvet and lace as much as possible. 
Wear a black velvet dress with sheer lace stockings and platform sandals for a chic goth evening look. You can also wear lace-trimmed skirts, tops, and cardigans for a casual vibe. 
In addition to black, look for lace and velvet fabrics in darker hues like deep burgundy, royal blue, and dark purple. 
Try Sheer Black Fabric
Wearing sheer black fabric is a sexy way to add some spice to your gothic fashion style. 
The peek-a-boo element of sheer black fabric elevates an average goth look into something elegant and compelling. Wear a black dress with sheer sleeves or a short faux leather skirt and barely-there black stockings. 
Sheer black fabric is easy to find when you shop our selection of the best alternative clothing brands. 
Black Cargo Pants
Cargo pants are a fun way to modernize your goth style. 
Look for baggy cargo pants with stand-out hardware elements like silver zippers, chains, and patches. Cargo pants look amazing with a goth band tee or an all-black top. 
Check out our selection of affordable cargo pants. 
Daring Silhouettes and Cuts
Goth fashion is edgy and daring, so experiment with fun silhouettes and clever cut-outs when planning your outfits. 
Find surprising ways to show off your tattoos or a favorite part of your body with lace-up black pants, sheer black dresses, and gender-bending corset looks. 
Fun Graphic Tees
Gothic fashion style doesn't have to be all formal all the time. Goths need chill outfits too!
Wear a relaxed graphic tee with dark imagery like skulls, roses, and horror-themed designs. You can also pair black jeans with your favorite band tee for a casual, everyday look that is still edgy and cool. 
You can find plenty of sustainably-sourced goth tees on second-hand clothing apps or at your local thrift store. 
Dark Lipstick
No goth look is complete without dark lipstick and heavy eye makeup. Dark eyeshadow, heavy eyeliner, and dark lipstick are essential for the ultimate gothic fashion vibe. 
Even if you're not into wearing a lot of makeup, throwing on some dark red lipstick or darkening your brows can pull your whole look together. 
Find more inspiration with our guide to the best goth girl aesthetic outfits. 
Was this article helpful to you? Please tell us what you liked or didn't like in the comments below.
About the Author: Liz Flynn