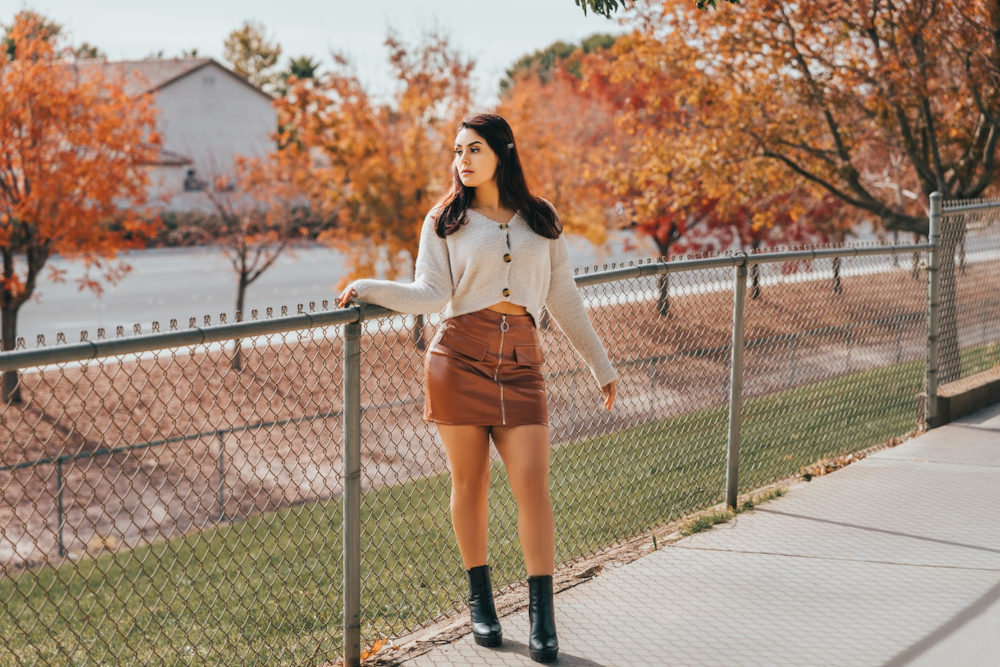 Your Best Guide On How To Style A Brown Skirt
Brown skirt outfits are incredibly versatile because they go with any color and can be dressed up or down to fit any occasion.

However, sometimes styling a brown skirt may seem intimidating due to the numerous nuances of the color. Additionally, the styling options depend on the design and texture of the skirt.

To help you wipe out any doubt that restrains you from wearing brown skirts, stick to our guide on how to style a brown skirt and make the most of this versatile wardrobe staple.
Panaprium is proud to be 100% independent, free of any influence, and not sponsored. We carefully handpick products from brands we trust. Thank you so much for buying something through our link, as we may earn a commission that supports us.
Some considerations
When you pair your brown skirt with a colored top, you want to apply the following basic rules. These rules apply to any outfit color combination, not only to brown color.
Match your brown skirt with analogous colors, complementary colors, or neutrals, or combine a monochrome ensemble. Analogous colors are next to each other on the color wheel and share a common hue. Complementary colors are opposite each other on the color wheel and can make for a beautiful power clash. Neutral colors are white, black, or grey, while a monochrome outfit comprises tones, tints, and shades of a single hue.
Brown is not featured on a traditional color wheel as it is what's known as a composite color—a color made of a mix of pigments, a blend of primary and secondary colors. It is considered a warm hue, along with red, orange, and yellow, and you can use these colors to find color combinations on the color wheel.
The Perfect Mixture
A combination of brown faux leather mini skirt and a yellow top - this outfit is all about mixing textures and colors. A faux leather mini skirt is a great way to add dimension to your look without wearing too much leather.

Pair it with a colored top that makes a statement - like this bright yellow tank top. A fresh and distinguished outfit that you can wear to any casual outing.
Check out our list of the cutest, comfiest, and cheapest organic cotton tank tops here.
Beautiful Blouse
A beautiful blouse is always a good idea to style with any kind of bottom. Choose a brown cropped mini skirt and pair it with a white see-through blouse. This outfit is feminine and sexy and will make you feel pretty and confident.

Wear a white blouse with golden or silver motives for a more elegant and personalized appearance. Choose a beautiful blouse for this outfit from our list of the best affordable, ethical, and sustainable blouses made under the highest social and environmental standards.
Style With A Blazer
Make a stunning appearance with a blazer and a long or midi brown skirt. This outfit looks great on special occasions or formal events. Go for a tule brown skirt or skirt with layers and style it with a belted blazer. This combination will give structure and sophistication to your outfit and make it suitable and unique for a special event.
For a more formal event, choose a brown midi skirt made of satin or chiffon for a polished look. Pair it with a blazer. The essential element here is the belt. A belted blazer will give the outfit a beautiful hourglass body shape.
If you are looking for high-quality, ethically made, and budget-friendly blazers, take a look at our favorite ethical brands here.
If you are not into long and belted blazers, go for a cropped blazer in combination with a brown faux leather skirt. The front pockets of the skirt add just that relaxed flair that we are looking for in a casual outfit. And the black over-the-knee boots perfectly complement the cropped blazer, adding balance and structure to the ensemble.

Comfort And Style
Create a youthful and appealing outfit by wearing an A-line mini brown skirt with tights and ankle boots. This look is cute and versatile, and you can wear it to a date with a special person or to a girls' night out.
Choose patterned or printed tights to add a touch of glam to your look. Check out our selection of the best affordable and sustainable hosiery brands that make eco-friendly tights under high social and environmental standards.
Finish the look with heeled, stringed ankle boots or Chelsea boots and a faux leather jacket.
If you are not into patterned tights, stick to the classic plain transparent ones. Opaque tights, particularly in darker colors, can have a slimming effect on the legs. The solid color can create a visually streamlined look, making the legs appear more toned.
Not a fan of tights at all? Don't worry. This outfit will look great with knee boots. Create a beautiful contrast with a plaid mini skirt in light brown and black knee-high boots.
Check out our selection of the best affordable, sustainable, and vegan long knee-high boots made under the highest social and environmental standards.
Basic Tee
Combine an A-line brown skirt with a white tee for a casual everyday look. The length of the skirt is up to your preferences. Go for a skirt with simple and minimalistic details, such as functional pockets, drawstrings, elastic waistbands, or buttons. These elements add practicality and contribute to the laid-back style.
Discover our selection of the best midi skirts for women made from sustainable and eco-friendly materials.
An oversized T-shirt can be just as stylish as any other top. It can be even better than regular ones because of all the ways you can knot and tie it. A good knot, tie, and tuck can completely transform the silhouette and give them more shape.
If you are interested in eco-friendly and organic hemp tees, check out our selection of the best hemp shirts, tops, and t-shirts here. 
Finally, do not forget that casual skirts look incredibly good with white sneakers. Yet, three simple pieces create an outfit that stands out.
Semi-Casual Chic
Wear a combination of a white button-up shirt with a long brown skirt. This combination is stylish and chic and works well as a casual or semi-formal daily outfit.

Choose a tailored or slightly oversized button-up shirt that fits you well and flatters your body shape. Always remember to wear it tucked in your skirt.
Opt for lightweight and breathable fabrics for both the shirt and the skirt, especially if you plan to wear this outfit during warm weather. Cotton, linen, or blends with natural fibers are great choices.
Buy stylish, comfortable, affordable, and sustainable button-up and dress shirts here.
Add a touch of romance to your everyday style with a lace button-up shirt. Lace is a delicate and intricate fabric that often evokes feelings of elegance, femininity, and a touch of nostalgia. 
Party Summer Style
Summer and beach parties often encourage a more relaxed and carefree style. Pair a brown bodycon mini skirt with a white bra top or bralette for a sexy and playful ensemble.
Choose affordable, comfortable, and ethically made bras and bralettes from our list of the 15 Best Organic Cotton Bras And Bralettes For 2023.
If you don't like exposing too much skin, you can opt for a crop top and a brown flared skirt. This combination is cute and perfect as a summer casual outfit.
If you are interested in environmentally friendly crop tops, buy garments made from high-quality and sustainable fabrics. Find cute organic cotton crop tops made under high social and environmental standards here.
Crop tops also look great with long skirts. Choose a long floral brown skirt with a slit on the side. Stick to skirts made from breathable materials for optimal comfort during the summer.
Monochrome Simplicity And Elegance
Monochrome outfits, consisting of a single color or varying shades of the same color, create a clean and sophisticated look. The simplicity of a single color palette can evoke a sense of elegance and refinement.


Also, wearing a single color from head to toe can create a streamlined and elongated appearance, making the body appear taller and slimmer. This observation is particularly true for darker monochrome looks.


Add a touch of light to this outfit with jewelry. Accessories like jewelry immediately stand out and become statement pieces on a monochrome outfit. Check out our selection of the best eco-friendly and ethical jewelry brands using recycled materials.
Urban Style
Create a cute urban-style look with a brown mini-skirt and a bulky hoodie. Urban-style fashion is all about combining comfort and edginess, and this outfit combination allows you to achieve just that.

Tuck the front of the hoodie into the waistband of the skirt to define your waist and make your outfit look more put together. Check out our selection of the best organic cotton hoodies made under high social and environmental standards.

Complete the urban-style vibe with trendy footwear. Chunky sneakers, combat boots, or platform sandals will be an excellent choice because they add a modern and urban edge to your outfit.
Denim Jacket
A denim jacket is one of those clothing pieces that will never become old-fashioned. It is so versatile that it can adapt to countless outfits and add charm to any of them.

Style a brown skirt – it can be any length you prefer, with a neutral white top and a denim jacket. You can wear this ensemble all day long to run errands or take an aperitif with your friends.
Here are some of the best affordable denim jackets that every woman needs to have in her wardrobe to look fashionable and feel comfortable on a budget.

Complete the look with sneakers or stringed ankle boots.
A Fine Camisole
One of the best aspects of a camisole is its inherent simplicity. This aspect makes it easy to style with lots of garments like jeans, pants, and skirts. A delicate satin camisole immediately elevates your look and makes it look dressy.

One of the best ways to wear your brown skirt is in tandem with a camisole in neutral hues. This look is polished and classy. And if you need an extra layer, style it with a cozy cardigan and fuzzy sandals.
If you are looking for eco-friendly, ethical, and sustainably made camisoles, check out our selection of the best organic cotton camisoles.
Add a beautiful contrast to this outfit with a light brown mini-skirt and a Bordeaux camisole. The delicate hue of brown perfectly complements the dark and intense red color.
Find beautiful, affordable, and sustainable mini skirts to create this incredible look.
Add A Slimming Effect
Turtlenecks have the ability to create the illusion of a longer and leaner neckline, which in turn can make the overall body silhouette appear taller and more elongated. In combination with a long skirt, you will create a slimming effect and contribute to the appearance of a longer and leaner figure.


Choose a brown patterned skirt to add some character and more interest to this outfit. The pattern could be floral, geometric, abstract, or any other design that speaks to you. Pair it with a black turtleneck that acts as a neutral base to allow the patterned brown skirt to stand out. This color combination creates a balanced and visually appealing contrast.
Here are the best ethically made and affordable turtlenecks to wear with this outfit.
Style And Comfort
Pair a ribbed tricot brown midi skirt with a cozy V-neck sweater. Whether you're lounging around the house or walking down the city boulevard, this combination is a perfect illustration of style and comfort.

The brown midi skirt is comfortable and flattering, while the sweater adds just enough warmth to keep you cozy. Find beautiful, comfortable, and affordable organic cotton jumpers and sweaters here.
Contrasting Lines
You can find beauty in the contrasting lines of a brown corduroy skirt and a striped blouse. The horizontal stripes of the blouse with the vertical lines of the skirt create a perfect line between the top and bottom of the outfit. 
You can also achieve a beautiful contrast in structures with a brown faux leather skirt, a ribbed top, and lacquered heels. The glossy appearance of the skirt and shoes contrast the ribbed fabric of the top and create a rich and interesting ensemble.
Workplace Essentials
The timeless and classic combination of a pencil skirt with a white shirt will always take first place among workplace essentials. Wear nude dècolettè heels to add elegance and sensuality while keeping the formal look of the outfit.
Achieve a modern office ensemble with a brown pencil midi skirt and a floral chiffon top. Wear the top tucked into the skirt or make a knot for a trendy approach. 
Finish the look with heels that complement the color palette of the outfit. Remember that the best heels are eco-friendly and made from sustainable and cruelty-free materials that protect the welfare of people, animals, and the planet. Find elegant heels among these eco-friendly heel brands.
Another formal ensemble that any businesswoman has is a plaid pencil skirt suit. A plaid skirt suit is a staple, particularly in professional and semi-formal settings. Plaid, also known as tartan, is a classic pattern that adds a touch of sophistication and style to any workplace outfit. 
Romantic Pleats
A pleated brown skirt indicates that a dress or skirt can be sensual without being short. A stylized pleated brown skirt combined with a see-through lace bodysuit that is both sexy and charming will be a great outfit for girls who are about to date that person. 
Create a beautiful blend of feminine and masculine style with a brown pleated skirt and stringed ankle boots. Look at our collection of the Best Affordable And Sustainable Boot Brands and find affordable and fashionable ankle boots.
Short skirts with pleats, especially if they are above the knee, can contribute to a youthful and school-inspired vibe. Pair a brown pleated skirt with a collared blouse to enhance the schoolgirl vibe.
Bohemian Style
The bohemian style embraces a relaxed, effortless, and often unconventional vibe. Bohemian clothing often features loose and ample silhouettes that allow for movement and comfort. Maxi dresses and skirts are a must in this style. 
Bohemian fashion embraces a free-spirited and eclectic aesthetic, and patterns play a key role in expressing this unique and artistic vibe. Patterns contribute to the rich and visually dynamic nature of bohemian outfits. So, if you are looking for a true bohemian-style look, put on a long patterned brown skirt and match it with a plain-colored top.
Floral Romance
Floral patterns can add an elegant and romantic touch to a skirt. The delicate and intricate patterns of flowers add a graceful and delicate aesthetic to any skirt.
Depending on the design, floral motifs can also add a playful and whimsical touch to a skirt. Just remember that the placement of large floral motifs matters. Strategic placement can draw attention to certain areas of your body, so consider how the pattern interacts with your body's contours.
Sexy Slits
A brown bodycon skirt with high slits is a fashionable and attractive choice for a variety of occasions. Pair it with a crop top of plain color for a quick and effortless outfit that can easily fit day and night outings. 
In conclusion, the brown skirt is a versatile and timeless wardrobe staple that offers a world of styling possibilities. Finding the ideal harmony of hues, textures, and accessories to go with your brown skirt is essential whether you're going for a casual, businesslike, or stylish appearance. Explore various styling options, play with accessories, mix and match textures, and have fun with your fashion journey.
Was this article helpful to you? Please tell us what you liked or didn't like in the comments below.
About the Author: Iana Jekova